David Arnott provides a guide to residential thermal comfort ratings and explains how they are formed, and what the key factors are.
Most people are aware that all new residences are required to have their thermal performance assessed – a process more commonly known as a star rating. While there are some variations from state-to-state, 6 stars is generally the minimum required target. Despite the interstate variations (NSW being the most notable with The Building Sustainability Index (BASIX) scheme) the method by which a thermal performance assessment is completed remains mostly consistent. This article is not intended to be a 'how to' guide for sustainable design; rather it aims to give practical advice on how ratings are completed and the key points to be aware of in any rating or construction of a rated building. It is hoped this information will make the process less confusing and allow comfortable dwellings to be built without any concern of non-compliance.
How is my dwelling rated?
A star rating is the result of a simulation that uses multiple factors to estimate what the likely heating and cooling loads (think how much air-conditioning) will be for that dwelling in a year.
There are currently three software programs that are accredited to complete thermal performance assessments: AccuRate, BERS Pro and First Rate 5. All three programs have the same calculating engine and require the same information to complete the assessment. The only difference is how that information is entered into the program.
Within each program, the home, townhouse or unit will be broken down into a series of zones. These zones are informed by two main factors:
The design of the dwelling; and
The likely occupant behaviour within each zone.
From this, zones can loosely fall into three different types:
Living areas;
Sleeping areas; or
Other (circulation spaces, wet areas, garages etc.).
Associated with each zone are certain hours of use as well as a comfortable temperature range. As soon as that zone moves above or below that temperature range while occupied, heating or cooling is applied to bring it back within the comfortable range. It is the accumulation of the heating and cooling applied over a year that ultimately gives you a star rating for the dwelling.
What informs the rating?
The location of any proposed building is essential to the rating. There are 69 individual 'climate zones' across Australia. The postcode of a proposal will determine which 'climate zone' is applicable and consequently specific and comprehensive climate data will inform the rating, such as average yearly temperatures, typical maximum and minimum temperatures, humidity, and likely wind speeds and directions throughout the year. This information is critical to the rating and a comfortable dwelling. As you can imagine, the way you dress on a June day in Cairns is very different to how you dress on the same day in Melbourne. This logic also extends to your home.
Another key factor is the location of true North relative to your dwelling – the orientation. By entering the orientation of your building and combining this with the climate zone information, we are able to determine the location of the sun at any hour of the day at any time of year. By knowing where the sun will be we can respond accordingly – this is one of the key elements to passive design.
The final piece of fundamental information required is construction details. How the proposal will be built and with what materials plays a major role in the performance. Different materials have different thermal properties. Some offer no resistance to the transfer of heat whereas others will absorb and store heat before releasing it slowly. Further to this, different construction make-ups will have different opportunities and restraints. For example, insulation that would be typical for a brick veneer wall is completely inappropriate for a cavity brick wall. Therefore, an assessment should take this into consideration to ensure that issues with compliance at the construction phase can be avoided.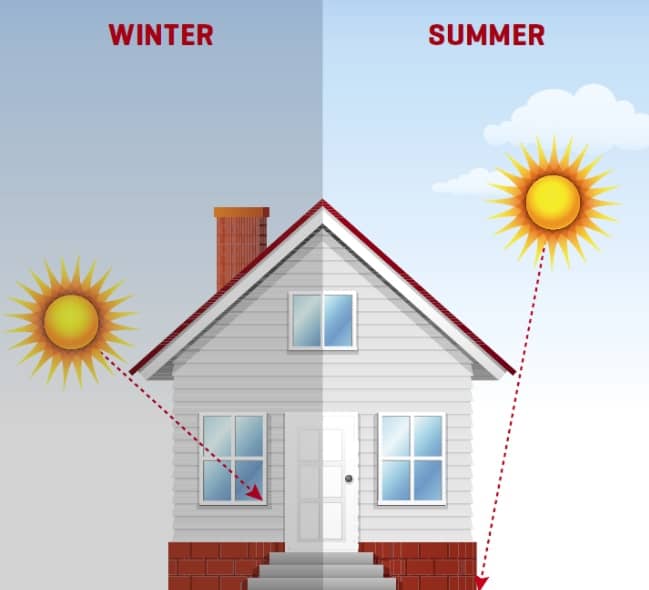 A closer look at construction and specifications
Climate is almost always rigid and your available orientation is often restricted due to other factors. Conversely, there are numerous options available for construction, particularly when specifying items such as insulation, windows and materials. When considering your specifications, whether during design or construction, there are several key items that will impact the performance of a dwelling. They are:
Insulation
Ventilation
Shading
Thermal mass
The specifications relating to these items need to be clearly documented on the plans that are used for the assessment and carried all the way through to construction drawings so the dwelling can be constructed in line with how it was assessed. If there are changes made to these specifications throughout the life of the proposal, then the assessment will need to be updated as a result.
Insulation
Insulation plays an essential role in the performance of any dwelling by slowing down the movement of heat. Insulation will either resist the heat getting into your home in summer or resist it escaping during winter. It is not surprising that insulation is then measured by a resistance value (R-Value).
There are two main types of insulation: bulk and reflective. Knowing which type of insulation has been specified for your proposal is critical to ensuring the insulation is installed correctly and will perform in the intended manner. If you are unsure what type of product has been specified, the easiest way to tell is in the description of the R-Value. Bulk insulation will have a product R-Value, whereas reflective insulation will have a total system R-Value.
A product R-value for bulk insulation is exactly what it sounds like: the R-Value of that particular insulating product. The key consideration for bulk insulation is to ensure that the product is not compressed in any way – if a 90mm product is installed into a 70mm wall cavity, that product will not insulate as it is meant to and the dwelling may be non-compliant.
In regards to reflective insulation, a total system R-Value is specified. This gives the R-Value of not only the product but also the complete construction system (wall, roof, floor etc.) This means the insulation will only perform in the manner in which it is described when it is installed in the particular construction system specified, i.e. the total system R-value of a brick veneer wall will vary from a cavity brick wall, even when exactly the same reflective product is installed.
The other essential requirement for reflective insulation to perform as intended is a reflective air-space. This type of product largely works by reflecting heat and to do this it needs an air-space adjacent to its reflective surface. If there is no air-space then the product will not function. Manufacturer's specifications should be followed closely to ensure compliance.
Lastly, all insulation should form a continuous barrier wherever possible. Even 1-2% of uninsulated area can have a considerable impact on the performance of the dwelling. To ensure compliance the National Construction Code (NCC) should be referred to, in particular clauses J1.2 (Volume 1) and 3.12.1.1 (Volume 2).
Windows and glazed doors
Windows and glazed doors contribute to the performance of a dwelling in three ways.
They allow the sun in;
They give the occupant some control over air movement; and
They allow the heat to escape where they are the path of least resistance.
Because of the impact windows will have to the rating, if any of the following items changes you will need to seek advice from your consultant regarding the likely impact and an update may be required:
Size or orientation of the windows and glazed doors
Sash operation e.g. changing from a sliding window to a fixed window
The shading given to a particular window. This includes eaves, pergolas and other specific shading devices.
It should also be understood that for shading to be considered in the modelling it needs to be external. Internal blinds, curtains and the likes cannot be considered, regardless of the impact they may have.
There are two values that are used to measure the performance of every window: U-Value and Solar Heat Gain Co-efficient (SHGC). Think of the U-Value in the same way as an R-Value in insulation, i.e. it is a measure of how well the window insulates. Unlike R-Values, however, the lower the U-Value, the better the window will insulate. As such if a U-Value is less than what has been specified it should still be compliant.
The SHGC measures how much direct sunlight will pass through the window. The easiest way to think of a SHGC is to relate it to a tint; the darker the tint, the lower the SHGC. Unlike a U-Value, however, a lower SHGC is not always better. There are instances where it makes sense to get as much natural sunlight into a dwelling to warm it up and therefore a SHGC will often have a tolerance of plus or minus 10%.
The requirements for compliant U-Values and SHGCs can sometimes differ from these generalisations so it would be worth double checking any changes with your assessor.
Most importantly, the U-Value and SHGC need to be total window system values, with the values calculated by considering not only the glass, but also the frames. The window frame plays an important role in how the window will perform and there is also a significant difference between a glass only value and a total window system value. It is therefore necessary for compliance to ensure that the values of your glazing are total system values.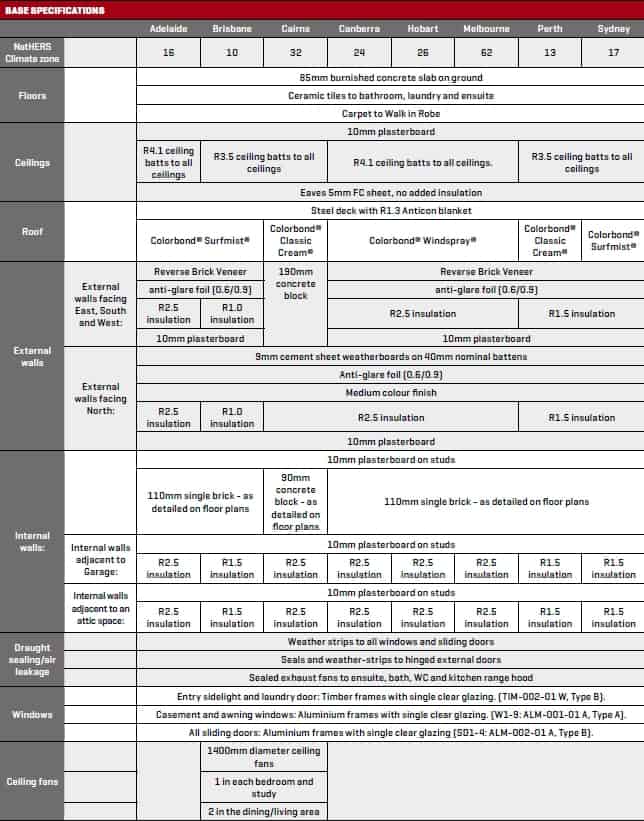 Thermal mass
Thermal mass is a term used to describe the ability of certain types of construction to slowly absorb, store and slowly release heat. The types of construction that most commonly have good thermal mass are brickwork, blockwork, concrete and stone.
Depending on how it is used, thermal mass can have a positive or negative impact on a dwelling. Because it will impact the rating, any changes made to a proposal, either including or removing a wall, floor or roof with good thermal mass, will need to be addressed in the modelling.
Finally it is essential to understand that thermal mass does not equal insulation. It is a common misconception that elements with good thermal mass insulate equally well; this is not the case. A good example would be a cavity brick wall.
While this wall has good thermal mass, its total R-Value is somewhere in the order of R0.6. Compare this to a typical insulated cavity brick wall which has a total R-Value is around R1.8, i.e. it insulates three times more effectively. If insulation is specified it is required to be installed and replacing the insulation with more thermal mass will not achieve the same result.
How to make it as easy as possible
Now that you have some understanding of how a dwelling is rated and what key factors contribute to a rating, ideally you will encounter fewer issues with compliance. If nothing else, remember the following:
Ensure all required specifications are on the plans at all times until construction is complete.
If anything changes, whether it is the design or construction and specification, inform your assessor. They should be able to tell you if an update is required.
Remember the key points regarding insulation, windows and thermal mass.
Address any changes as they happen. It becomes harder to update an assessment that has been constructed, but cannot gain its occupation certificate due to changes that have not been addressed.