Built-in quality and safety checks
With a number of imported building products quite literally coming under fire this year for being unsafe and non-compliant with local safety regulations, there is a strong argument for turning back to locally manufactured alternatives.
Australian manufacturers have to meet some of the highest quality and safety standards in the world. While this can be onerous and sometimes translate to slightly higher prices, locally manufactured products are made to last, ethically, so buyers can purchase with confidence knowing they will be fit for their purpose and safe for use. In potentially hazardous industries such as building and construction any opportunity to reduce risk should be capitalised upon, so it makes good sense to buy Australian-made goods, to help ensure the wellbeing of contractors and end-users, and avoid costly disasters. Access to backup services and repairs is often far easier when dealing with local manufacturers too.
LOOK FOR THE LOGO AND AUTHENTICATE ONLINE
To be sure a product has genuinely been made in Australia, buyers can look for Australia's registered country-of-origin certification trade mark. The green-and-gold Australian Made kangaroo logo has become synonymous with Australia's high quality and safety standards. As a third-party accreditation tool it offers influence and credibility, and can help differentiate and justify charging a premium. It has been used to promote genuine Aussie products for almost 30 years, and can be found on more than 15,000 products, many of which fall under the categories of building and construction. All certified products can also be found on the online product directory at www.australianmade.com.au.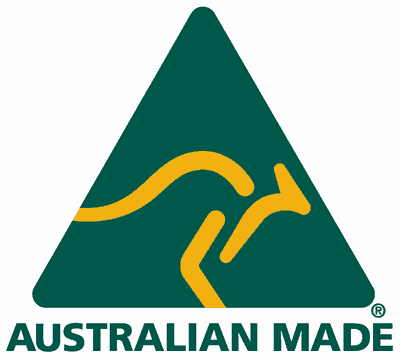 THE CAMPAIGN BEHIND THE LOGO
The not-for-profit Australian Made Campaign ensures compliance of the logo, and also promotes it in a multi-million dollar marketing and communications campaign each year. Part of its role involves developing partnerships with organisations around the world to help certified businesses market their products, and facilitate conversations between buyers and suppliers. The campaign has supported the National Excellence in Building and Construction Awards for more than a decade. The Australian Cablemakers Association is also a Campaign Associate.
CONNECT WITH OTHER BUSINESSES VIA THE AUSTRALIAN MADE B2B PORTAL
Australian Made recently launched an interactive resource hub for Australian businesses. The 'Australian Made Business-to-Business (B2B) Portal' can be used to search for certified Australian Made products with a B2B application and access exclusive business opportunities. The centrepiece of the portal is an online connection point for buyers and suppliers of Australian products. Powered by Industry Capability Network (ICN) Gateway, it enables suppliers to search for project opportunities and register their company's interest in just a few easy steps. It also offers a sophisticated supplier search functionality for procurement professionals and project managers.
SPOTLIGHT ON AUSTRALIAN MADE PRODUCTS
The Australian Made B2B Portal can be found at www.australianmade.com.au/for-business.