How to make insulation work for you
David Arnott explains what you need to know about insulation and how to make it work in yours and your clients' favour.
Regardless of the climate, installing insulation will always help to provide a more comfortable dwelling or commercial space. This is because insulation slows down the movement of heat, which means it will either resist the heat getting into a space in summer or resist the heat escaping from a space during winter. As a result it is next to impossible that a dwelling or conditioned non-residential space will comply with the relevant regulatory requirements with a complete omission of any insulation.
To quickly clarify what is meant by a conditioned area, this is a space that, by the intended use of the space, is likely to have the air within its environment actively heated or cooled (99% of the time this is air conditioning). So an office or hotel will always be considered conditioned, a retail area will almost always be considered conditioned, but a warehouse is unlikely to be.
While insulation will always deliver a benefit regardless of climate, to a degree the climate will dictate how much insulation is required, where it is most appropriate and what type of insulation will best serve the needs of that particular climate zone. The Your Home website has some great advice in relation to insulation and climate, and is definitely worth a look: www.yourhome.gov.au/passive-design/insulation.
A Quick Re-cap
There are two kinds of insulation; bulk insulation and reflective insulation. There is also composite insulation, which is a combination of both bulk and reflective insulation in the one product.
The range of products that fall under the bulk insulation banner is extensive including anything from typical glasswool batts to acoustic insulation to dense rigid foam. Bulk insulation has a product R-Value and to function properly must not be compressed.
Reflective insulations are typically foil type products with one reflective side and one anti-glare side. They will have a low emissivity (it does not re-radiate heat easily) and a high reflectance, which means they are ideal for resisting radiant heat (think direct sunlight and infrared, rather than outside temperature). Because they operate in this manner they rely on a reflective air space of at least 25mm to be effective. A Total System R-Value is specified when using reflective insulation which considers not only the product, but also the construction system it is placed in.
As composite materials comprise of both bulk and reflective insulation they must not be compressed, but will also need a reflective air space to function properly. Typically they will have both a product R-Value specified (for the bulk component) and a Total System R-Value specified.
It's not all about R-Value
Specifying insulation isn't as simple as purely nominating a minimum R-Value. Just because a particular R-Value has been specified does not necessarily mean that R-Value is appropriate to the particular construction system. For example, an additional R2.0 bulk insulation is very achievable in a brick veneer wall, however it's much harder to achieve in a 200mm concrete external wall with plasterboard internally on a 28mm furring channel.
It is important to understand how the specified R-Value will be reached within any particular construction system – having a good understanding of what products are available and most suitable to particular systems will help avoid unnecessary issues during construction.
It is also helpful to recognise there is usually an optimum level of insulation for any one circumstance. If R2.0 bulk insulation was specified to the ceiling space of a typical hipped roof, this is likely to be an under specification because for a relatively small cost increase, a significant benefit could be realised with R4.0 batt insulation. Conversely, increasing the R-Value will only achieve worthwhile benefits up to a certain point. So while increasing ceiling insulation from R2.0 to R4.0 in the above example might reduce heating and cooling loads by half, increasing from R4.0 to R6.0 or even R8.0 might only reduce the heating and cooling loads by 1/10. Understanding this optimum level for your circumstance will help you maximise performance without over committing when an increase may not be worth the investment.
The envelope
When the envelope is mentioned in relation to insulation and passive design it does not mean the entire building's outer physical limit. Rather, it refers to a continuous border that separates conditioned areas from unconditioned ones. So this plainly occurs where conditioned areas of the building border the outside, but it can also include spaces that are contained within the overall buildings' physical limits. For a single dwelling the best example of this would be an attached garage, in a multi-unit development this may be a common corridor or in commercial spaces there is a variety of possibilities.
By defining the envelope in this manner we can determine the most appropriate locations to install insulation to best resist unwanted heat gains or heat losses. If we use a single home with an attached garage as an example, we know that the external walls are seldom insulated. Of course this makes sense for the intended use of the space as it would be a waste of money and materials to insulate these walls. However, this space is more susceptible to outside conditions and heat will always look for the path of least resistance. Consequently, there is a clear benefit from creating a fully insulated envelope by insulating the internal walls that separate the garage from the rest of the dwelling.
Keep it continuous
As an extension to having a fully insulated envelope, if we look more closely at specific elements (i.e. walls, ceilings, floors), maintaining a continuous barrier of insulation will give you the best results. This is not always straight forward. It can require a little more thought during detailing and attention to detail during construction. But because heat will always follow the path of least resistance even small absences of insulation will greatly reduce its overall effectiveness.
The best example of this is the loss of insulation through ceiling penetrations, most commonly downlights. Many would be familiar with the requirement for clearance of insulation around downlights for fire safety reasons. What most would not realise though, is it that as a result, the effectiveness of any ceiling insulation is reduced significantly with no more than a 1 or 2% loss of the total area. To help visualise why this happens, flip things around so that the ceiling is a floor and each downlight is a drainage point. Heat will always follow the path of least resistance in the same way that water obeys gravity.
So now imagine that the heat is water and watch large volumes drain away with relatively few drainage points. Hopefully you can start to understand why this small area has such a large impact.
As can be seen by the screen grab from the simulation software (above), the impact of just a 2% loss of insulation means that the performance of a typical R4.0 bulk insulation is reduced to around R2.9, which means it loses more than 25% of its ability to resist the movement of heat. Once you move to a figure of around 5% or over, any amount of insulation installed becomes essentially meaningless.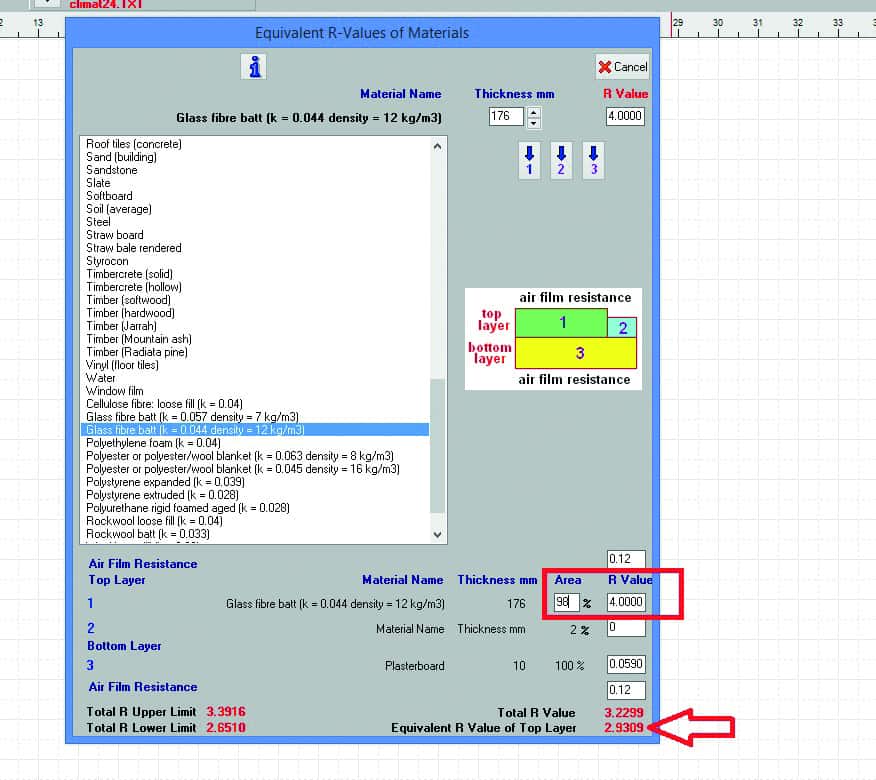 The substantial impacts to performance of insulation through ceiling penetrations are not very well known throughout the industry and to this end the regulations are now addressing it directly. On the front page of the new universal certificates, an information box addressing ceiling penetration is now present. This details how many sealed and non-sealed penetrations will be present in each dwelling.
The idea is to bring this item to the attention of the certifying body and in theory make it easy to either confirm compliance or ask for an update to the assessment. There are also specific clauses in the National Construction Code that address loss of insulation, which are becoming more widely recognised and enforced. It is good to be across these facts because as we have just demonstrated, a small amount of change may have a large impact on performance and if not addressed at an early stage, might make things difficult when aiming for your final occupation certificate.
The manufacturer is your friend
Simply put, the manufacturer of a particular insulation product wants you to buy it. This is a great thing for you, as they will be extremely helpful when you need to meet a certain specified product R-Value or Total system R-Value. The fact that they know their products so intimately means that they can make the process extremely easy for you. They understand what products are suitable in what applications.
When using reflective insulation they can calculate Total System R-Values for your intended construction system and should also provide you with a certificate to validate the performance, which you can then simply hand on to your certifying body. This is extremely helpful particularly with a non-typical construction system where the information on the performance is not easily sourced.
Because they are specialised in this area they also have a good knowledge of other factors that might impact insulation, such as condensation or fire safety. These are also vital considerations when selecting the right insulation but something that your assessor may not be completely across as it is far too easy to focus on the thermal benefits of insulation and disregard the rest.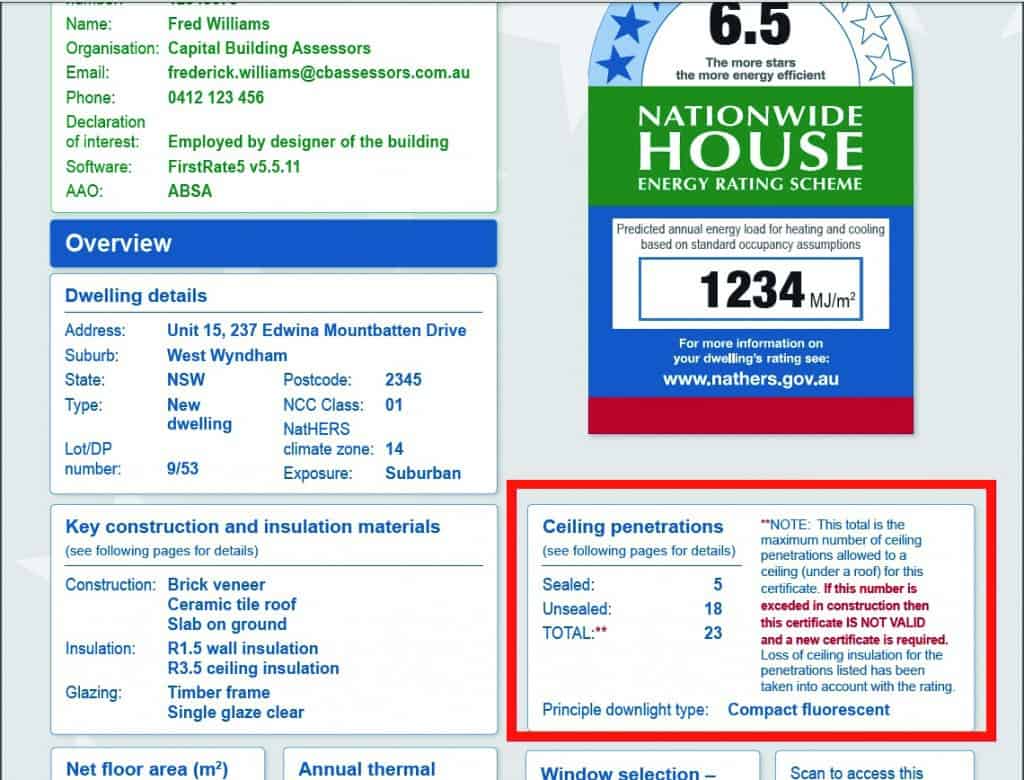 A little understanding goes a long way
By having a small amount of knowledge around insulation you should hopefully be able to avoid any unforeseen issues. It is easy to model or specify any level of insulation in any situation, but understanding how it will be practically built requires a little more attention.
Understand the difference between bulk and reflective insulation, how each differ in their specification and what is required for each to function properly. Try and fully insulate your envelope with a continuous layer of insulation. Be mindful of the regulations around loss of insulation through ceiling penetration. Most importantly use the manufacturer as a resource, because they will know more about insulation than the rest of us can ever hope to know. With your consideration and their knowledge, specifying and installing insulation can be a stress-free process.
Efficient Living
www.efficientliving.com.au