As new technologies come to play an increasingly large role in the construction industry, Jacob Harris discovers how virtual reality can be used to improve competency training.
If you asked an average building contractor what white cards and virtual reality (VR) have in common, you'd likely get some pretty weird looks. But this may all be about to change as the technology makes its presence felt in an increasing number of applications.
The Situation Engine is an innovation that uses immersive virtual environments to deliver practical learning experiences to individuals and groups. It was the brain-child of Professor Sidney Newton and Russell Lowe from the built environment faculty at The University of New South Wales (UNSW).
"It was originally developed to help students better understand construction technology but we could also see a strong opportunity for teaching health and safety on construction sites. So we formed a company to consult and develop the system technologies for white card induction along with a whole range of different health and safety training applications in industry," Sidney says.
Because the user's experience is extremely realistic, the Situation Engine makes it possible to exploit the known benefits of situational learning (learning by 'doing' as opposed to conveying knowledge and facts) without having to physically go on site.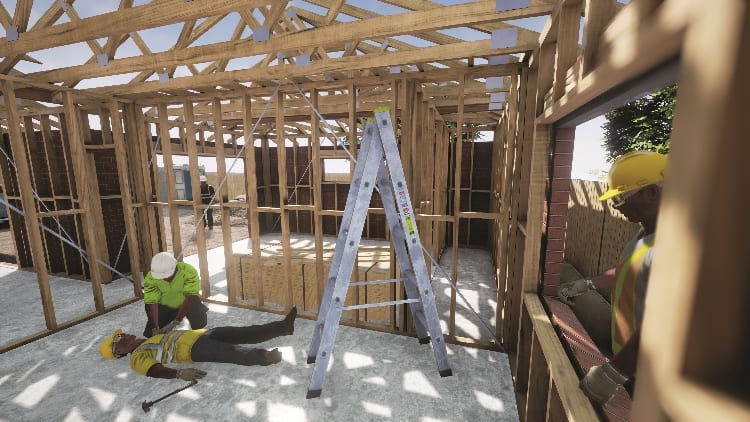 Instead of being given a specific problem to solve or project to complete, students are placed in a 'situation' where problems arise organically through engagement with the program. In this way there is no pre-defined start or finish point.
The Situation Engine uses a particular kind of 'first-person shooter' (FPS) video game engine. This renders moving, photo-realistic scenes in real-time 3D that are accompanied by surround-sound and tactile feedback for the user. When engaged in a 'situation', the user is represented as an avatar that is able to move around in the virtual space (a simulation of a construction site for example) and interact with the objects and other users within that space.
When it comes to health and safety training, the goal of trainers is to change people's behaviour and practices as opposed to just teaching technical information – this is where situational learning is most effective. But in order to do this effectively, it's important that what a trainee experiences is as realistic and as close to the situation they'd find on site as possible.
"The idea is that if you see an accident on site, you remember it and you change your behaviour accordingly. And so the realism in the immersion is important if you're trying to change those behavioural aspects. You need to make it feel much more like a lived experience than simply a realistic rendering of a detail. It's an amazingly compelling experience – provided it's as realistic as possible," Sidney says.
Until recently, creating avatar-like realism within renderings required extremely large computing facilities and so wasn't available to the average PC user. But the advent of VR technologies has seen video games really come to the fore.
"Organisations now give this technology away for free and you're able to run and create visual realism within a laptop-level computer.  And then consider the location-based sound that's now possible, haptic feedback (recreating the sense of touch by applying forces, vibrations to the user) and the ability to physically move through a virtual space – all these immersive qualities are adding to how convincing and how compelling the virtual experience is compared to an actual experience."
A big draw card for the technology in applications like white card training is its ability to assess competencies far more proficiently than the methods currently being used.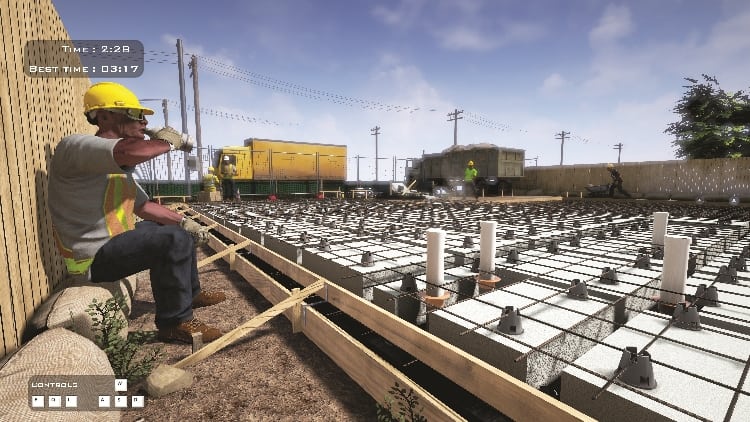 "White card training is currently assessed with a multiple choice, check-box response to fairly obvious, contrived scenarios. I think it's a good example of how little good it does to test competency in this way.
"To have someone walk onto a construction site and actually identify potential hazards and so on, not knowing what those hazards might be to begin with, would vastly improve a competency test. Participants would have to forensically analyse a situation rather than tick a box on one of five choices – four of which are obviously false with only one making any sense," Sidney says.
While VR-based white card training might still sound a bit left-of-centre, VR technology is developing incredibly rapidly and the amount of international investment taking place is a good indicator of just how massive many key players expect it to be.
"A couple of years ago Facebook bought into a company for 2 billion dollars to develop headsets for the Oculus rift.
Samsung has also invested heavily in their Gear VR and are now giving them away with their phones and Apple's next big device is also going to be a headset."
In keeping with this trend, Amazon has just bought a gaming technology and they're now giving it away for free (previously it would have cost about a million dollars to get a licence to develop something using their tech). According to Sidney, they're doing this on the understanding that there are going to be a lot of people developing content and they want to be the primary market for the exchange of that content.
"There's an incredible amount of investment going into VR technologies at the moment and a lot of uptake because the big players see this as a general commodity – the same as how you might view your TV. This isn't just for gamers and computer geeks, these companies are saying VR technology is something that everyone will be using," Sidney says.
"The uptake in construction is not great at the moment but it's a conservative industry and people tend to want to wait and see what the wave provides. But this is not a wave of technology; this is a continuing tidal shift. There's no point waiting to see where it goes before you decide how you're going to respond to the technology because this is the start of a transition, a change, and there's not an end point to wait for."
NewtonLowe
www.newtonlowe.com