The act of building is hands-on, so why are students learning construction out of a text book? Joe Young looks at a new educational tool which provides hands-on learning for timber frame house construction.
As part of my journalism studies, I wrote many articles to gain practical experience for my current job. Accounting students can be given sample numbers to work with to gain similar experience and for many industries students can likewise get hands-on experience during their studies.
For students learning to build a timber frame house however, it isn't practical for curriculums to have students building their own timber frame homes during their studies.
A new timber frame house model kit is now giving educators the option of having their students learn how to build a timber frame house on a smaller scale.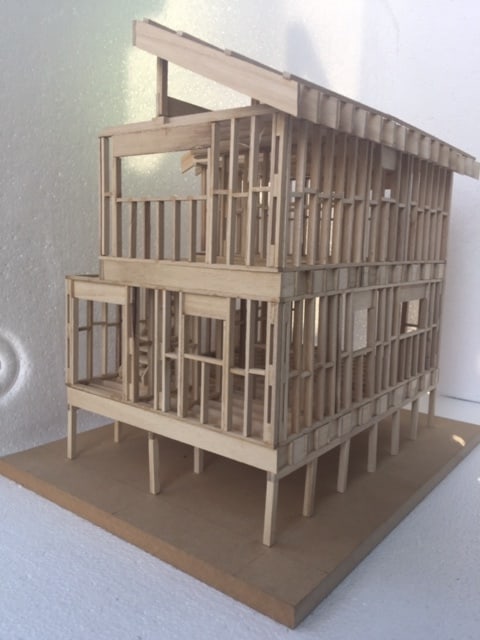 Some education research indicates that as much as 80% of people are visual learners.
Despite this, DNA Plans co-founder Matt Hecker learnt how to build a timber frame house from a text book while at TAFE.
"Timber framing construction is a very practical thing so it's a daunting task to wrap your head around it just from listening to a lecturer and reading a text book," Matt says.
This always stuck with Matt as he finished his studies and went on to co-found his business, DNA Plans.
After building more knowledge in the field from running the architecture and drafting business, he decided it was time to create a product to help future students learn timber framing construction.
Alongside his business partner Paul, he created the 'Kit Home Learning Model'.
The model comes with all the timber needed to accurately build a timber frame house, approximately 1:25 scale of an actual house.
Students use step by step instructions, templates and labels to build the timber frame house, ideally learning all the terminology and processes along the way.
Various configurations include a conventional roof or truss roof systems, single or double storey options with prefabricated components to speed up the construction process.
The model has pre-cut pieces to reduce the amount of cutting needed to be done by students.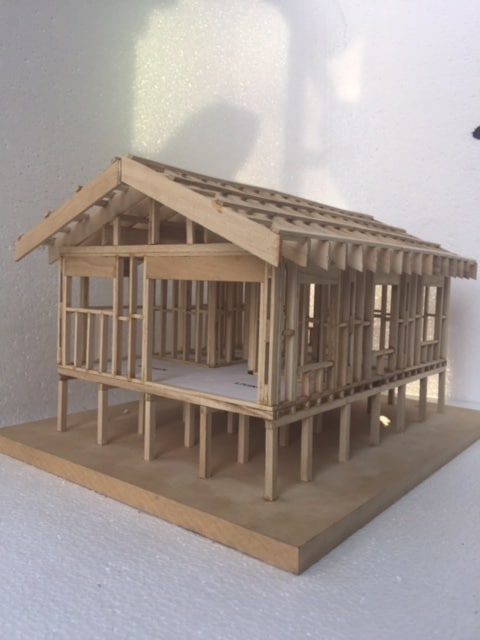 "Because the kit complies with AS1684, the Residential Timber Framed Construction Standard, it's a perfect way to learn how to build a timber frame house because that's how houses are constructed most of the time," Matt says.
"You can learn all the terminology with the comprehensive set of instructions to guide you through with labels; it's just a great educational tool."
The kit is now used in Melbourne based tertiary institutions such as Chisholm TAFE and Swinburne University and Matt says the feedback has been "unbelievable".
"We have listened to constructive feedback and have responded by refining our kits.
"We are now producing partially made kits because of feedback saying the models take too long to build for institutions which run short courses.
"If you did it non-stop, it would take you a few days. And courses generally have two hour classes so it can be hard to squeeze in the model building with everything else that needs to be taught.
"At Chisholm they do it in groups, which is hugely beneficial because they all come with different educational backgrounds. So there are carpenters, drafting and building students all getting together and bouncing off each other to get the models built."
CAD/DWG formats are available at the institutions request.
Matt says he would like to see the use of the kits extend to secondary schools.
"There has been some interest there but when we initially approached high schools, most had budget restraints. We are working on bringing the cost down even further so we can involve them as well.
"It would be great to have high school students learn about careers in construction, drafting and architecture in an interactive, engaging way. It may even keep some students in school."
The main reasoning behind creating the kit was providing a more engaging education platform for the many visual learners going through the education system. Matt hopes the kit can help students like himself in the future who respond better to interactive visual learning.
The kits are available from $90.
To find out more about the building kits, go to the DNA Plans website.