Choosing efficient windows
Australian Windows Association executive director Tracey Gramlick tells Building Connection why energy efficient windows are important and how to choose them.
Windows are possibly the most complex and interesting elements in the fabric of our homes. They provide light and fresh air and offer views that connect our interior living spaces with the great outdoors. However, windows can represent a major source of unwanted heat gain in summer and significant heat loss in winter.
Choosing energy efficient windows will make your home more comfortable, dramatically reduce your energy costs and help to create a brighter, cleaner and healthier environment.
Windows can severely impact the thermal and cooling loads of a house. Up to 40% of its heating energy can be lost and up to 87% of its heat gained through windows. Improving their thermal performance reduces energy costs and Australia's greenhouse gas emissions. The art is in knowing what to choose where.
U-Value (Uw) measures how readily a window conducts heat. It is a measure of the rate of non-solar heat loss or gain through it. The rate of heat is indicated in the terms of the U-Value of a window assembly which includes the effect of the frame, glass, seals and any spacers. The lower the U-Value, the greater a window's resistance to heat flow and the better its insulating value.
Solar Heat Gain Coefficient [SHGCw] measures how readily heat caused by sunlight flows through a window system. The SHGC is the fraction of incident solar radiation admitted through a window, both directly transmitted, and absorbed and subsequently released inward. SHGC is expressed as a number between 0 and 1. The lower a window's SHGC, the less solar heat it transmits.
In temperate and cool temperate climates such as Sydney, Perth, Melbourne and Hobart northerly glazing should have a high SHGC. This is standard passive solar practice for temperate climates. Northerly windows are the home's solar collectors. However, these windows should also have fixed shading designed to shade as little of the glass in winter as possible while shading as much as possible in summer.
East and west windows should have low SHGC, particularly if they are large, due to the fact that these windows are problematic energy-wise. It is better to use adjustable external shading if it is possible. The next best thing is a low-SHGC window which dulls the overheating problem in summer at the expense of passive solar gain in winter. This is a trade-off where the summer benefit normally outweighs the winter issues.
It is always the case that the lower the U-value the better because it is U-value that matters at night, regardless of orientation. In hot climates such as Darwin and Brisbane, there is little compromise; low SHGC is best. In those climates, if passive solar gains are desired in the coolest months, they should be obtained from northerly windows only. These can have a slightly higher SHGC if they are protected by climate-appropriate overhangs or other shading measures.
South facing windows can have any SHGC because there is little solar heat gain from that direction whether it be winter or summer. However, for all orientations a low U-value will out-perform a high U-value, including north-facing windows.
It is a common misconception that north-facing windows should be clear single-glazed to obtain the best house energy rating. Maximising passive-solar gain doesn't always necessarily lead to the lowest annual heating energy. Low-E double glazing with high solar transmission provides a better annual result because the small drop in solar gain (due to the second glass layer and its low-E coating) is more than outweighed by the lower U-value of the insulating glass. In net terms, the low-E double glazing is considerably better and returns a lower annual heating energy requirement whilst providing superior thermal comfort.
In heating-dominated climates such as Melbourne, Hobart and Canberra, the driver of annual energy is overwhelmingly U-value. However, high passive solar heat gains from north-facing windows can significantly reduce annual heating energy. Passive solar gains significantly reduce, but do not eliminate, the need for artificial heating. The physical reason for the dominance of U-value is that heating energy is mostly determined by heat loss from the inside to outside – which is very sensitive to window U-value.
In cooling-dominated climates such as Brisbane, SHGC is more influential than U-value except in the hottest zones such as Darwin where U-value again becomes nearly as influential as SHGC. Cooling loads everywhere are due mostly to unwanted solar heat gain, however a significant additional load from conduction heat gains occurs in hotter climates; this is sensitive to U-value and driven by heat gain from outside to inside.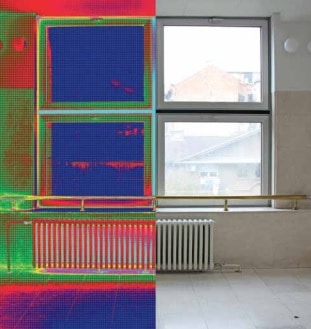 It is also well known that, for a given house, its annual energy performance for heating and cooling depends on its orientation. Windows can certainly be optimised by orientation. It is common practice among project home builders to use windows with the same U and SHGC on all elevations but the optimisation of windows by orientation is likely to yield at least half a star more than the 'one type fits all' approach commonly used.
Under the Building Code of Australia [BCA], window manufacturers are required to supply windows and glazed doors that meet mandatory minimum specifications for structural sufficiency and water penetration resistance under Australian Standard [AS] 2047 Windows in Buildings, Selection and Installation and be labelled as such.
There may also be a regulatory requirement to meet BCA for bushfire designated zones which could impact on the selection of glass types. A discussion with your window supplier at an early stage is recommended so that any conflicting provisions can be met and matched to your aesthetic and energy needs.
Energy efficiency provisions state that windows performance data must be determined in accordance with the guidelines of the AFRC [Australian Fenestration Rating Council].
The Window Energy rating Scheme [WERS] rates the energy impact of residential windows in homes to help designers and consumers evaluate the relative energy performance of different types of windows and then make an informed decision suited to their needs. Please visit www.wers.net or www.efficientglazing.net for more information.