Acoustic glazing for noise attenuation
Congestion and noise pollution are increasing as development spreads further into the countryside and densities become higher in urban areas. Add to this a general desire among homeowners to block out the outside world and you see consumers turning more to their windows for noise attenuation.
The National Construction Code (NCC) requires a level of sound insulation that represents the minimum acceptable building standards, as determined by wide consultation with the community and industry. An owner or designer can always go higher than the NCC requirements if they choose.
It is becoming more commonplace for building designers and homeowners to want to know the acoustic ratings for standard windows and some projects have acoustic specifications written into them now. A significant portion of that interest comes from projects near airports that has boosted interest and demand generally.
When designing or modifying a window, the work must comply with the NCC and consideration should be given to the desired reduction of outside noise. Construction that reduces external noise must be designed to ensure that it is integrated with all other requirements such as energy efficiency.
Improving the sound insulation of windows helps to reduce the level of external noise. The larger the glazed area, the greater the sound transmission through the window. The level of noise reduction will be dependent on the area of glazing that is treated. The noise transfer through and around windows can be reduced by using thicker and/or laminated glazing, a double glazed system and high quality window perimeter seals.
Measurement of sound
The decibel (dB) is the unit used to measure the intensity of a sound. The decibel scale is logarithmic: each 10dB increase in sound corresponds to a perceived doubling of the loudness.
Rw represents the Weighted Sound Reduction Index.
This is a single number rating for the insulation property of a window for airborne sound. It is based on an average reduction across a range of frequencies in the audible range (between 100Hz to 3.l59kHz).
In some cases, Rw +Ctr is specified. The Ctr factor adjusts for low frequency sounds, such as road traffic noise, that are transmitted through materials more readily than higher frequencies. The higher the Rw value, the better the sound insulation achieved. The Rw correlates in a general way to decibels of sound reduction.
Regulatory requirements
The NCC covers the internal acoustic considerations in Volume 1 for multiple dwellings Class 2, 3 and 9c buildings, but does not provide specific guidance for other building types. In some circumstances, such as near main roads and airports, additional requirements may be necessary. These are generally covered by local government authorities.
AS/NZS 2107 contains recommendations for the internal sound levels that should be achieved for various rooms based on their intended use. While the standard is not called up in the NCC, it does provide guidance for building designers and planning authorities.
Acoustic performance of glass
Generally speaking, thicker glass performs better in attenuating noise. However, different glass thicknesses perform differently at different frequencies.
At the lower frequencies, 12mm glass is much more effective than 6mm or 4mm, while there is little difference at the higher frequencies. Where the noise problem is traffi c and other low frequency noises, a thicker glass will provide the most benefit.
As the frequency of noise rises, the level of sound insulation will also rise and then suddenly dip. This happens when the glass vibrates in unison with the frequency of the sound. This is called the 'coincidence dip'.
Laminated glass performs slightly better than monolithic glass of the same thickness, especially at higher frequencies. When comparing 6mm laminated glass with 6mm fl oat glass, the fl oat glass experiences a large coincidence dip at 2000Hz whereas the dip associated with laminated glass is much smaller.
High performance solutions
A variety of high performance solutions are available and can be tailored to suit different applications. For specific or high level noise problems, an acoustics engineer can provide a solution. The acoustic engineer assesses the level and types of noise affecting the building and specifies the appropriate acoustic performance requirements.
A common misunderstanding is that double glazing is effective at attenuating noise. However, studies have shown that ordinary double glazing with a standard gap of about 12mm does not substantially improve the acoustic performance. The gap is too small to provide any real benefit. The most effective solution is to increase the gap between the two panes to at least 100mm. This is most commonly referred to as secondary glazing, as it often involves two separate window frames.
Another solution is to use two pieces of glass (either IGU or Laminate) with each pane a different thickness. For instance, one pane might be 4mm and the other 6mm. Each pane in a dissimilar glass unit will block different sound frequencies. Figure 2 illustrates sound as it travels through the dissimilar glasses.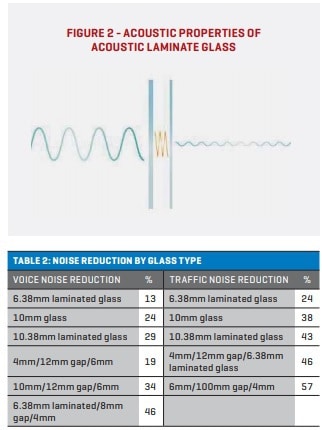 The thicker pane targets lower frequency sounds like a neighbour's stereo or traffic noise. The thinner pane targets higher frequency sounds like screaming and jet aircraft. This leads to a reduction in amplitude (loudness) across a wider spectrum of frequencies and the result is a significantly higher acoustic rating than for a window with standard glazing. The thicker glass should be about 40% thicker than the thinner glass to have the most benefit.
Recent technological advances in the manufacture of the interlayer of laminated glass have provided an improvement in acoustic performance. Acoustic laminates have a thicker (0.52 mm) specialised interlayer than is commonly used and provide some improvement over standard laminates. These interlayers are most effective when used with dissimilar glass thicknesses.
Noise reduction by glass type
Table 2 shows the indicative noise reduction for various options compared to 8mm glass.