Taubmans launches new formula of Endure paint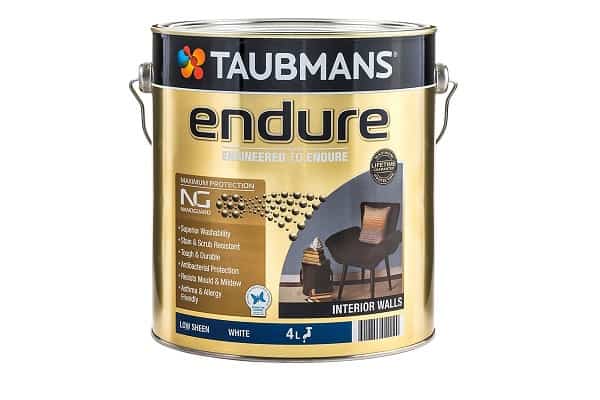 This June, Taubmans is launching a brand-new formulation of their much-loved flagship Endure Interior paint.
Significant advancements in technology make it one of the better performing paints, scientifically proven to deliver fantastic protection and backed by a Lifetime Guarantee+ .
The new Taubmans Endure Interior range carries a 8-in-1 multi-benefit protection across eight performance areas:
· Wash resistant
· Stain resistant
· Scrub resistant
· Anti-microbial
· Asthma & allergy friendly
· Low odour & Low VOC (Volatile Organic Compound)
· Inhibits mould & mildew
· Advanced Nanoguard technology
Lab results demonstrate its superior performance and when compared to a leading brand, the new Endure Interior Low Sheen has:
· 40% less shine after washing at the most noticeable 85-degree viewing angle;
· 11% more stain resistant;
· Endures almost 1,000 scrubs before breaking through the paint surface.
"When brushing out the paint across the wall, I was able to achieve more distance, especially when painting over a well-prepared surface with white undercoat," says Residental PPG NSW Business Development Manager Richard Zaiter.
"When rolling the paint out, I found that it easily transferred from the roller onto the wall. As long as the paint wasn't being overworked, the walls stayed wet allowing me to get a uniform finish, especially when cutting into the tighter areas such as up to corners and around light fittings."
Improved indoor air quality is a strong feature of the new Endure Interior range, with low odour, and VOC levels reduced to 15g/m2 , which is especially helpful for asthma and allergy sufferers looking for Sensitive Choice approved products. The advanced anti-microbial technology is also better equipped to protect against mould, mildew and bacteria.
In response to recent interior design trends leaning towards matte surfaces, the new range now includes an ultra-washable, stain resistant matte finish. With Ceramic Microsphere technology, the new matte sheen level performs like a low sheen in terms of washability and stain resistance, while still maintaining a true matte finish.
"I selected a grey tone as this is known to be a trickier colour to expose variations between the cutting in and rolling out. I found that the Matt finish paint performed brilliantly with superior results, limited variations when blending and performed well for touch up areas. Treat the new Endure Matt finish like any other paint by ensuring the appropriate surface preparation has been conducted, apply the right undercoat and use great high-quality tools, brushes and rollers to guarantee the best finish and to achieve beautifully tough walls," says Richard.
Taubmans category development manager Matt Browell explains that the new range is engineered with Advanced Nanoguard which gives an extra layer of protection when dry.
"It has an interlocking molecular structure of small and large particles that create a protective shield so everyday dirt and stains can be wiped away without compromising the quality of the paint. The anti-microbial properties provide excellent mould and mildew protection, so you have a cleaner and healthier home environment. It is one of the most advanced paint technologies available today," says Matt.