National Construction Code: free for all from 2015
As of February 2015, the National Construction Code (NCC) will be available free online. Find out what the changes mean, and how you can access the NCC for yourself.
Last May, the Australian Building Ministers' Forum agreed to make the 2015 National Construction Code (NCC) and future editions available free online. The move was made to help ease the burden of building and plumbing regulations, and to make the NCC more accessible both to small businesses, and to the broader building and plumbing industries.
The change is one of a number of reforms to the NCC, which also include:
– Moving to a three year amendment cycle from the 2016 edition
– Quantifying the NCC's performance measures (to encourage their uptake and promote new innovations in building design and construction)
– Improving the NCC's accessibility and usability, and raising awareness and understanding of code interpretation
– Reducing variations from and higher interventions to the NCC
– Reviewing the NCC to reduce the compliance burdens by removing unnecessary duplicative or redundant requirements.
The goal of the reforms to the NCC and the Australian Building Codes Board (ABCB) is to reduce red tape and regulatory costs for small businesses, and to improve productivity in the building and plumbing industries in a way that adds $1.1 billion per annum to the national economy. These changes are intended to directly benefit builders and building professionals, plumbers and related small businesses – who, in turn, will be able to pass on the benefits to new home buyers through lower construction costs.
The building and plumbing reforms also aim to transform the way the ABCB works, with a view to allowing it to concentrate more on its 'gatekeeper' role as a developer and custodian of uniform building regulation. This includes removing incentives for routine amendments to the NCC.
Whilst these reforms are to be delivered over a number of years, the ABCB will continue to engage with and keep industry informed during the implementation of the reform agenda.
The combination of reforms can be summed up pretty well with the phrase 'less is more' – a point that's very well illustrated in the following table: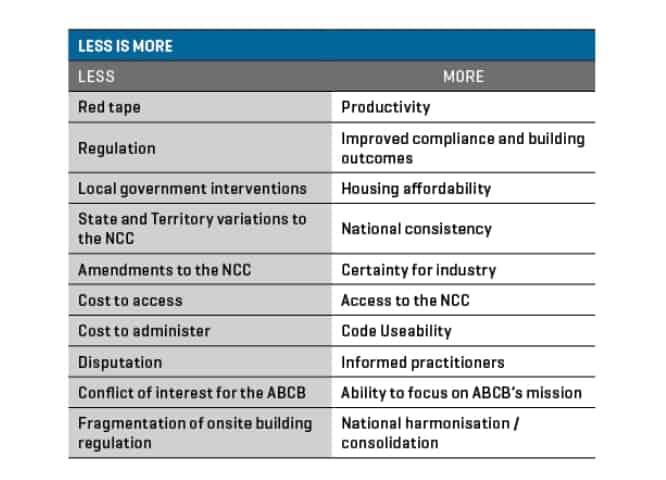 Frequently asked questions
Q: What is the NCC?
A: The National Construction Code (NCC) is an initiative of the Council of Australian Governments (COAG) developed to incorporate all on-site construction requirements into a single code. The NCC comprises the Building Code of Australia (BCA), as Volume One and Two; and the Plumbing Code of Australia (PCA), as Volume Three.
How to access the NCC
Q: Can I get free access to the 2014 NCC immediately?
A: No. The decision to provide free online access to the NCC commences with NCC 2015. The NCC 2014 will be in effect until 30 April 2015, and will still be available for purchase until that date.
Q: Can I still buy a hard copy of NCC 2014?
A: Yes – you can buy hard copies of the NCC 2014 from the ABCB online shop until it's replaced by NCC 2015 on 1 May 2015.
Q: How will I get access to the free online NCC 2015? When can I register?
A: You'll be able to pre-register from 1 December 2014 by visiting the ABCB website and following the link on the homepage. Registrations will be for individuals only; there won't be any shared access for organisations. Each registration will have its own unique login details for each user.
Q: I'm a current NCC subscriber. Will I still have to register to view the free NCC 2015 online?
A: Yes. Existing subscribers will still have to register on the ABCB website to view the free NCC 2015 online.
Q: When will I be able to view the free NCC 2015 online?
A: From 1 February 2015, registered users will have access to a free preview of NCC 2015 online and in PDF format, which will take effect from 1 May 2015. Access will be from the ABCB website, using your username and password to log in.
Q:  Can I buy a hard copy of NCC 2015?
A:  As of NCC 2015, the ABCB will no longer produce hard copy versions of the NCC.  Instead, users have the option of printing the complete NCC set or individual volumes from the digital download files.  Printing has also been enabled within the online service.  Alternatively, individuals can arrange for a printed copy to be purchased through their local print/copy shop for personal use from the digital download files available from the ABCB website.  Each of these options will be available as of 1 February 2015, as a preview to the 1 May 2015 adoption date.
Q: Can I get access to previous NCC/BCA/PCA editions for free?
A: Yes. From 1 May 2015, all registered users will have online access to past BCA editions and PCA editions from 2011.
System requirements
Q: What format is the free NCC?
A: Registered users will be able to either view the free NCC 2015 online in a web browser, or download a PDF file.
Q: What if I don't have internet access? How can I access the NCC?
A: You will need a computer with internet access to view the free NCC 2015 online. Free access to computers with internet is available at most local libraries, or by using internet cafes or accessing free Wi-Fi zones in your area.
Q: Can I print the NCC 2015?
A: Yes. There are no printing restrictions on downloaded PDF files or website content.
Q: Can I view the NCC on my iPad/tablet/mobile phone?
A: Yes. The NCC 2015 online and PDF versions can be viewed on mobile devices. The layout may change slightly based on the screen resolution available.
Technical advice
Q: Can I still get help with clarification of NCC technical provisions? How do I log a technical enquiry?
A: For registered users, the ABCB will provide clarification of NCC clauses only, not project-specific advice. If you require clarification of an NCC clause, you can log an enquiry via the ABCB website from the Contact Us page (www.abcb.gov.au/en/about-the-australian-building-codes-board/contact-us).
Q: Who should I contact for a project-specific technical enquiry?
A: For project-specific advice, contact your local building or plumbing control administration, local council or a private building certifier.
Q: How will I know if there are any updates/amendments to the NCC after I've downloaded it?
A: It's important that you supply your correct contact details when you register, and that you update your profile when necessary via the ABCB website.  Email alerts will be sent to you periodically when there are important updates or changes to the NCC.
NCC referenced documents
Q: Do I still have to pay for the documents referenced in the NCC (such as Australian Standards)?
A: Yes. The ABCB isn't responsible for the sale of documents that are referenced in the NCC (e.g. Australian Standards). Please visit the SAI Global website to buy Australian Standards (www.saiglobal.com).
For more information or to sign up, visit the ABCB website (www.abcb.gov.au).