Accessing the free NCC 2015
While the NCC is set to become freely available in February, interested parties can pre-register for updates and news, amendments and changes.
On 30 May 2014, the Australian Building Ministers' Forum agreed in principle to make the 2015 National Construction Code (NCC) and future editions freely available online, significantly contributing to reducing the burden of building regulation.
The decision to eliminate costs associated with buying the code will make it more accessible to both small business and the broader building and plumbing industries. For further information, please refer to the media release issued by the Parliamentary Secretary to the Minister for Industry hosted on the ABCB website.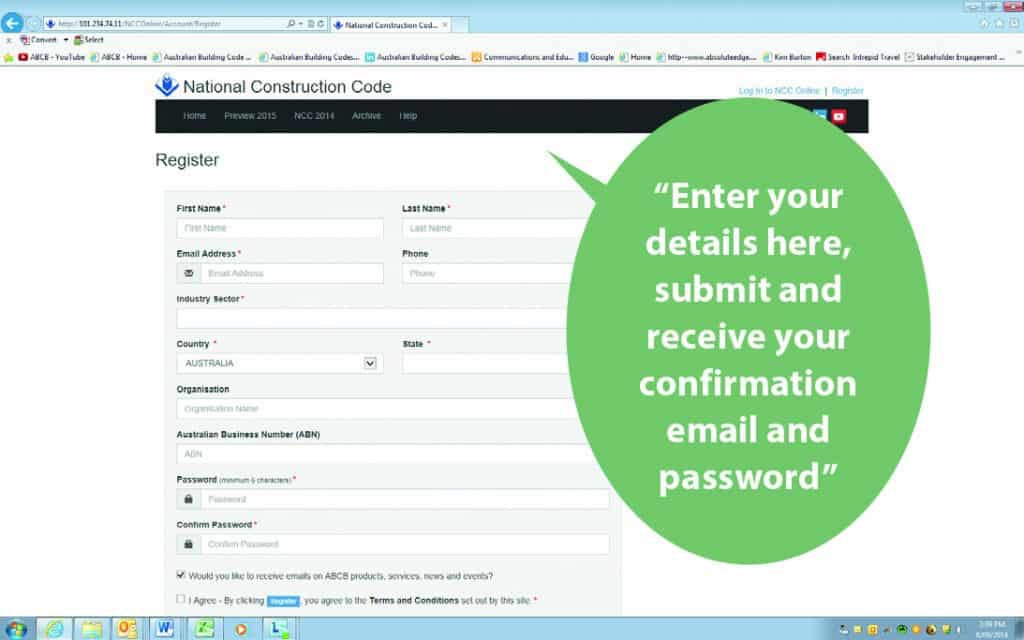 Pre-registration
Users can register now for free access to the 2015 edition of the National Construction Code (NCC) as it becomes available online and as a PDF from 1 February 2015.
Access and registration is available via the ABCB website's home page, with registration providing you with password and access details.
Why register?
Registering your details will ensure that you're kept up to date with any NCC amendments or changes.
Simply enter your details in the required fields and submit. An email will then be sent to your nominated address with your new access password.
When free access to the NCC 2015 becomes available from 1 February 2015 you will be notified by email, and provided with a direct link to the new NCC 2015 web pages.
Hard copies of the NCC
As of NCC 2015, the ABCB will no longer produce hard copy versions of the NCC. Instead, users have the option of printing the complete NCC set or individual volumes from the digital download files in A4 format. Printing has also been enabled within the online service. Alternatively, individuals can arrange for a printed copy to be purchased through a local print/copy shop for personal use from the digital download files available from the ABCB website. Each of these options will be available as of 1 February 2015.
Organisations seeking to produce hard copy volumes, reproduce or add value to NCC 2015 content can contact the ABCB at ncc@abcb.gov.au for further information.
Further digital enhancements will be made to the document, its methods of access and associated online tools over the next three years.
For more information or to sign up, visit the ABCB website (www.abcb.gov.au)