Fair suck of the sauce bottle
You might ask what tomato sauce has to do with metal roofing, well in this case, quite a lot when we tell you the effort we go to in bringing you useful information you won't stumble upon elsewhere. Plumbing Connection publisher Jeff Patchell explains.
Ignorance continues to run amok across the building industry in terms of useful knowledge that can be shared and applied to all building and construction work.
Unfortunately as you will read later, this pits our small family publishing business hard up against a billion dollar public company which couldn't care less about you or your businesses' welfare. It's a sad fact.
But let me get back to important things you should know about the next metal roof you install or repair.
Don't get screwed over
If ever there was a faith product, it is metal roof screws. They are the most weather-exposed part of any building and first to fail if the products' corrosion resistance coating is not fit for the purpose.
Rusty roofs have brought many a roof installers business to its knees. In more aggressive atmospheric environments it doesn't take long for rust to show up on the fixings – well before any 6-year builder's warranty sunsets. And with BlueScope' now offering very long warranties on their roof sheet, your fixings and standard of installation work needs to align with those.
Unfortunately with a naked eye inspection it is impossible to tell if a screw has 5 or 55 microns of Zinc/Tin alloy coating – so you have to trust your supplier and buying by price may not even be a true marker.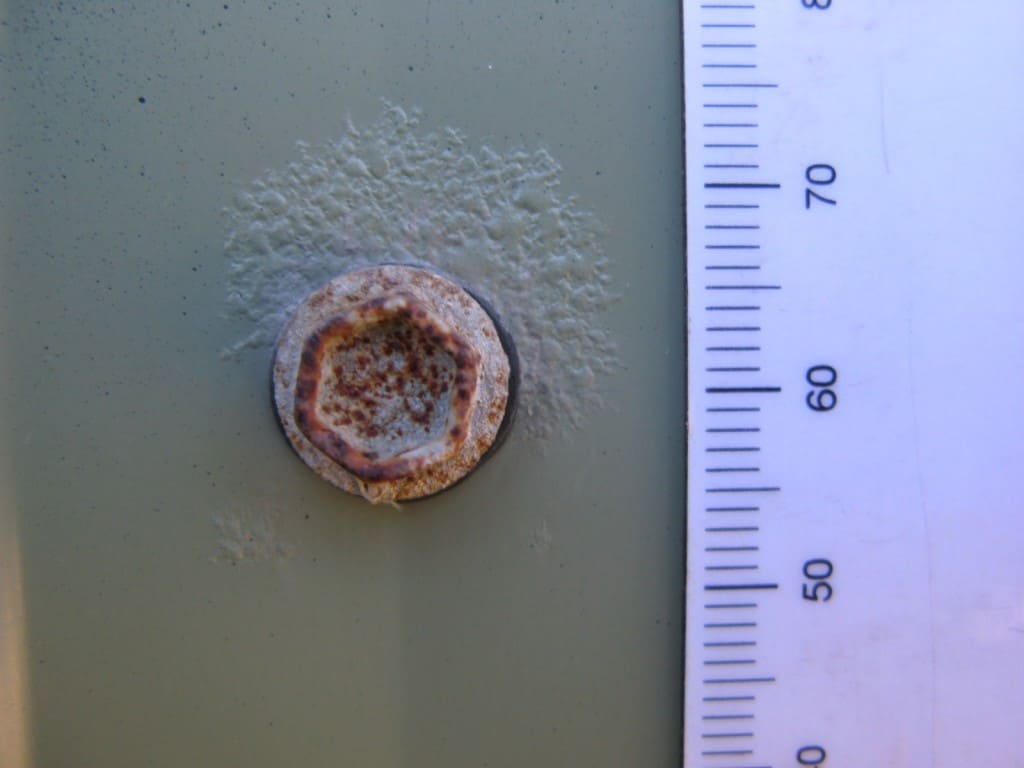 Until recently you'd ask your supplier for a Class 3 or Class 4 fastener conforming to AS3566.2-2002 but as Standards Australia advises, that Standard is no longer relevant, which could open up the industry to cowboys, so don't get caught in the crossfire.
For an independent view on this important issue we contacted BlueScope Steel, which is in the process of updating its Technical Bulletin Number 16 (TB16) to take into effect the knowledge gap in this Standards writing area. BlueScope's view is that AS3566.2-2002 is now obsolete as opposed to withdrawn. That status will remain until a Standards committee can be formed and agrees on a common testing regime – but you may be waiting a while.
Presumably different suppliers have their own views about product testing standards. Even though it is around 12 months since the Standard was deemed obsolete, there may still be some Class 3 and Class 4 stock around and it is quite legal for suppliers to sell down this existing stock.
In the interim, until the fully updated Technical Bulletin from BlueScope is available they have supplied this summarised statement:
"In order to recommend fastener's that are appropriate to the material, environment & application etc… builders, plumbers, installers and specifiers should be requesting and using fastener's that are suitable for the relevant ISO 9223 category. Many fastener companies already reference this, especially when promoting their new fasteners that are superior to Class 4. Remember to also ask for a fastener that is suitable for the product being used i.e. Galvanised screws for COLORBOND® steel & COLORBOND® Ultra steel. The Bluescope technical bulletin TB-16 is currently being reviewed to reflect the industry move away from AS3566 reference, and to reference and provide assistance via more detailed commentary around ISO 9223."
With any product you are installing, check the product warranty claims and if you are unsure, ask to see test inspection reports, after all, it is your neck that is on the line.
As there appear to be some new products coming through in this category that claim to offer improved coatings, it is a subject we will revisit in the near future.
Industry handbook gets a timely update
Our thanks go to Matt Wilson of the Victorian Building Authority who is a member of the Standards committee that reviewed and updated the popular handbook HB 39 – 2015 edition, the Installation Code for Metal Roofing and Walling. Matt supplied us with this overview of some points that have changed with this new edition.
The handbook has been updated to introduce emerging coating technologies and to reinforce appropriate installation practices that when utilised will ensure the installation of the roof coverings and flashings are watertight.
If you've not previously had a copy of this reference, the intention of the handbook is to provide basic installation guidelines and acceptable standards of good practice for use by metal roofing installation contractors as well as training providers in any State or Territory. The general design and sizing principles of roof drainage systems indicated in HB 39—2015 may also be utilised when installing drainage outlets, downpipes and overflow provision in above-ground external areas of buildings such as drains from balconies, patios and the like.
The revised version was prepared by a steering committee and peer reviewed by industry participants and is intended to supersede HB 39—1997, Installation code for metal roof and wall cladding.
The revised version takes into account the existence of the latest steel coating technologies in the market.
Here are a few points that the revision covers and as you will read, you'll be well advised to get your hands on a copy and study it in detail.
1 in 100 year risk
With more frequent and heavier storm weather; you need to ensure you fully understand the latest guidelines for the design of eaves and box gutters as well as roof drainage, flashings and cappings. They're in this handbook and it must be referenced back to the relevant parts of your copy of AS 3500. You'll also find some handy box gutter recommended design examples for commercial, industrial and residential projects.
Box gutter principals
The revision reminds roof installers of basic design principles for box gutters so that gutters are designed to have a constant width base (sole) with vertical sides and where appropriate constructed with a constant width base (sole), single vertical side with lear, double vertical side with lear or single or double lear extending under the roof coverings provided the effective area of the gutter is appropriately sized for the roof catchment area.
Straightening things out about gutters
There is advice that box gutters are to be constructed so to be straight (without any change of direction) and are to discharge at the downstream end without any change of direction (i.e. not to the side) and that V-shaped gutters are not to be used.
Soaker gutters of adequate strength appropriately sized for the roof catchment area above penetrations are to be installed so that all roof water is collected and drained into two or more full trays at the sides of the penetration with waterways upstream of any penetration to be not less than 100mm.
Eaves gutters with higher fronts than backs and eaves gutters that could potentially discharge overflow into any building are to be provided with fixed overflows calculated in accordance with AS/NZS 3500.3.
Spreaders may be used to drain rainwater from higher roof surfaces with catchment areas not exceeding 15m2 and may only exceed 15 m2 provided the additional upper roof discharge does not exceed the lower roof profile manufacturer's design carrying capacity.
Mention of insulated roof panels
A typical description of an insulated panel (sandwich panel or composite panel) is given that refers to building cladding panels having metal facings to both surfaces, with an insulation core completely filling the space between the two facings permanently bonded to them both. Installers are to refer to manufacturer's specifications when selecting, installing and working safely with these products.
Acceptance of pressure flashings
Pressure flashings may be used in lieu of cutting grooves into walls, provided they are used only with smooth surface finished walls, e.g. smooth finished concrete or smooth finished brickwork with flush pointed mortar courses. It is also noted that collar or penetration flashings are to be constructed with up-stands of not less than 100 mm with baseplates appropriately fastened and sealed to roof surfaces.
Slip, slop, slap – and be careful
It has been found that certain sunscreens containing semi-conducting metal oxides such as titanium dioxide (TiO2) and zinc oxide (ZnO) and these can accelerate the degradation of organic materials, including paint systems and care should be taken with their use. Lookout for a Zincalume 'friendly' sunscreen at your supplier store, it's not a gimmick.
We recommend you get hold of a copy of HB 39, it's a worthy reference.
Fair suck of the sauce bottle SAI Global!
Normally in a space like this we'd publish the cover of the document we are referring to and perhaps a page or two from inside – to give readers an idea of the document layout and encourage them to consider buying the document.
However, as SAI Global has the marketing rights to HB-39 (the end result of a lot of industry people putting their own time into the document) and all other Standards documents, they want to charge us a fee for using those pages – even in a thumbnail (illegible) size.
Thanks but no thanks SAI Global – on principal we refuse to pay for the publishing 'privilege'.
And isn't it lovely for them to say thank you to us for doing their marketing… the world has to change and commonsense restored.