The importance of hardware maintenance
Gary Smith explains that all hard working mechanisms deserve some maintenance to keep them performing to their full potential. This maintenance should occur prior to hand-over of the construction and throughout the life of the product.
All hardware material requires some up-keep, including stainless steel. Just like servicing your car, regular and even very basic maintenance is key to the longevity of products within the home.
Hardware maintenance is recommended every six months and more frequently in marine and industrial environments. But even the most basic care processes can make a big difference to both the performance and longevity of your window and associated products.
Simply wiping down the surfaces of hardware can help stop corrosion caused by dirt and grime. There are many useful maintenance techniques, so one of Australia's leading hardware manufacturers, Doric, has shared some handy tips for getting the best out of your hardware.
GENERAL MAINTENANCE
While many people notice a dirty window or door, not many will notice the dirty hardware that is so vital to its operation.
Damage to the surface and working components of hardware is often caused by dirt, grime and airborne salt deposits. Regular, basic cleaning of these products can help you get the best out of the hardware. Places like roller tracks on sliding windows and doors are especially susceptible to a build-up of dirt and other contaminants, and should be checked regularly to help prevent damage to the products and keep them running smoothly.
All general hardware cleaning can be carried out with a simple solution of mild liquid detergent in warm water applied with a soft bristle brush. It is important to avoid hot liquids if possible and also any abrasive tools in the cleaning process. The surface should also be rinsed thoroughly with water once cleaned.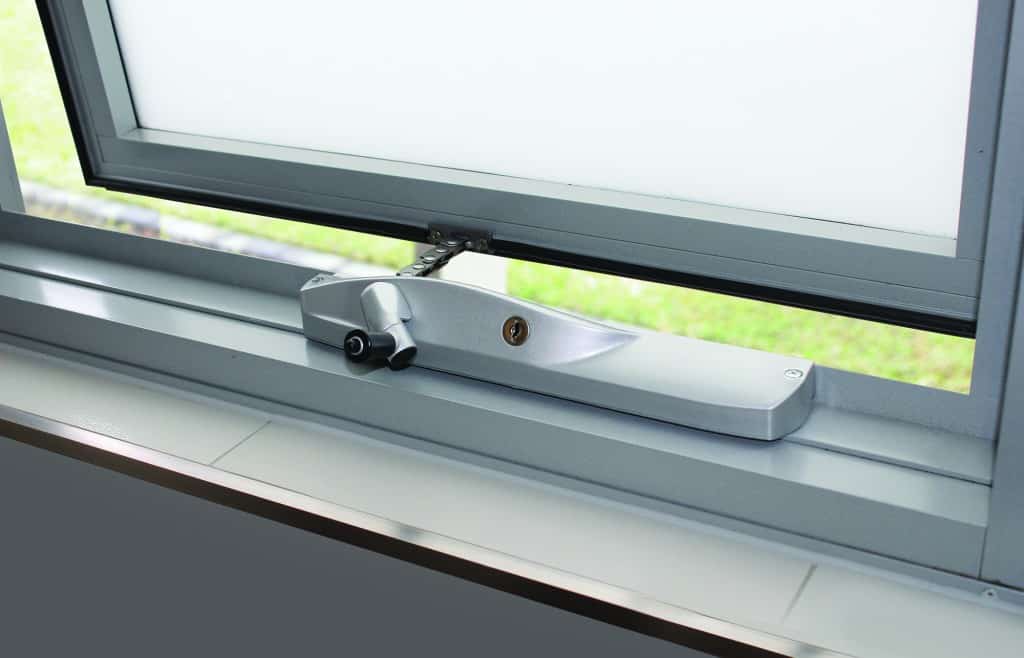 KEYED CYLINDERS OR BARRELS
Keyed cylinders or barrels should be lubricated at least once a year or when there are any signs of roughness when inserting or withdrawing the key. Simply remove any dirt, grime and salt deposits from on and around the face of the barrel, apply a small amount of powdered graphite to the key and insert the key into the lock barrel to maintain a smooth action. There are many specialised non-oily spray lubricant products available on the market now that can also be used such as Sellys Ezy Glide.
GENERAL LUBRICATION
All exposed and moving mechanisms and parts deserve a little extra attention to help maintain them over time.
Mechanisms should be cleaned with a soft bristle brush and a small amount of a Teflon based lubricant, or alternatively, light sewing machine 5W mineral oil should be applied to lubricate moving parts and prevent corrosion of exposed metal surfaces.
However, care should be taken to not apply an excessive amount of lubricant, as this can encourage dust to stick to these surfaces.
CARING FOR POWDER COAT FINISHED HARDWARE
Hardware with a powder coat finish should be cleaned on a regular basis. In most environments maintenance is recommended every six months, while hardware in marine and industrial environments should be cleaned more regularly. Exterior-mounted hardware, such as door handles, should be given extra care in these instances.
A solution of mild detergent in warm water should be used with a soft brush or rag to clean the surface of powder coated hardware. Abrasive materials should be avoided and after cleaning the hardware, the coating should be wiped down with fresh water.
CARING FOR STAINLESS STEEL FINISHED HARDWARE
Stainless steel hardware generally requires low maintenance, although some care is recommended to maximise the life of the product.
In most environments maintenance is recommended every six months, while maintenance is recommended every three months in marine and industrial environments.

Most discolouration can be removed with a mildly abrasive cleaner such as Ajax, Jif or Brasso. For heavier corrosion, a light plastic scourer pad or stainless steel scourer should do the trick. Avoid the temptation to use steel wool, as this may leave residues of steel which will rust, causing further surface discolouration. It's important to clean the product with water afterwards to make sure all cleaning product residue is removed.
While it is easy to maintain, there are certain environments and substances that can exacerbate stainless steel discolouration. Chlorine based (bleach) products and cleaners, hydrochloric acid (commonly used for tile and concrete cleaning), cement dust, soap concentrates and water with high iron content (generally bore water), should be avoided when possible.
When working on a project it is often a good idea to consult your window hardware specialist to help ensure you have the right product for the environment, a product that will not only be the finishing touch to your window but will provide the best performance for years to come.
For more information about hardware maintenance and to view Doric's range of products, visit www.doric.com.au.