Stramit & Tobruk pool redevelopment
A development steeped in local history, the Cairns' Tobruk Memorial Pool facility has since become an invaluable local resource as part of the North Cairns Sporting Precinct on Sheridan Street. Unfortunately, age and deterioration had left the pool and much of its surrounding facilities in a state of disrepair, and in 2012 the local council endorsed a $23.7 million redevelopment of the aquatic facility.
MMP Architects was briefed with developing a facility that enhanced the already strong connection between the facility and the contribution of Australian soldiers past and present. A new facility that won't require future operational subsidies was considered equally essential. The end result is an impressive, contemporary complex that epitomises the integral values of the Australian soldier and acts as a fitting home to the next generation of Cairns-based athletes.
A highlight of the new development is the pool area's curved, elongated roof, whereby Stramit Longspan® is at the core. Characterised by vast blue and black sheets, the roof lends the development a nautical theme and provides shade from the Cairns sunshine. "Having worked with Stramit® for decades and after investigating various similar alternatives, we decided Stramit Longspan® would be most suitable from an aesthetic and design perspective," Michael Martino of MMP Architects said.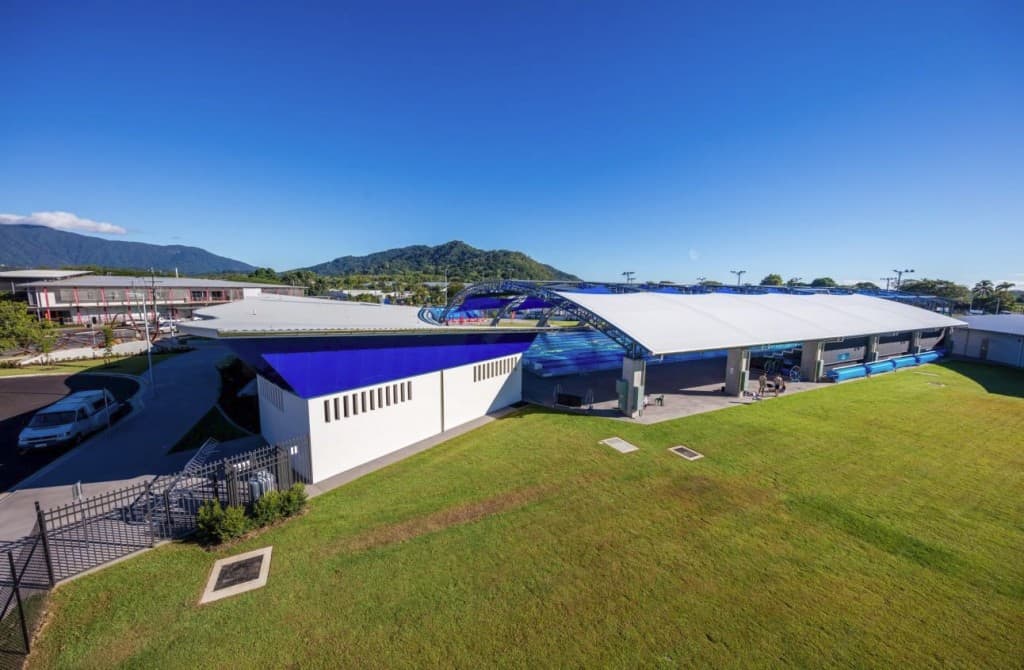 Integrating Stramit into the brief also allowed the roof installers, HPS contractors, to spring curve the sheets on-site, helping to facilitate the roof's eye-catching aesthetics.
"The ability of Stramit Longspan® to adapt to the extreme contours of the Tobruk Main Building were critical to achieving quality construction," said Bruce McDonald, Director of HPS Contractors.
"Stramit Longspan® is also unique in its rip depth and the number of ribs per sheet, which provided the best drainage capacity and cyclonic strength, while also maintaining the ability to curve successfully over the demanding roof design," Mr Martino said.
Another important factor in opting for Stramit was its reputation for customer service. "Stramit liaised with the entire project team during the design, documentation and construction stages said Mr Martino. "In addition to the principal contractor and the roofing contractor, Stramit support extended across the project design architect, structural engineer, mechanical services and hydraulics consultants. This ensured that no significant issues ensued and supply, installation and commissioning was seamless".
"Overall our client is extremely happy with the result. Stramit Longspan® is an excellent product that is well suited to this type of project," added Mr Martino. A fitting homage to the Rats of Tobruk, the region's highest profile swimming facility also epitomises the sporting prowess for which the area is renowned.