The compliant use of welded sheet vinyl in wet areas
Andrew Golle discusses whether welded sheet vinyl for wet areas is waterproof or water resistant, and what it means for compliance.
A debate is currently under way in Tasmania, regarding the compliant use of welded sheet vinyl in wet areas, and whether the substrate beneath the vinyl requires the application of a waterproofing membrane system.
While this subject has supposedly been put to bed on the big island, and all states and territories are legislated to follow BCA requirements (then again, how many actually comply with the BCA?), the Tasmanian waters have been muddied by statements such as:
"We have never had to waterproof under vinyl before, so why now?"
"Welded joints to vinyl are waterproof, therefore the whole flooring is a waterproof thing."
"Commercial grade vinyl doesn't require waterproofing."
These comments are misleading, and not supported by any evidence of BCA compliance, or manufacturer specifications.
We therefore need to look at BCA provisions, as a starting point, and then wade through the various steps involved with determining the suitability of a product when installed in a wet area. And guess what? It needs to be in writing, or it's not true!
BCA (NCC) compliance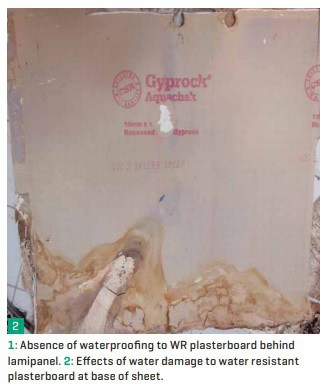 The BCA requires that a Building Solution complies with the Performance Requirements. This can be achieved by either:
Complying with the Deemed-to-Satisfy Provisions. Part 3.8.1 of BCA Volume 2, references AS 3740-2010 (Waterproofing of Domestic Wet Areas) as the Deemed to Satisfy Solution.
A Performance Solution as determined by BCA 1.0.8, 1.0.9 and 1.0.10. I won't go into the requirements as these have been covered by previous articles in this publication.
An expert judgement following the verification methods prescribed and documenting Evidence of Suitability under Part 1.2.
A combination of above where these do not adversely affect the performance provisions of other building elements.
It is up to the building surveyor/ certifier/ local authority to assess and accept a Building Solution as one which will comply with the Performance Provisions. Will it leak, rot stuff out, cause it to fail or adversely affect the health and amenity of the occupants?
The Deemed-to-Satisfy referenced construction manual, which in most cases is the BCA referenced Australian Standard relevant to the construction, is assessed as being compliant. AS 3740-2010 is the document, in this case.
Where a Performance Solution is provided, the appointed certifier must independently READ and ASSESS the documentary evidence provided as being compliant with the Performance Provisions.
However, the Performance Provisions are the premium factor that all Building Solutions must lead back to and comply with.
Under BCA Vol 2 Part 2.4.1, the Performance Provisions are:
"To protect the structure of the building and to maintain the amenity of the occupants, water must be prevented from penetrating
behind fittings and linings; or
into concealed spaces of sanitary facilities, bathrooms, laundries and the like."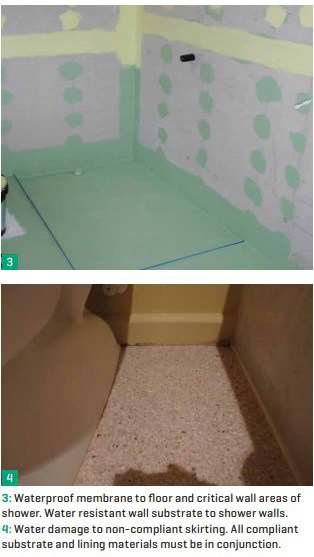 Steps to determine material suitability
Following are the steps required in order to assess the BCA requirements and marry these up with material suitability, when considering the use of a material such as welded vinyl in wet areas.
BCA states that wet areas are to be made waterproof or water resistant according to AS 3740 – 2010. A waterproof material is one that is impervious to liquid passing through it, such as a glass panel, a receptacle like a bath or basin, and a waterproof membrane. Water resistant materials are those that restrict the passage of water and do not deteriorate when in contact with moisture. Materials such as ceramic tiles, mortar screeds, cement based tile adhesives and concrete are classified as water resistant and are used as lining materials and intermediate layers acting as ballast and drainage cells.
BCA Table 3.8.1.1, and AS 3740 Table C1 prescribe the designated wet areas and the components of those wet areas requiring treatment as either waterproof, water resistant, or no treatment required. The scheduled wet areas are:

Showers
Areas adjacent to baths and spas (Bathrooms, ensuites, powder rooms etc.)
Laundries
Toilets

Components in the above wet areas are broken down and a level of protection assigned according to the usage of that area and the regularity of exposure to water and water movement. All shower floors and horizontal surfaces are required to be waterproof. Shower walls are required to be waterproof only up to 150mm from the floor with the remainder being water resistant to a minimum of 1800mm from FFL as determined by the rose connection. Shower wall joints are to be waterproof. Bathroom, laundry and toilet floors are required to be water resistant, when on concrete or FC sheeting, and waterproof when on timber substrate. Wall and floor junctions are required to be waterproof and sealed to a water stop at doorways as part of the continuous perimeter flashing.
AS 3740 Section 2 lists compliant materials which are classified as either waterproof or water resistant. Section 2.4.2 lists substrate materials that are water resistant, when used in conjunction with compliant lining materials. Section 2.4.3 lists compliant lining materials when used in conjunction with compliant substrate materials. Both substrate and lining materials must be used in conjunction, or combination; not as a standalone substrate or lining material. Welded sheet vinyl is scheduled as a water resistant flooring material that must be combined with a compliant substrate, but water resistant only. This is insufficient; where the requirements listed above, call for waterproof materials for critical components. Section 2.4.1 also recognises waterproof welded sheet materials as a compliant waterproof finish, however this is not referring to welded sheet vinyl, but is intended to refer to sheet membranes such as: heat welded PVC sheet membrane, FPO (Flexible Polyolefin) sheet membrane, TPO (Thermo-plastic Polyolefin) sheet membrane, Butynol rubber sheet membrane and EPDM (modified rubber) sheet membranes. If a material is not scheduled under section 2, then it may not be compliant, however many builders insist on incorporating materials such as timber, plaster setting and carpet in wet areas. These materials should either be removed or protected from contact with water.
Most welded sheet vinyls are classified as water resistant by their manufacturers, as stated on published technical data sheets. Therefore, where waterproof systems are required to shower floors, all timber floors, sealed wall & floor joints, and sealed wall joints everywhere, we 5 COVER STORY: TILING DEFECTS must provide a compatible waterproofing membrane beneath the water resistant vinyl. Alternatively, install a waterproof vinyl. There are only a small number of compliant waterproof welded vinyls on the Australian market. These are documented with a compliant CodeMark testing certification, recognised by the ABCB (Australian Building Codes Board) and tested to AS 4858 – 2004 Wet Area Membranes. Tarkett's range of welded vinyls is an example, and is documented as CodeMark compliant materials. However certification is only issued when these products are installed by Tarkett qualified installers and all welds are tested!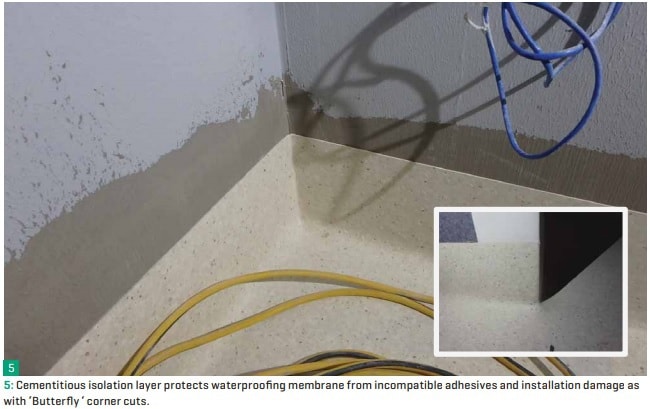 Waterproofing membrane and welded vinyl installation issues
A number of issues arise when combining waterproofing membranes and welded vinyls. Quite often defects become evident, over time where the vinyl begins blistering, membranes fail and BCA performance breaches occur where water exits the wet area causing damage to other building elements and adversely affects the health and amenity of occupants.
These defects can be attributed to faulted installation practices such as:
Incompatibility between waterproofing membranes and solvent based vinyl adhesives – Water based membranes will be broken down and compromised by solvent based adhesives through plasticiser migration out of the adhesive. This occurs over time and is catalysed by moisture and heat. What better place to fi nd moisture and heat than the fl oor and lower wall areas of a shower.
Abrasive damage to membranes by vinyl installers – This occurs when installers attempt to take out imperfections in the brush or roller applied membrane finish, to provide a level and even surface for vinyl installation. Some will slice off, or grind back ridges and high spots. Other damage occurs as vinyl installers cut joints for welding in-situ, such as butterfly corners, directly onto membranes.
Moisture build up beneath vinyls where negative pressures result in membrane failure and adhesive failure – One of the reasons that we are required to waterproof beneath vinyl is the presence and build-up of condensation beneath the vinyl. Hot water to the surface, and cool substrates and cavities beneath the vinyl result in condensation forming which can blister membranes and lift solvent based adhesives. This is why installers of laminate linings and acrylic sanitary shell products leave the bottom wall/tray joint open for drainage and silicone seal the top sheet joint to minimise steam going down behind the sheets. Wall sheeting is adhesive fixed by applying separated vertical runs of adhesive, to allow for drainage.
The solution to avoid all of these defects is to install a complete and compatible membrane/vinyl lining system. A material compatibility chain, preferably from a single manufacturer, will go a long way to avoiding compatibility issues. Documenting of this compatibility chain, as part of the waterproofing application certificate, is one way to control this. Builders and project managers should ensure that the compatibility chain is followed by all, through stage inspections.
A suggested compatibility chain and sequence of construction is as follows. This should be sought and documented in writing by your material manufacturer, as a site specification:
Bonded screed to substrate with falls as required by AS 3740. Bonding agent either to be applied beneath screed or an additive mixed into the screed to form a fully bonded bed.
Negative pressure membrane (possibly a hydro epoxy) applied to moisture laden green screed. This will avoid delays in the construction process and resistance to moisture building up in the screed, from blistering the topical membrane.
Class III water based membrane to full floor and appropriate wall application, compatible with finishes and coverings. This must be accompanied by the appropriate connector sealants and bond breakers with release zones.
Cementitious feather coat with bonding additive, to ensure full bond to membrane. This removes imperfections in the membrane from abrasive damage, including cutting of butterfly corners.
Negative pressure hydro epoxy to moisture laden green feather compound. This provides a stable substrate for solvent based adhesives, isolates the membrane from solvent adhesive contact, and resists moisture build up in the feather screed from lifting the solvent based adhesive.
Solvent based adhesive with the required adhesive contact coverage by the manufacturer.
Steps four and five should be applied to all areas expecting contact between the membrane and solvent vinyl glue. This would include the walls where vinyl may be coved or other finishes such as lamipanel requiring the application of incompatible solvent adhesives.
In conclusion, don't believe rhetoric that is lacking supportive evidence. Assess the material protective requirements as specified by the BCA and match these to the selected welded vinyl. If components require waterproof protection, and the selected vinyl is only water resistant, then a compatible waterproofing system needs to be installed.
It falls onto the shoulders of the builder/surveyor/ certifier/council inspector to READ and ASSESS the Performance Solution. Protect the building owner and yourselves from non-compliant Building Solutions.
If it's not supported in writing, then it's not true!