The 2018 Trades Industry Conference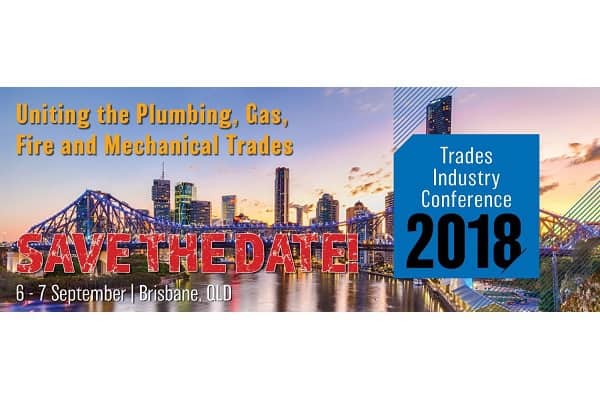 The plumbing, fire, gas, mechanical and hydraulic trades and professions have joined together to bring one of the most unique joint trades based conferences in Australia; The Trades Industry Conference.
The conference will be held at the Brisbane Convention and Exhibition Centre, 6 – 7 September, for two days to help trade-based businesses and professionals keep up-to-date with topics and issues that affect their industry and provide innovative sessions to help them be a leader in their field.
The Trades Industry Conference is  presented by seven leading industry associations:
Association of Hydraulic Services Consultants Australia (AHSCA) QLD
Air-Conditioning and Mechanical Contractors' Association of Australia (AMCA)
Backflow Prevention Association of Australia Inc. (BPAA) – QLD Chapter
Institute of Plumbing Inspectors QLD (IPIQ)
Master Plumbers' Association of Queensland (MPAQ)
National Fire Industry Association (NFIA)
Queensland Gas Association (QGA)
Social functions and activities will be run throughout the conference, as well as the opportunity to view an array of products and services specific to different fields at the trade expo, which will run across both days of the conference. Exhibitors will be made up of industry suppliers, manufacturers and service providers with the latest technologies and trends available to see and experience.
The conference schedule is jam-packed with sessions to satisfy everyone, with streams specifically dedicated to each trade. From product demonstrations to Q & A panels to information about the latest changes for each industry, this inclusive conference is open for everyone.
Keep pace with others in the same trade, advance your skills and then accelerate to be a leader in your field by learning to leverage changing trends at the Trades Industry Conference. If you're in the plumbing, fire, gas, mechanical and hydraulic trades, book your tickets before Friday 6 July to make the most of early bird pricing.
For more information and to book your tickets visit www.tradesindustryconference.com.