Biofiba working towards industrial hemp pallet production in NSW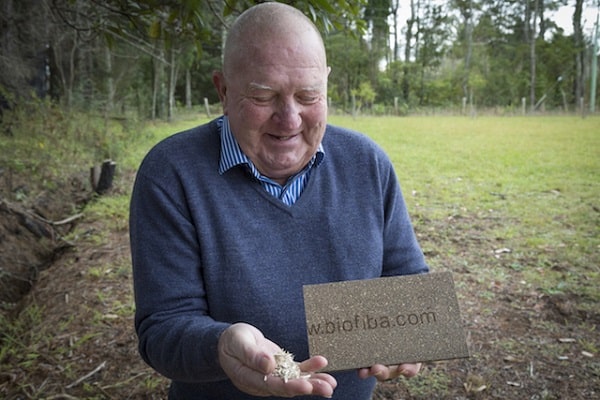 Biofiba has announced pre-planning is well underway and applications submitted for the company to establish a manufacturing facility for its patented hemp-based biocomposite products.
Legislation changes in late 2017 that allow the legal cultivation of industrial hemp mean Biofiba Hemp is now permitted to be grown and processed for Biofiba biocomposite products and other commodities such as hemp seed and oil.
Biofiba Hemp is a legal species of the common industrial hemp plant of the Cannabis sativa variety with a THC concentration of less than 0.5%. Biofiba's biocomposite products are produced from specifically formulated resins and hemp fibre from the inner core of the of the hemp plant, which is a common waste by-product.
The company's patented extruded, simulated timber profiles are used for a variety of applications. The flag ship product is Biofiba's extruded planks, which are used to make shipping pallets, providing a cost effective, hygienic, durable and biodegradable alternative to timber and a replacement to plastics.  Biopallets can be made to any specification and size and simply replace timber in existing pallet manufacturing machinery. This allows timber pallet companies to counter the continued decline of timber without additional capital equipment and expense.
"Biofiba is not about reinventing the wheel but merely and simply replacing current raw material inputs with renewable environmentally, cost effective and sustainable alternatives," says Biofiba chairman Laurence Dummett.
Biofiba has been in development for the past eight years as part of the CSIRO's National Flagship Program. The material is non-toxic, biodegradable and environmentally-friendly, offering a biosecurity compliant solution to the unsustainable use of current materials for the logistic, packaging and building industries.
The company commenced its first operation in June 2017 at its Chinese facility extruding biocomposite profiles to make export shipping pallets. It is now aiming to commence operations on the NSW Central Coast within Q1 of 2019.
"We're looking forward to adding considerable value to investment and the positive impacts our product will make to the environment in stopping deforestation and reducing plastic waste," says Laurence.