Crop rotation: building with hemp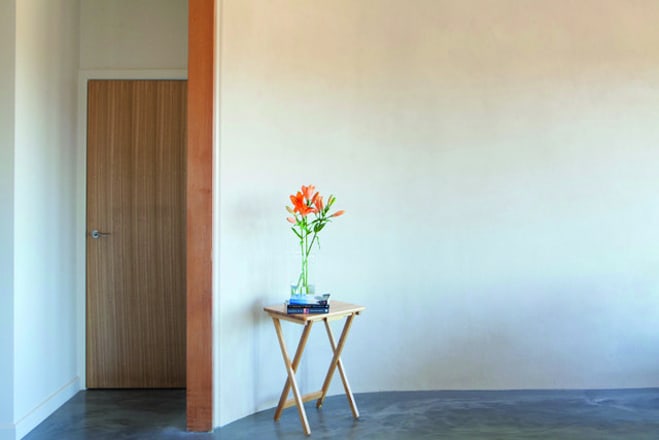 Building with hemp has been around for decades. Today, advocates of hemp-based construction are on a mission to propagate their industry in mainstream thinking. Paul Skelton reports.
The word 'hemp' usually conjures up an image of hippies, desperately in need of a shower, sitting around smoking marijuana.
The truth is that industrial hemp, although related to cannabis, is a durable plant that could play a pivotal role in the future of the building sector.
In the past few years a small-scale 'hemp house' industry has emerged in Australia. A handful of entrepreneurial types have been researching the viability of using hemp in residential construction, and it seems to be paying off.
Joe D'Alo, a former senior police investigator, has also noticed greater interest in building with hemp.
Five years ago, Joe handed in his uniform to pursue a career in low-impact construction. This led to the establishment of The Hemp Building Company in the Victorian regional town of Kyneton.
"We've come a long way in a short time, and I can still see huge potential for more growth," Joe says.
"The building industry is just part of a bigger picture.
"Hemp has been used worldwide for thousands of years. In fact, the body of the first Ford Model T included hemp fibres. Henry Ford even made fuel from hemp.
"However, the benefits of hemp were lost as new polymers were introduced."
Interest in building with hemp has always been there in small pockets of society, but it is now growing. Most likely this is because of the plant's energy efficiency properties and the fact it is a carbon neutral building material. Hempcrete, as it is known in its construction-friendly format, is made with the inner woody core of the industrial hemp plant. That core is mixed with a lime based binder, mostly pure aerial lime. Pozzolans and water are added to make it stick together. It is then cast around the structural frame of the building.
"Thanks to the demonisation of the word 'hemp', a lot of people get the wrong idea when I explain what I do for a living," Joe says.
"In construction-grade hemp there's just 0.02% Tetrahydrocannabinol (THC), which is the psychoactive compound in hemp that gets people high. But in order for that to happen, the amount of THC needs to be around 25%.
"Smoking this stuff won't make you high ­– you'd just get sick from carbon monoxide.
"Construction-grade hemp is grown under licence. If an inspector discovers THC levels beyond 0.02%, the whole crop is destroyed."
What is available?
Industrial hemp, a rapidly growing plant, is produced for a range of commercial purposes including paper, fabric, clothing, biodegradable plastics, paint, insulation, biofuel, food and animal feed. As far as the construction sector is concerned, several Building Code-compliant materials are available, including walling material, sub-flooring and roofing insulation material.
Some available product is also suitable for commercial builds.
In September 2017, WA supplier KOSP Construction Resources developed a patent-pending modular system to make working with hemp a lot faster.
"The HempKote system is installed in a similar way to most panel systems, like NRG's cladding solution," co-owner Neville King says.
"It's actually a fairly long process building with hemp in the traditional way, whereas using HempKote is quick. Further, all the panels will dry in about a month."
To install HempKote, large panels (200mm x 600mm x 90mm) that weigh 37kg each are laid horizontally and staggered like bricks. A skin coat of render is applied over the hemp then a mesh is embedded in the wall surface and another coat applied on top. Finally, a waterproof coat is applied.
"Anyone who can install NRG cladding or autoclaved aerated concrete (AAC) panels will be able to install HempKote," Neville says.
Over at The Hemp Building Company, Joe's range of products is the first in Australia to receive CodeMark compliance.
"I reckon it's a matter of time before we see hemp structural elements,"  he says.
"There is great potential for a product that replaces timber structures.
"There will undoubtedly be other building materials that will be developed from the crop, especially as more companies invest in research and development."
In addition to supplying hempcrete materials for walling, sub-floor and roofing insulation, Joe also rents out a special pan mixer, which is set up on a horizontal bed and features slow rotating arms to mix the material.
"In using a normal barrel mixer, cement, sand and water are heavy so will slump to form the mixture. When you put hemp and lime into one of these mixers it just sticks to the side because it's so light."
Why bother?
Hemp is biomass that is produced quickly. And when you use it to build a house, you lock carbon into the building for a very long time, removing it from the atmosphere. According to Joe, an average size house made from hempcrete will remove tonnes of CO2 from the atmosphere.
Hemp is also effective in cleaning up contaminated land. It also improves soil for other crops – wheat farmers reportedly achieve a 10-20% increased yield if they put hemp into their  crop rotation.
It's also recyclable and there's no waste on site; if you put a tarp down, any material that falls to the floor can be cleaned up and reused. Then, in 15 or 50 years if you decide to knock down your building or your walls, you can reuse the material. You can simply break it apart, mix it with a bit more binder and go again.
Tradical Hempcrete, which is available through The Hemp Building Company, also attracts the highest bushfire rating of BAL-40. It is the only product that has completed fire testing certified by CodeMark Australia.
"Whether it's a rendered wall or one with another cladding material over it, a hemp house will look like any 'normal' house," Joe says.
"It doesn't look like a hippy house or anything strange.
"You can make it work with whatever design you need. In Europe they've gone as high as seven storeys."
Hemp is also a slow phase-change material. Studies have shown that it takes about 21 hours for a complete heat transfer to occur in a 250mm hemp wall.  So good are its hygro-thermal properties that the Science Museum in London has installed hemp panels in its large objects store, to counteract rust in vintage planes. Further, you don't get any mould in a hemp home. Mould from trapped moisture is a major problem in buildings in a lot of Australian regions.
Some hemp house owners have even reported an easing in asthma symptoms.  Rather, hemp is 'vapour permeable'. This means any off-gassing from furniture, carpets and paints isn't trapped inside.
For Joe, perhaps the biggest benefit is that hemp can be grown anywhere  in Australia.
"We can farm at least two crops each year. In some places they're actually hitting three. "They're also looking at using hemp in areas with high seismic activity, such as New Zealand, because lime is considered 'self-healing'. There's a lot of flexibility in hemp, whereas brittle concrete tends to crack."
Greg Flavall is the co-founder of Hemp Technologies LLC.
"We've compared and tested flax, linseed oil stalks, straw and corn stalks, and even wood, which has a high cellulose value," he says.
"However, none of them have the hygroscopic value of hemp cellulose. And the material is not termite resistant – it's termite proof, because the lime is septic for termites."
Of course, there are some trade-offs. Greg says that hempcrete is much more labour intensive than other materials. Typical on-site casting requires five or six people.
"A house of about 150m² will need about 10 days to cast hemp to the walls."
How much does it cost?
Greg says hemp is grown in Australia and New Zealand, but large quantities are not available yet.
"Commercial quantities are not even available in the US or Canada, where they grow about 160,000 hectares of it every year for food.
"The strain they grow there is not tall enough for construction, so we have partnered with a farm in the Netherlands, where we grow 3,000 hectares a year.
"This means it's more expensive to build with hemp initially because of the raw material. However, by the time you turn the key in a brand new home, the costs will be the same as regular construction."
Neville says that although the method is more expensive, it can't be compared to conventional ways of building.
"As an example, a 250mm wall will cost about $55,000, and that gives an R rating of 3.3. Using the HempKote system costs about $40,000 but gives an R rating of 4.46. It's a different ball game."
Where to next?
Although excitement is building, the hemp construction industry would be wise to move forward cautiously.
To build a strong construction industry we would need to ensure supply and that the Australian hemp farming and construction industries develop at the same rate, to allow for the steady growth of the hemp construction sector.
Recently, the UK government invested the equivalent of $6 million in renewable housing, trying out various building techniques and materials (such as hemp). They wanted to measure the performance and life cycle of each.
There has been real leadership by the UK government, but we don't have that yet in Australia.
Hemp would appear to be a logical answer to future construction supply and demand issues; further, it offers better land management, fewer carbon emissions from farming, more soil carbon stored from the tap root, more carbon locked into buildings and more efficient buildings.
It is a material we should be using to achieve better quality, healthier, more energy efficient homes.  Joe says that regulation would be useful for the fledgling industry, as it would put an end to some of the questionable tactics being used by some participants.
"A couple of companies are doing a disservice to the market. Being a builder, I understand that it's all about warranties and insurance so I'm concerned about little backyard operations. They use B-grade hemp lime and also sand, which adds tonnes to something that should be a lightweight material.
"I'm also concerned that building surveyors will say builders using hemp aren't meeting Australian Standards – which hempcrete technically doesn't, because no Australian Standard exists.
"I use a European Standard. Europeans have been building with hemp for more than 40 years and it is where the standard was set.
"That said, we do have CodeMark certification. We've had our product independently tested and it complies with the Building Code of Australia."
Joe says now is also the time for the government to specify requirements for the training, materials and application of hemp.
"We're not at the point yet that every builder needs to become an expert in hemp overnight. But if they want to specialise in it, I definitely think there's a market for it. And if they want to specialise in it, I can give them all the help in the world."