Plastered all over the wall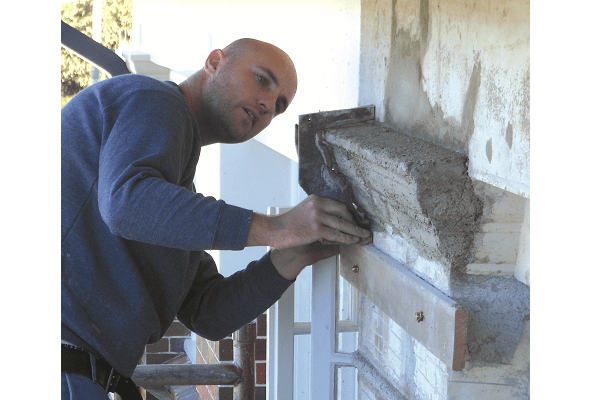 As the restoration market grows, more builders are being contracted to fix heritage buildings using traditional methods and materials. Simeon Barut looks at what builders need to know.
Heritage restorations are slowly growing in popularity across the country, leading to more companies placing a bigger focus on specialised plasterwork.
More and more builders are now benefiting from the niche skill as home owners shy away from having a cookie-cutter build and demand more individuality within each room.
As stated in the Autumn 2018 edition of Building Connection, there are very few companies that actually focus on traditional plasterwork. However, companies like ChadGroup, McMillan Heritage Plastering and Hopkins Plaster are embracing the heritage work and providing solutions and training to current workers and apprentices.
ChadGroup lead plasterer Nick says that there is a growing desire for customisation within homes and companies like his are educating younger plasterers and employees on the importance of ornamental work to cater for this demand.
"This may sound a little cliché, but as you get older you definitely start to appreciate what effort has gone into things like ornamental plasterwork," says Nick.
"There are a few tradies out there that specialise in traditional plasterwork but there's no-one following after them. That's why companies like ChadGroup are trying to pass on our knowledge to the next generation.
"This is important because houses are starting to get very old and you can't treat them like you used to 20 to 30 years ago (i.e. buy them because they're cheap, knock them down and build something new). Instead, a lot of people want to restore these properties because they have character and don't look like every other house on the block.
"Every cornice is different in every room because every room has a different purpose. Each plasterer uses their preferred moulds so each house is left with that essence of individuality."
Today's building contractors are urged to know the different techniques of heritage plasterwork, like lath and plaster lining methods and fibrous lining panels, to give them the best chance of understanding how to preserve or repair work done using these methods.
Lath and plaster usually involves a hand-applied process where a mixture of water, plaster, lime and in some cases sand, is troweled over a substrate of light timber battens – known as laths – on both walls and ceilings. This method depicts how plastering was done originally and resembles the wattle and daub process used in early Australian Colonial times.
Laths are usually installed with an air gap of approximately 6mm, which allows the plaster mix to squeeze through the gap and for a mechanical 'key' that assists greatly in the adhesion of the trowel applied plaster finish.
From here, ornate detailing in things like archways and in-situ cornices can also be 'hand-run' on site via the use of a custom light metal template fixed to a timber backing. Often, experienced traditional plasterwork tradies would then hand-run a custom sand, lime and plaster profile on site using the same template to achieve the customer's desired profile.
However, the plastering industry is moving away from wet site-applied finishes to factory produced pre-fabricated lining methods, such as fibrous plaster lining panels, ceiling roses and cornices.
These are typically produced in a factory environment using moulds that are progressively filled with layers of casting plaster and a range of reinforcing fibres to enhance its strength and avoid any cracking. The different fibre types that are traditionally used in Australia are hemp and chopped strand fibreglass with this being particularly prevalent in older homes.
"Traditional lining methods can (where damage is not excessive) be repaired and maintained by a builder who has access to knowledgeable and skilled tradespeople," says a spokesperson for CSR Gyprock.
"It's imperative that tradespeople have a good understanding of how heritage plastering techniques were carried out and be given training in the best methods available to restore, replace and preserve any lath and plaster and fibrous plaster linings."
While CSR Gyprock does not explicitly provide training in traditional plastering techniques, it does produce material that can be used by companies and individuals carrying out wet site application methods.
"CSR Gyprock's lining production methods are substantially different from those used in early fibrous plaster production which means it's generally not possible to provide training for heritage lining solutions," says the spokesperson.
"However, we do produce some specialty raw materials – such as casting plaster – that may be used by other 'boutique' fibrous plaster manufacturers or artisans that still do lath and plaster or i in situ methods."
McMillan Heritage Plastering founder and owner Scott McMillan says that because heritage plasterwork involves artisan handcraft skills, careful attention to detail and conservation expertise, builders need patience when working in the area.
"When working in the restoration market, builders need to recognise that heritage plastering involves the use of time-honoured techniques and traditional materials that can result in a larger input of time (including curing times) and labour than modern day plastering," says Scott.
"The importance of these traditional methods and materials is that they ensure that restorations are carried out correctly with a focus on conserving the integrity and character of the original plasterwork.
"Builders should liaise with heritage plasterers on conservation plans, project requirements, and trade logistics so that scope of work recommendations and traditional plaster mix specification guidelines are tailored to the job."
It is a widely held view in the  heritage plastering industry that there needs to be more of an emphasis on the heritage side of a building apprentice's training, even if it's only briefly each year, to help give younger tradies an insight into different avenues of their trade.
"There should be more of a focus on older builds rather than new ones through their schooling because a lot of new houses are basically the same, but with a different facade," says Nick.
"With some of the older projects, apprentices can be taught specific details. For instance, with an arch they would need to find the heights of the corbels, if the customer wants an elliptical arch, a shoulder arch or just a standard one. Do they want a mould around it? You need to build that knowledge up.
"There definitely should be a specialised group at least teaching the next generation how to make ornamental work and what to look for in each project. There's no real uniqueness to the apprenticeship anymore – it just teaches you the basics and gives you the knowledge to punch the numbers and clock out.
"On top of that, there needs to be a certificate in place, given to students that complete a course in heritage works to signify that the individual is qualified to work on a heritage site."