Big River Group introduces new hoop pine plywood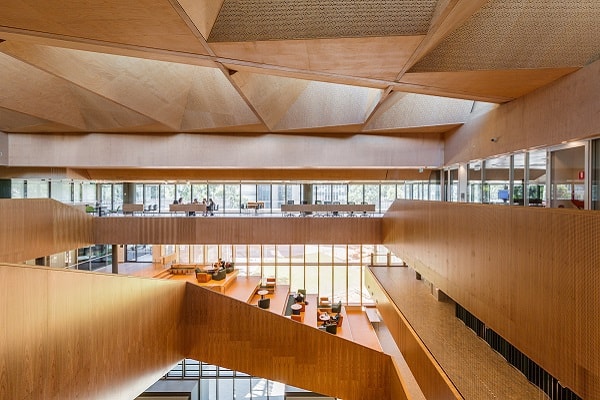 A new generation of engineered Australian hoop pine plywood has been introduced by Big River Group, and will be manufactured at the company's Grafton facility.
"In a competitive market, the launch will see significant savings delivered to Australian architects and builders by enabling them to purchase the product direct from the manufacturer," says Big River Group managing director Jim Bindon.
"Additionally, by using native Australian timber we avoid lengthy imports that would significantly increase project lead times.
"We saw excellent growth in the premium value-added plywood products manufactured by the company last year, which were predominantly used in the commercial and civil construction sectors. Our hoop pine launch will see us build on this ongoing success by meeting the increased demand."
Big River specialises in manufacturing beautiful plywood products from Australian timber species such as blackbutt and spotted gum, and the new hoop pine range will be no different.
"Native to the area, hoop pine will be felled from plantations in south-east Queensland and northern NSW to ensure the best possible quality end product," says Jim.
Hoop pine has been popular with architects for decades, due to its warm blonde varied tones with a clean grain and smooth texture. It is ideal for appearance and structural grade applications in both commercial and residential projects. It is typically specified in wall and ceiling linings, and high end cabinetry and joinery.
John Wardle Architects described the product as "simply beautiful" following the installation of the product in the Learning and Teaching Building (LTB) for Monash University with one of the first hoop pine wood piles Big River produced.
"The roof line is a prominent feature of the external form as well as the interior of the Learning and Teaching Building," says John Wardle Architects senior associate Yee Jien.
"The timber sawtooth roof draws diffuse natural light from the south, providing amenity within a large floor plate via skylights and voids. The plywood ceiling and exposed timber trusses are a celebration of light, material and craftsmanship. It also demonstrates our continued fascination with the use of timber, irrespective of project scale."
Big River Group's hoop pine plywood is manufactured in accordance with AS/NZS 2271 using 'Chain Of Custody' certificated Australian plantation hoop pine logs. Using a B Bond adhesive in 2,400 x 1,200mm sheet sizes, it is available in a variety of grades and thicknesses; from AA to BC, and 6.5mm to 25mm respectively. Custom manufacturing for specialist commercial projects is also available on request, including perforation and slotting.
Big River Group hoop pine plywood is available through the company's nationwide distribution network across 13 of the major populous areas of Australia, including Sydney, Gold Coast, Brisbane, Sunshine Coast, Townsville, Illawarra, Melbourne, Hume (ACT), Adelaide and Perth.
"With an operating history of over 100 years, Big River Group has established itself as one of Australia's leading manufacturers and distributors of timber and building products. This ongoing achievement is a clear reflection of our longstanding presence in the marketplace, strong service culture and technical expertise," Jim says.