Hyne Timber announces significant expansion to GLT manufacturing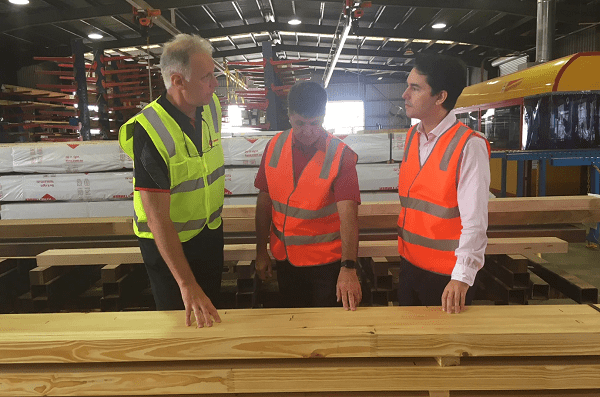 Hyne Timber has announced a significant expansion to its Glue Laminated Timber (GLT) manufacturing capability in Maryborough, Queensland.
This expansion investment, with the support of a Queensland Government Jobs and Regional Growth Fund, will launch the company into a globally competitive product offer.
The new state-of-the-art manufacturing plant will accompany the existing plant in Maryborough's Industrial Estate which is now in its 40th year of production.
This announcement comes as engineered timber manufactured from plantation softwood is increasingly preferred for larger scale commercial and residential construction projects due to its sustainability and environmental credentials.
Hyne Timber chief exectuive Jon Kleinschmidt says investment to increase manufacturing capability has never been more timely.
"Increased GLT manufacturing capability has been on our horizon for a number of years and a Queensland Government grant has accelerated this investment," Jon says.
"We have been experiencing an increase in demand for GLT products so this new capability can increase volumes, improve speed of delivery while broadening our product capability to capitalise on new growth opportunities for the timber industry.
"GLT is the talk of the design and construction industry, but a lack of competitive Australian supply options has prevented many projects from using it.
"Increased capability here in Australia will be a game changer for the construction sector and a very positive area of growth for Maryborough."
Construction of the new plant is expected to commence within a matter of weeks. Recruitment of a range of specialist roles will commence well ahead of plant commissioning, with more operational and specialist jobs created as production scales up.
Hyne Timber will be releasing progress updates throughout the next few months as the new plant nears commissioning around mid-2019.