Delivering today while planning ahead: Standards and the NCC
The standards being referenced in the National Construction Code (NCC) 2019 has been a major focus of Standards Australia in recent months with a number of publications intended to be referenced.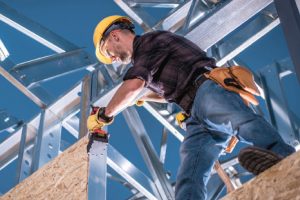 In addition, it is important the sector now looks at the projects that could be part of NCC 2022 with stakeholders encouraged to get proposals in soon for any standards they wish to see in the next three year amendment.
NCC 2019 Standards
Over 200 standards are included in the National Construction Code (NCC) with technical committees of Standards Australia working tirelessly to ensure each section of the building sector is supported. In publishing standards to be included in the NCC 2019, there are a number of standards being referenced for the first time as new standards, while others have been amended before they became part of NCC 2019.
Revisions to existing references intended for NCC 2019
AS 1562.1:2018, Design and installation of metal roof and wall cladding—Part 1: Metal
AS 1657:2018, Fixed platforms, walkways, stairways and ladders—Design, construction and installation
AS 1859.4:2018, Reconstituted wood-based panels—Specifications, Part 4: Wet-processed fibreboard
AS/NZS 2293.1:2018, Emergency lighting and exit signs for buildings—Part 1: Systems design, installation and operation
AS/NZS 2327:2017, Composite structures composite steel – concrete construction in buildings
AS/NZS 2918:2018, Domestic solid-fuel burning appliances—Installation
AS 3600:2018, Concrete structures.
AS/NZS 4200.1:2017, Pliable building membranes and underlays – Materials
AS/NZS 4600:2018, Cold-formed steel structures.
AS/NZS 3500.1:2018, Plumbing and Drainage – Water Services
AS/NZS 3500.2:2018, Plumbing and Drainage – Sanitary plumbing and drainage
AS/NZS 3500.3:2018, Plumbing and Drainage – Storm Water Drainage
AS/NZS 3500.4:2018, Plumbing and Drainage – Heated Water Services (Including Amendment 1)
Amendments to existing references intended for NCC 2019
AS/NZS 1170.2:2011, Structural design actions – Wind actions (Amendment 4 & 5)
AS/NZS 1170.3:2003, Structural design actions – Snow and ice actions (Amendment 2)
AS 1170.4, Structural design actions—Part 4: Earthquake actions in Australia (Amendment 2)
AS 1288, Glass in buildings – Selection and installation (Amendment 3)
AS 1428.1:2009, Design for access and mobility – General requirements for access – New building work (Amendment 2)
AS 1668.2:2018, The use of ventilation and air-conditioning in buildings – Mechanical ventilation in buildings (Amendment 2)
AS 1905.1:2015, Components for the protection of openings in fire-resistant walls – Fire-resistant door sets (Amendment 1)
AS 2047: 2014, Windows and external glazed doors in buildings (Amendment 1 & 2)
AS 3660.1:2014, Termite management Part 1: New building work
AS 4586:2013, Slip resistance classification of new pedestrian surface materials (Amendment 1)
AS 4773.1:2015, Masonry in small buildings (Amendment 1)
AS 5113: 2016, Classification of external walls of buildings based on reaction to fire performance (previously known as Fire propagation testing and classification of external walls of buildings) (Amendment 1)
NCC 2022 – Proposals needed now
With the NCC being a three-year amendment cycle now, it is important any standards intended for reference in NCC 2022 are discussed and put forward as proposals as soon as possible. With hundreds of standards referenced in the NCC, it is vital that each section of the industry considers how the NCC and standards align in their field. By submitting a proposal and working with Standards Australia to address a need in the building and construction industry, the whole sector and the broader Australian community are better off.
Concrete standard gets a redesign
The Australian standard underpinning the way concrete supports building structures right across the country has been published following its revision.
AS3600:2018 Concrete structures has been published with new provisions around earthquakes among a number of other requirements around the use of concrete in multi-storey buildings.
A major update to this edition is the inclusion of guidance around concrete performance during an earthquake as a major section, as opposed to it being discussed in an appendix as in previous editions. The section on earthquakes has been developed based on experiences in the devastating events in Christchurch in 2011, as well as some leading research in the field.
In commenting on the release of the standard, chair of the technical committee of Standards Australia, Jim Forbes, said: "The concrete covered by this revised standard is the material that supports our homes, offices, and car-parks. Including in the standard formula around shrinkage, a section on diaphragms, and a renewed focus on fatigue are three examples of the lengths the committee has gone to in ensuring this document is as comprehensive as possible."
AS3600:2018 Concrete structures has been published to align with the new three year cycle of the National Construction Code, of which this Standard may be a primary reference document.
Steel standard making an impact every day
The steel used to construct fences, lighting poles, steel framed houses and shelves in major retailers is the focus of a newly published standard backed by Australian research and the latest technology.
AS/NZS4600:2018 Cold-formed steel structures has been published recently following extensive consultation with stakeholders across Australia and New Zealand. This Standard is also intended to be a primary reference in the National Construction Code 2019.
"This new standard is a quantum leap forward for the steel industry," said chair of the Standards Australia Technical Committee responsible for the standard, Professor Greg Hancock.
"This is a world-leading standard that places Australia at the top of the list in terms of the most innovative steel consumers."
World-leading research undertaken by Australian experts has featured prominently in this Standard. There is also a brand new section on fire design guiding the use of this steel in mitigating the impact of fires.
*This article first appeared in the summer 2018 edition of Building Connection. Click here to subscribe.