Focus on the issues at DesignBUILD conference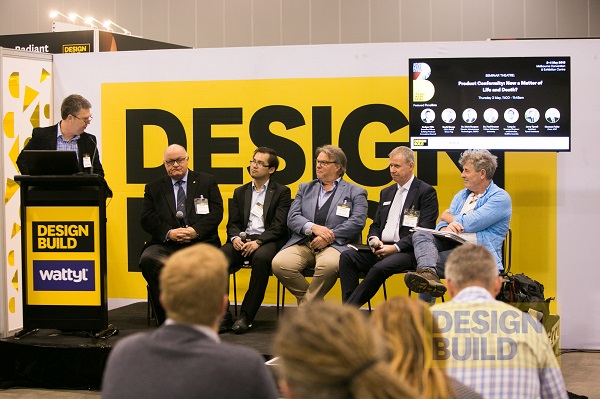 DesignBUILD takes place May 14-16 in ICC Sydney, featuring a diverse program of speakers, covering a variety of topics from modern slavery to construction compliance.
The event is Australia's biggest design and construction trade exhibition, and the only dedicated one that brings the architecture, building, construction, and design sectors together.
Conference director Pia Argiratos says this year is about driving change and encouraging those working in the industry to take steps in that direction.
"As an industry, we're always seeking to improve practice, process and procedure, and therefore this year's DesignBUILD program looks at how the entire industry, from designers to builders, can play their role," she says.
Talks will be given by experts in their respective fields, which will lead to discussions around improving the way buildings are shaped.
Four talks, in particular, should be on everyone's radar at the conference.
The first takes place on Tuesday 14 May at 12.30 p.m. and focuses on the topic of 'The Modern Slavery Act: Implications for design and construction'. This session will give an overview of the Modern Slavery Acts which are in place at both state (NSW) and Federal level. Francesca Muskovic (Property Council of Australia) will discuss what clients will need from their supply chains and the PCA's planned pre-qualification platform for suppliers.
Other speakers are Joe Karten (Built), Jacqui Wagar (Stylecraft) and Nicole Thompson (Edge Environment).
Later that day, at 2.30 p.m. 'How to improve team health and safety on-site' will focus on regulatory requirements and good practice for physical and mental health on sites. David Broadhurst (Codesafe), Carolyn Alessi (Mates in Construction), Gloria Kyriacou Morosinotto (Safety Institute of Australia) and others will share their thoughts.
On Wednesday, at 11.30 a.m. Sophia Demetriades of Cloud A2K will explore the evolution and challenges of project data for the construction industry and concerned stakeholders in 'The future of construction in a connected environment'.
At 12.30 p.m. 'What will it take to bring government to the table for long-awaited building regulatory reform?' –will focus on the need for change from the top. Industry experts, Bronwyn Weir (Weir Legal and Consulting), Brian Seidler (Master Builders Association NSW), David Blackett (Association of Accredited Certifiers), Kath Walters (Dream Planet) and Ken Slattery (BPIC) will discuss the recommendations from the Shergold-Weir Report, and how to manage risk and responsibility in the building sector.