Augmented reality construction safety guides
Pro-Visual Publishing has worked with partner Master Builders Association of Western Australia, Civil Contractors Federation, Victorian Building Authority and Master Builders Association of Victoria to release its latest editions of the Augmented Reality (AR) WA Construction Site Safety Guide and VIC Construction Site Safety Guide.
They are distributed free of charge Australia-wide.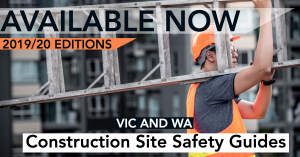 The wall-mountable printed guide is designed to be displayed in a place that is accessible and visible to construction workers. Considering the high fatality rate in the construction industry, having a resource that is informative and provides safety guidance is important in maintaining the safety of workers on-site.
The topics for each of this year's guides have been carefully selected and are issues pertinent to the industry in regards to health and safety. Some topics include, working at heights, traffic management plans and dangerous respirable chemicals.
Once again, AR is a feature on both guides this year, providing an engaging user experience. The aim of the AR is create another way for workers to interact with safety information, contributing to increased retention. By simply downloading the free Pro-Vis AR app and scanning over any AR capable content, users can access further safety information straight to their smart device, for example, videos and web-links to further information resources.
"I would like to thank all the sponsors of the WA Construction Site Safety Guide 2019/20 and VIC Construction Site Safety Guide 2019/20. Their support has made it possible for the guide to be distributed free of charge," says Pro-Visual Publishing CEO John Hutchings.
For further information, or to obtain additional copies of the Guide, please call (02) 8272 2611, email marketing@provisual.com.au or visit www.provisual.com.au