Townsville students get ready to build
St Margaret Mary's College students are leading the charge to get more girls into the building industry, after participating in an In-School Experience Program, including a panel discussion, touring a virtual construction site, and a site visit to North Queensland Stadium.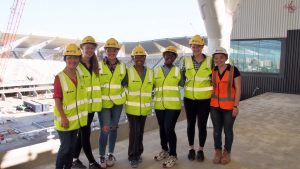 The students were among the first to trial the Virtual Construction Site Tour (VCS Tour) using virtual reality headsets developed by Queensland University of Technology (QUT) Lecturer in Construction Project Management, Dr Fiona Lamari, which allows users to  'experience' a virtual walk-through and meet with various trades and professions working on a major project in Brisbane CBD.
The In-School Experience Program is the brainchild of the National Association of Women in Construction – Queensland (NAWIC QLD), exposing high school girls to the breadth of career options available which directly impacts the in-flow of female talent into the construction industry.
In early 2019, Dr Lamari was awarded the NAWIC International Women's Day Scholarship, project titled Engagement with Regional School Students through Virtual Construction Site Tour – an Immersive Experience. The creation of the VCS Tour was supported by Multiplex and QUT.
Dr Lamari says, "Ultimately this is about changing perceptions of the construction industry."
"I developed the Virtual Construction Site Tour to allow students to step on to a construction site and meet with influential and diverse role models."
Later in the year, Dr Lamari assumed the chair role of the NAWIC QLD Education and Mentoring Committee.
"It's important that we reach out to young women when they are in their high school years and beginning to consider their career path. We want them to realise that there are many avenues open to them in construction; to know it is safe, rewarding, and that there is plenty of support available."
The NAWIC QLD In-school Program included a site visit to the North Queensland Stadium (NQS) to show the students how the $290 million venue is being brought to life.
Watpac Site Engineer, Katie Garay, who helped lead the site tour of the NQS and was a panellist in August, said "I'm delighted to share Watpac's progress on North Queensland Stadium with Townville's next generation of female professionals to really showcase where a construction career can take them."
The VCS Tour will be made available by NAWIC QLD at various career expos across the state in 2020.
If you or your school are interested in the In-School Experience Program or the VCS Tour, please contact Fiona at fiona.lamari@qut.edu.au