Jerry Tyrrell chats about the benefits of cordless.
Like most 'normal' blokes, I have a tool fetish. I really appreciate the quality makes and I still have some I bought as a young tradesman – a pair of German multi-grips, an Irwin hammer and trowels that still 'talk' to me. I like to 'cuddle' these and remember learning lots using them. But cordless technology is one of highlights of the past 20 years.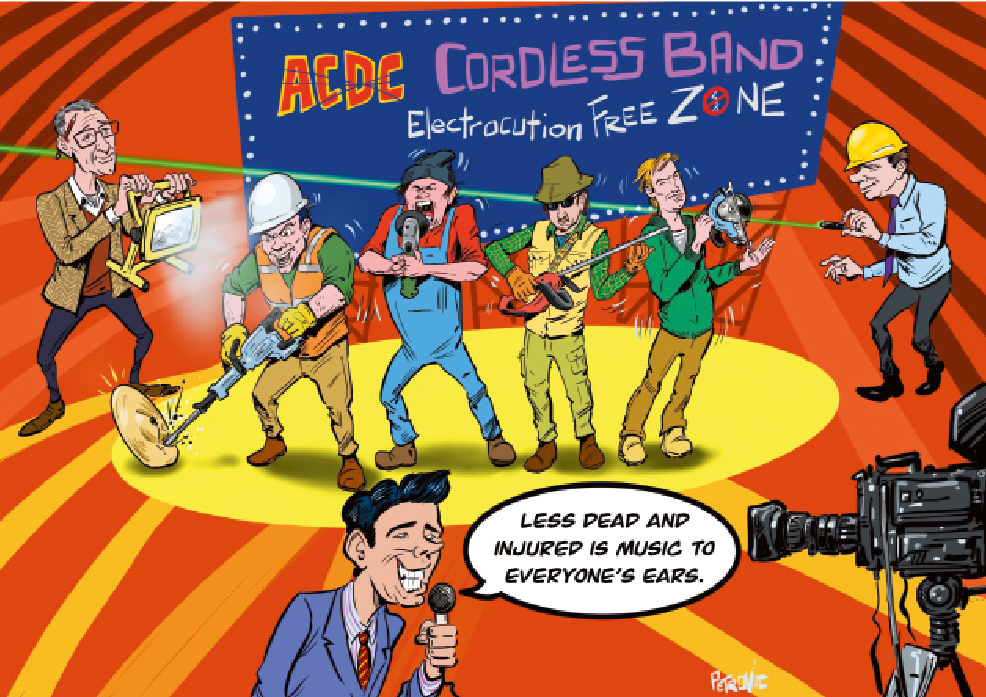 The first cordless electric drill was made by Black and Decker in 1961. I thought the first battery powered tools were heavy and clumsy. However, when I had to cut old hardwood roof trusses to build an attic in the '90s I stumbled on a cordless Dewalt reciprocating saw. It was stunning! Not only did it save time as I sweated and swore and tortured my body, it allowed me to get closer to where I needed to cut than a handsaw.
Since then, I have watched the industry use battery powered tools more and more. Initially, I was frustrated with the manufacturers using different sized batteries so you couldn't use the same ones on all the tools they made. But there have been so many improvements over the past 10 years. Plus battery technology has improved significantly and power saws are bigger and have long run time. And there are now mowers, compound mitre saws, lights and jackhammers.
Now I have over 40 different tools among my team. I love my 54v cordless compound mitre saw with tungsten aluminium and timber blade. And Dewalt's latest reciprocating saw has a delicious range of blades which can be easily reversed. I love good tools!
SELECTION CRITERIA
Here are the tips I use when choosing the right cordless platform. Yep I did check these with my 20 colleagues at Tyrrells. They are all ex-builders and are on over 6,000 building sites every year.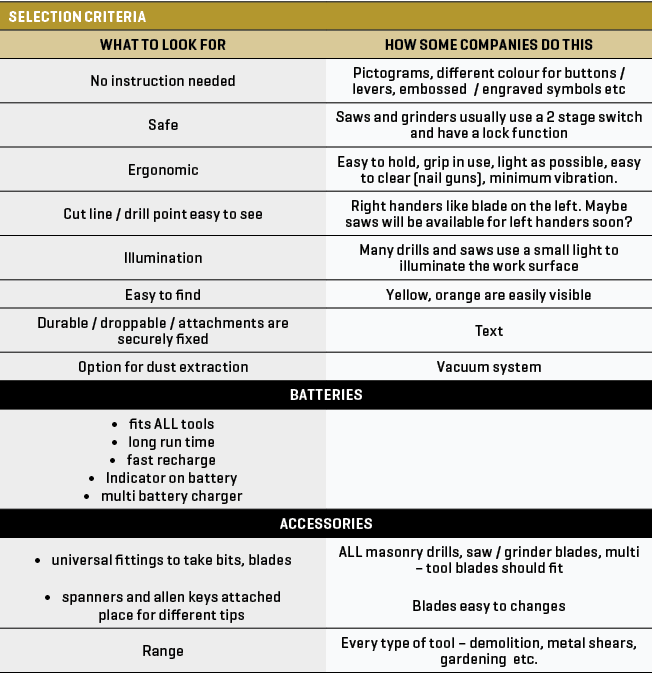 CORDLESS TOOLS ARE SAFER
Probably the best feature of cordless tools is their lack of cords. This keeps everyone safe from electrocution risk – both when using the tools but also from all the extension leads running through the sites or private DIY work. And I know there are no more tradespeople or DIYers being electrocuted when they pull out an old 240v drill or saw.
You've probably noticed that most manufacturers are also fighting to provide features that make their tools easier to use. To me this often means they are safer. They're adding features such as safety or locking devices, lighting and small blades that are less likely to 'throw' if the apprentice uses them when they're blunt.
EXTRAORDINARY CHOICES
I understand most manufacturers are improving battery life. I even hear there is a battery station coming out that will invert a group of batteries to run 240v corded tools… and I used to joke with my mates about buying a cordless generator.
If I could provide some tool suggestions for manufacturers, I would probably ask them to:
add a small pump – great for lift pits, basement work
add a quality water saw
put QR codes on their tools so newbies can check how to use/clear e.g. nail guns
offer a branded dust sheet to put over tools not being used
provide universal maintenance guides (online) e.g. when to spray with lubricant, what to do if a tool gets wet etc.
SHOUT OUT FOR CORDLESS 'BARNRAISING' 4 HUMANITY!
I always help Salvos (and any other NGO or religious organisation) if I can. We joined Robyn and Mitchell at Street Level in Sydney and demolished a shambles of partitions to make a 300m2 multi-purpose space for their church and community functions.
It was over $100K of work we did for around $25K. I worked out what had to be done and on the first day, we were joined by Stefan and his colleagues from Salesforce. These dynamic executives donate their time to help others. I am SUPER impressed and I showed them lots of different skills.
But what became clear was how much they needed a bunch of essential cordless gear. All the usual tools: drills/drivers, saws, masonry and metal grinders, rotary hammers, reciprocating saws, vacuums, lights, charger stations… they wanted to use them. So to all you manufactures out there, Salvos Street Level needs this kit.
I am happy to work with you and Bunnings to 'house' these in a trolley for getting things done for humanity. And if this works I want these to be seen with hundreds of groups of volunteers across Australia/Oceania .
So not only will work get done, but more and more unskilled people will learn how to use tools properly.
I encourage the likes of Dewalt, Makita, Bosch, Milwaukee, Ryobi, AEG, Hilti to think about what they can contribute to volunteer groups as I guarantee they'll see that social capital will provide them with a different type of profit.