Timber Offsite Construction: call for speakers
Expert speakers are invited to present at Australia's only event that focuses on the design, manufacture and construction of offsite timber and mass wood buildings.
The conference organiser Frame Australia is inviting expert speakers to offer presentations for potential acceptance into the program.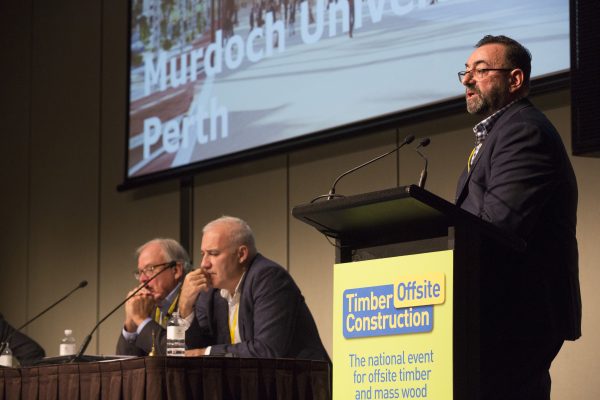 They are looking for presentations on practical applications and experiences in the design and build process that complement the theme of the program's four topics: Building Design Influences, Construction Productivity, Manufacturing & Technology, and Building Projects in Wood.
The 2020 Conference & Exhibition, now in its 22nd year, will be held on Monday & Tuesday, 15-16 June 2020, at Crown Promenade in Melbourne.
Delegates attending the conference will represent the full spectrum of building design, building construction, timber and engineered wood, prefabricated manufacturing, and building materials supply.
Speakers are to prepare and submit a 300-word presentation proposal detailing the key theme and topics to be included, plus any specific audio-visual requests. Presentations timing will be strictly 20 minutes each, followed by audience questions to the three session speakers.
Proposals are to be received by 28 February 2020 and will be reviewed by an expert panel. Presentations will be selected based on content relevance and positioning within the conference program.
Speakers will be notified of the outcome of their submission no later than 31 March 2020. Accepted speakers will be offered a full two-day program registration to attend at no charge (value $1295 + GST).
For more information visit the website www.frameaustralia.com and proposals should be sent direct to event founder Kevin Ezard at kevin@frameaustralia.com
For more information contact:
Kevin Ezard mobile +61 429 538 538