Below Ground Waterproofing in the UK – Wet Ducks Can't Run!
Andrew Golle heads to the UK to undertake training and assessment in Below Ground Waterproofing Design and Survey. He shares his experience and knowledge attained.
Committee members included Kieran Biber (Qld), Frank Moebus (Qld), Karl Wooton (VIC), and myself, Andrew Golle' from Tassie. We were accompanied by Steve Smith, an AIW member and waterproofing contractor with 46 years at the coal face of waterproofing systems' application and innovation from Sydney, and Jamie Stone, a remedial waterproofer and approved applicator of Internal Cavity Drainage Systems from the Gold Coast.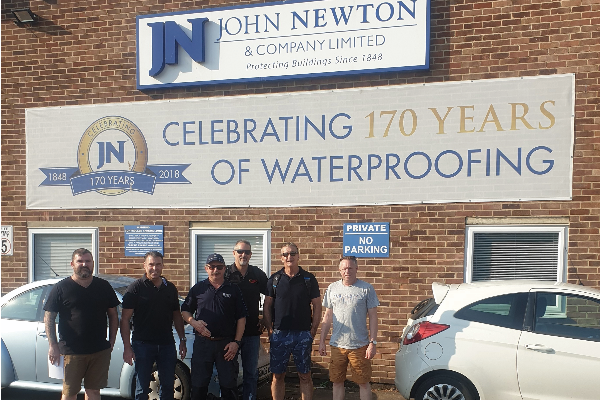 This all took place at the end of August/beginning of September, just prior to the other Steve Smith clocking up a double century against our hosts during the ashes tests. (Woops, that just slipped out).
The qualification is a Level 3 Certified Surveyor of Structural Waterproofing (Cert SSWL318). The qualification is ratified by the Awarding Body for the Built Environment (ABBE), a subsidiary of the Birmingham City University. The training and assessment is delivered by the Property Care Association of the UK (PCA). Training was hosted at Newton Waterproofing UK at Tonbridge, Kent.
Our hosts at Newton Waterproofing were warm and welcoming, and more than happy to impart their specific knowledge in structural waterproofing to our Aussie contingent. Stuart Tansey, Newton's technical and training manager guided our journey through the chasms of basement waterproofing, with the assistance of Rebecca Woodley. Stuart's practical knowledge of the design and application of cavity drainage systems was impressive, by any standards. This gave us the confidence to accept new ideas and techniques as strangers on foreign soil and out of our comfort zone.
The training delivered by the PCA was methodical and precise. External PCA assessors undertook our written assessments in line with strict examination conditions, in the form of two written tests and an oral examination. Our primary trainer, Michael Earle, delivered the technical content with easy to follow anecdotal examples and analogies that will stay with me for a very long time.
Did you know that hydrostatic pressure can be likened to water molecules (marbles) sitting one on top of another? Excellent stuff! His training strategies and delivery manner has made me take a good look at my own training strategies, and hopefully help me to improve on my delivery skills, now that I have sat on the other side of the table.
Hence the following acronym to address below ground waterproofing design considerations: Wet Ducks Can't Run. More on that later.
British Standard BS 8102-2009
The CSSW training follows the design considerations prescribed by British Standard BS-8102 – 2009 Code of Practice for Protection of Below Ground Structures against Water from the Ground.
This Standard applies a methodical approach to below ground waterproofing systems through the assessment of site conditions as primary considerations. Soils are classified through site investigations as either cohesive or cohesionless. This provides guidance to site drainage through surface drains, but more critically the importance of soil permeability and sub-surface drainage.
Cohesive soils and seepage lines through the soil strata may result in perched water tables, holding water against the structure for varied periods.
Water tables are investigated and classified as either Low – permanently below the level of the structure; High – permanently at a level affecting the structure; or Varied – intermittently at a level affecting the structure, such as a perched water table. We in Australia need to take note of this approach, not only in waterproofing design, but in general site assessment for drainage and effects of water tables on our buildings generally.
The basement space is graded as wet, damp or dry and classified according to the intended use. This helps to identify the appropriate waterproofing system. A Grade 1 space is classified as a Wet Space, where some seepage and damp areas are tolerable, such as a basement car park. Grade 2 is a Damp Space, where no water penetration is acceptable but some damp areas are tolerable, such as a plant room or work shop.
A Grade 3 area is a Dry Space, where no water penetration is acceptable and ambient conditions may require the use of ventilation, de-humidifying or heating appropriate for the intended use, such as a restaurant, gymnasium or habitable living area.
A gymnasium is a good example, as a ventilation system will be required to deal with the water vapour produced by perspiration, respiration and spa & sauna-peration.
Note: British Standards are not recognised by the National Construction Code (NCC) and should only be used as a guide. NCC Performance Provisions take precedence in the hierarchy of controls.
Wet Ducks Can't Run!
Once the site conditions and use of the basement are identified, then the waterproofing system selection criteria are assessed against a set of principle considerations. The acronym: Wet Ducks Can't Run is an easy way to remember and assess these considerations. (Thanks Michael)
WET – It is accepted that WATER pressure will bear at some stage to the height of the structure. This may be through poor soil drainage, a perched water table, or burst water pipes.
DUCKS – It is accepted that DEFECTS will be present in the waterproofing system through installation faults or through the inherent properties of the membrane system.
CAN'T – What are the CONSEQUENCES of water entering the space? Is it acceptable to have water entering a Grade 3 archive storage room or a restaurant dining room?
RUN – Can the membrane be feasibly REPAIRED where defects occur if the consequences of the leakage are unacceptable?
The waterproofing system is then selected upon passing the above desk top evaluation. The Standard prescribes three systems of waterproofing barriers:
Type A – A membrane barrier installed to the external face of walls AND under slab; an internal negative pressure membrane installed to the walls AND full floor; a sandwich membrane, retained by an internal load coat to the walls and ballast slab to the floor.
Type B – Structural components as barriers, in the form of solid PVC waterstops which are cast in between slab joints; hydrophilic waterstops which swell when in contact with water; or additives in the re-enforced concrete acting as a water-resistant barrier.
Type C – An internal cavity drainage system where studded wall and floor sheet membranes are installed to the internal wall and floor faces, draining to a channel established around the floor, which is discharged into a sump with double pump system that is alarmed, and possibly with a battery back-up system.
Selection of one of these systems is applied to the WET DUCKS CAN'T RUN test, and altered if it does not pass. A combination of systems may be employed in high risk situations.
For example: a Type A external sheet membrane may not be appropriate to a structure with a perched water table, cohesive soil and a Grade 3 habitable room.
Water will sit against the membrane for extended periods, due to the variable water table and non-permeable soil. This cannot be mitigated with a land drain, as the water table is higher than the slab/wall joint. The inherent properties of the membrane do not resist negative pressure when breached, as it is accepted that defects will occur. The feasibility to repair the membrane is low, as the site is backfilled and the membrane is not accessible. In this case, a Type C internal cavity drain system may be appropriate, even in combination with Type B structural water stops and additives in the concrete.
Wet Ducks in Australia
Can we adopt these principles in Australia? The first step is to approach waterproofing design with some serious consideration. It is just not good enough to accept design notes that say 'waterproofing to basement wall is to be to manufacturer's specifications'.
This level of guidance is insufficient where we adopt the practice of picking up a bucket of 'black jack' and off we go. No site condition assessment; no watertable management plan; no consideration of the used basement space; and no actual waterproofing system to suite these conditions. The WET DUCKS principles are not overkill where the cost of rectification can be crippling, if rectification is possible.
The structure will have water pressure bearing on it at some stage, and DEFECTS ARE PRESENT.
Australia is in need of specialist waterproofing design and survey consultants who can provide designers with a waterproofing system to suite the site conditions and use, Waterproofing surveyors are needed to assess systems and inspect their application, providing specialist support to certifiers. Finally we need a below ground waterproofing Australian Standard, referenced by the NCC and following WET DUCKS principles but adopted to Australian conditions and following NCC performance provisions.
We at the Australian Institute of Waterproofing are working on an industry guide and encourage your input.
Many thanks again to the PCA and Newton Waterproofing UK for your shared knowledge and hospitality.