Apprentice Thomas Payton lends a helping hand
Apprentice Thomas Payton hopes to use his skills for good by volunteering in disadvantaged areas. Anna Hayes finds out more from the 2019 HIA Apprentice of the Year.
A chance meeting with an Australian carpenter providing humanitarian assistance in Nepal after the 2015 earthquake inspired an ambitious young apprentice to set his sights on a similar path.
Thomas Payton (23) from Dural in Northwest Sydney is currently studying for his Certificate IV in Building and Construction (Building) at TAFE NSW Hornsby. He is also working as an apprentice for Jacob Pullan, a role which will finish in March of next year.
Earlier this year, he was the winner of the HIA Jim Brookes Australian Apprentice of the Year award, an accolade that considers a variety of factors including: work ethic, communication skills, the ability to follow instructions, trade and industry knowledge, ability to work unsupervised, understanding of work, health and safety, relationships with workers, hosts and clients as well as academic results and awards.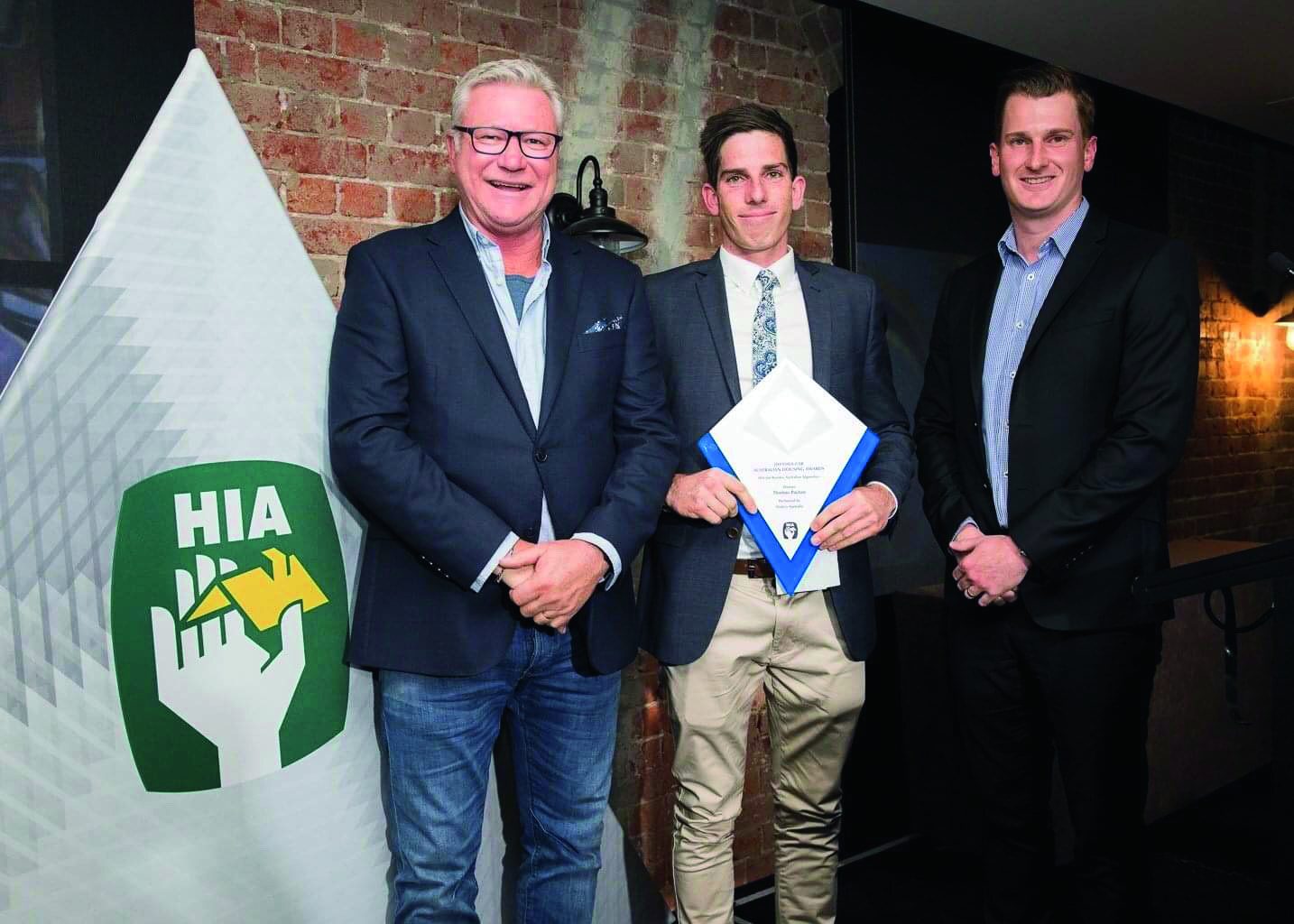 For Thomas, this is a path that might not have been initially obvious to him. His family has been in the business of importing and distributing musical instruments for generations but joining the family business never appealed to him.
"I completed Year 12 at a school where they only really ever pushed getting a good ATAR and going to university and, for me, that was something I had no interest in. Apprenticeships were never really spoken of as a genuine career path so it was something I never really considered."
Instead, Thomas went into farming, working on a number of rural farms before coming back to a poultry farm in Sydney for two years.
"After two years there, I decided I needed to get a trade or qualification behind me so I started labouring for a few local tradies until I decided that I wanted to pursue a carpentry apprenticeship."
Before starting his Certificate II in Carpentry at TAFE NSW Hornsby, Thomas decided to quench his appetite for adventure. He quit his job and went travelling around India and Nepal, where he took the opportunity to complete the Everest base camp trek.
It was in Nepal, in the aftermath of 2015's devastating earthquake, that he met an Aussie carpenter who was doing building work in the Himalayas.
"I found it incredibly inspiring that an Australian chippy was using the skill set he had acquired through learning a trade in Australia, and being trained by a provider like TAFE NSW, to help out overseas."
It was not Thomas's first experience of a community in need of help.
While still at school, he and a group of friends decided to hike the Kokoda Track in Papua New Guinea. They managed to fundraise enough money before the trip to pay for a school to be built in a remote community. The group completed the track earlier than expected and got the chance to work on the school for a few days, completing tasks like painting.
Thomas was attracted to carpentry because of the broad range of skills.
"There are so many skills involved and many aspects of the trade. I'd done some labouring work for plumbers and landscapers but I find carpentry includes the widest range of work duties which is why I find it so interesting."
Thomas will finish his current TAFE course by the end of the year and his apprenticeship by March 2020 and, while his desire to make a difference in disadvantaged areas might be strong, he is pragmatic in his approach to the future.
"I will probably continue to work in both the residential and commercial building scene here for a while to continue to learn and gain experience in the industry. However, I would ultimately like to be able to use the building skills I have learned at TAFE NSW to work overseas in less fortunate countries."
However, closer to home, Thomas is keen to give back to the building industry that he has been so dedicated to.
"One day down the track I would love to start my own building company in Australia so that I can give back to the building industry, take on apprentices to give them the same opportunities that my host Jacob Pullan, the HIA and TAFE NSW have given me, and show that apprenticeships are a genuine career path and an extremely good one."