Bisley Workwear releases new women's range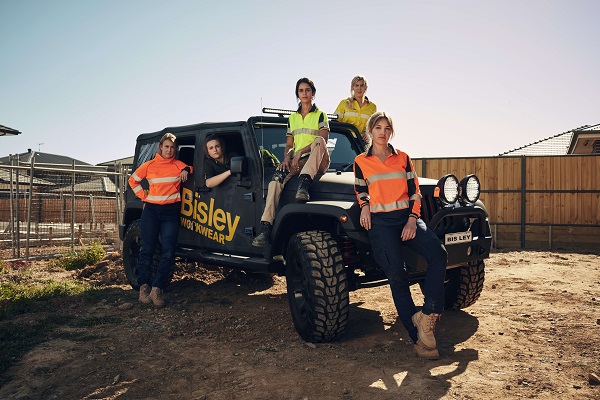 In an Australian industry first, Bisley Workwear has released a women's range of protective clothing and workwear. The release comes after Bisley consulted with female tradies to find what the most critical need is.
The Bisley Workwear Tradies Report 2020 reveals the challenges and opportunities for women in the Australian trade industry. It found that nearly half of female tradies surveyed have work casual or non-safety clothing on-site due to a lack of options available. Around 40% also say that they feel less safe as a result of ill-fitting garments, designed predominately for men.
When wearing ill-fitting workwear, female tradies have report that they are more likely to feel more self-conscious (45%), feel like they don't belong (20%) and feel like they can't work as hard as they want to (33%).
"It was brilliant to be involved in the design process; from being able to voice my frustrations with existing workwear options, right the way through to road-testing the range," one of the female tradies Aimee Stanton says.
"One of my favourite features in the new range is the reinforced panelling – which provides additional support and stops the material wearing through. I also love the one piece coverall – it's really comfortable and flattering, and it has a handy zip so that you don't need to take the whole coverall off when you use the bathroom.
"I also generally feel safer on the worksite when I'm wearing clothes which I know have been designed specifically for women."
According to the research, Aimee is not alone as nine out of ten surveyed also reported experiencing difficulties when trying to find protective workwear.
"The safety of workers is the foundation of our business," Bisley Workwear managing director and owner David Gazal says.
"When our research revealed that tradeswomen were feeling unsafe and uncomfortable on the worksite, we realised the need for a new industry-wide approach to women's workwear.
"For our new range, we developed a three-dimensional fit model with our consulting tradies based on how tradeswomen move and work, variations in fit and size, and the best silhouettes for functional, professional, and safe workwear. We're proud to be at the forefront of this design innovation in our industry to help reduce on-site safety inequalities."