A piece of history from Cairns Wharf to find a new home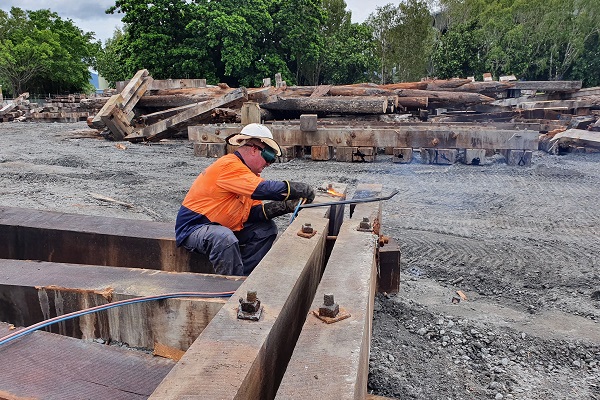 Historic rare timber from the world heritage-listed Wet Tropics of Queensland could find a new home with recycled timber specialists Kennedy's Timber removing hundreds of metres of piles as part of the $20 million upgrade of the Cairns wharves one through six.
The state government is spending $20 million to upgrade the wharfs which is included in the $127 million Cairns Shipping Development project. The wharf was built in 1942 during WWII and was covered in 200mm of thick concrete which ensured the timber remained in remarkable condition despite its age.
A new concrete jetty has been built to replace the old structure at wharf six with 12% retained for heritage purposes.
Contracted by Astral Construction, Kennedy Timber must remove 2,000 lineal metres of Craws Ash, 1,500 lineal metres of Cairns Hickory and 150 turpentine piles. Following this, it will be put on sale for a special project.
"In 26 years of timber recycling, I have never seen such outstanding timber with a rich history – both Crows Ash and Hickory are very rare timbers and highly sought-after," Kennedy Timber founder Michael Kennedy says when speaking on the honour of working on the project.
"Years ago, the timber was milled in the rainforest of the Wet Tropics of Queensland which is now a UNESCO World Heritage site and logging is no longer permitted.
"To be able to give this timber to a new home is such a unique opportunity and we're certain there will be plenty of individuals excited about the prospect of using this timber on their projects.
"The timber is very desirable for furniture makers due to its golden colour, durability and rich patina. Recycled timber also stores carbon so it's always a great environmentally-friendly option."
The timber removal process from the project site will take an estimated three weeks to complete.
"We want the Cairns Wharf recycled timber to go towards special projects and we have a few in mind – I would love to hear from local builders, architects and designers who have an exceptional home for this piece of history," Michael says.
Timber from the wharf will then be used in projects like Suncorp Stadium, Tree of Knowledge, Parliament House Canberra, Hilton hotel and many resorts.