Australia's largest recycled brick building, Arkadia
Heralded as the largest recycled brick building in Australia, the Arkadia development for Defence Housing Australia occupies a 5,590m² site in the growing inner-city suburb of Alexandria, NSW. The development has been carefully integrated into the surrounding streets in a way that enhances the neighbourhood while offering a compelling model for urban living.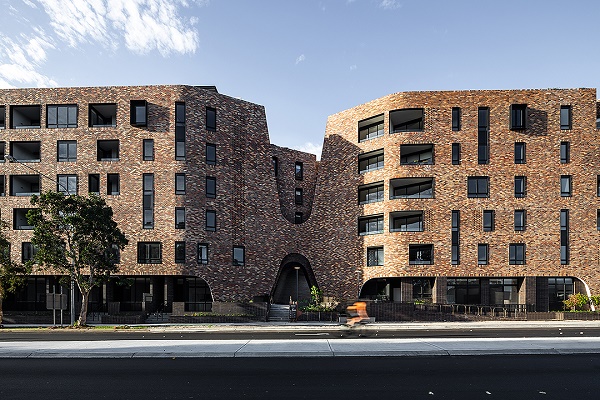 Acknowledging the historic narrative and heritage of this site was the starting point for the design team that comprised, DKO Architecture, Breathe Architecture and landscape architects, Oculus.
"We were inspired by the poetic gesture of recalling traces of history and that informed the façade proposition," DKO principal Koos de Keijzer says.
The form of Arkadia was inspired by the notion of community at a ground level. Focusing on communal sun-soaked areas, the building encourages connection with the local community with its gathering spaces and small-scale entrances.
Cleverly composed so that each of the buildings house micro communities with only seven to eight apartments on each level and with each building serviced by its own core lift shaft.
"We firmly believe that smaller communities are better communities, when you have more than 12 neighbours you start to lose that personal feel. It is exactly the same as getting to know your neighbours that live on the same street," Koos says.
Each lift core has as a communal vegetable garden and a separate roof top recreational area complete with BBQ facilities.
A checklist of sustainability features ensures that Arkadia minimises its environmental footprint. From an architecturally designed chook run, plentiful bike sheds and drought-tolerant planting to world-class weather sensitive design and air reticulation.
The most abundant material is the recycled bricks which references the site's 1870s history of brickworks  but is also has thermal properties.
"It was challenging to find the bricks themselves as we were quite insistent on the colour blend of the bricks used. They needed to be a consistent batch," Koos explains.
"Oranges, yellows and reds in the brick colours gives the building its ageless appearance which is achieved by using recycled bricks. The beauty of this is that the organic change of colour occurs as you walk around the building."