Green star building accreditation awarded for sustainability
The GBCA held its first course on Green Star ratings for contractors. Sean Carroll spoke with one of the trainers to understand what they were doing in this space.
The Green Star building accreditation is Australia's only voluntary national rating system for buildings and communities, created by the Green Building Council of Australia (GBCA). It aims to recognise buildings and communities that meet certain benchmarks for sustainability and low-waste.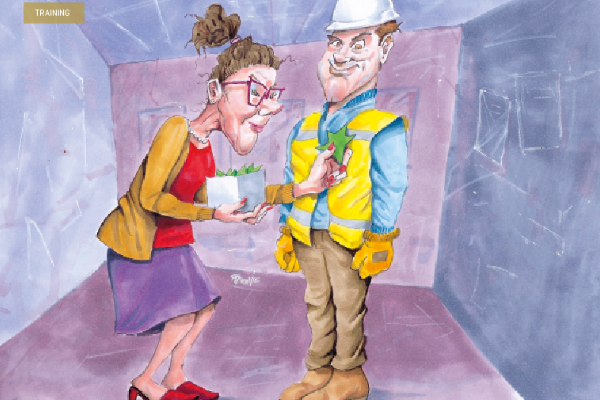 It was created in 2003 to counter damage the building industry was doing to the environment and to develop a healthy, productive, resilient and sustainable built environment.
According to the GBCA, the built environment is the largest contributor to greenhouse gas emissions, consumes around a third of Australia's water and generates 40% of the country's waste.
Green Star is essentially a badge that a building or community can wear that is nationally recognised for its environmentally friendly design, development and future sustainability.
It not only looks at the materials used and methods of building, but also how the products were transported to and from the worksite, the land use and how the ecology of the land was impacted. It's a holistic look at the build.
The course for contractors was held in October and November 2019 in Sydney and Melbourne, and it will run again in April 2020. The course outlines how contractors can best document the Green Star credits related to their work appropriately.
"It's a course developed by contractors, for contractors," Built national sustainability manager Joe Karten says.
Joe is also one of the trainers and facilitators for the GBCA course. He ran the attendees through common pitfalls and areas of focus when delivering a Green Star project.
"We've heard that builders attending some of the broader Green Star courses don't often get exposed to the specific technical detail that they're later asked to deliver on a project," Joe says.
"These details might be understanding how to control waste on a project, how to manage the design development and contract letting process to best deliver projects with low VOC finishes and environmentally preferable materials.
They also need to understand how to document it and track it.
"An issue that can occur for contractors is the multiple not understanding how to track Green Star requirements not just on site, but up through the supply chain. That's something we're teaching with this new course."
To attain a Green Star rating on a project, builders must register it, then document all relevant details (outlined by the GBCA) before being assessed and accepted. Joe says that the documentation stage usually results in people missing out and because of that, some projects haven't been able to receive the Green Star certification when they potentially could have.
"What we're seeking to do with this course is speak directly to that base of sub-contractors, contractors and, to some extent, material suppliers, in order to just make very plain, the requirements of Green Star and what's needed for a project to get certified," Joe explains.
"Get everybody on the same wavelength."
Joe believes the work that the GBCA is doing is definitely helping Australia as a whole to progress towards a more environmentally sustainable industry.
"The industry has come a long way in the time that the Green Star has been around; it's been over 15 years now that we've had Green Star in the market," he says.
"Material suppliers have become quite sophisticated in understanding what's required of Green Star, how to get their products tested, how to provide the right documentation.
"But I would say that there is still work to be done in the sub-contractor space for them to really understand: what does that mean? How does that impact their work?
"Because, at the end of the day, it's the sub-contractors who are often procuring the materials that go into a construction project."
Events like these are a step towards educating people in the industry who want to take steps towards this recognised sustainable building.
As Joe refers to it: "knowledge is power". He believes that as soon as people start to realise what it takes to achieve a Green Star building and how the certification can encourage new business, it'll ripple through the industry.
"There's a whole group of suppliers out there, manufacturers who can supply the right product, it doesn't have to cost any extra and by having a deeper understanding of what we'll need to supply them, we'll start to see cost
increases that might come from a lack of understanding evaporate," Joe says.
"It's just market engagement and involvement. If there's one key message, it's in order for the industry to tackle the huge challenges posed by climate change; we really need to engage through collaboration and generous knowledge sharing."
The next Green Star for Contractors course will be held in April 2020, details can be found at www.gbca.org.au.