Choosing correct safety footwear: elastic side, lace up or zip side?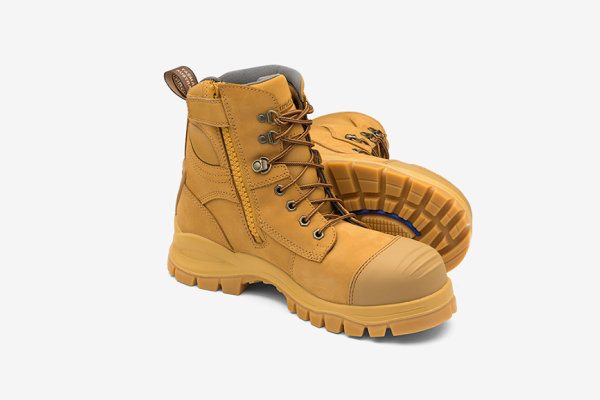 With workplace injuries a common occurrence in Australia despite the implementation of a wide range of work, health and safety programs in a number of industries. Work-related injuries cost the Australian economy around $60 billion yearly, representing nearly 5% of the nations' economy according to Safe Work Australia.
With shifts up to 12 hours being commonplace., it's important for workers to understand the importance of appropriate footwear.
Ideally, work-related footwear is designed for three purposes with equal focus: occupational safety, functionality and comfort.
The best way to take care of feet is to find the most comfortable work boot that's appropriate for the working environment and the work being done. Poorly fitting boots can not only result in pain but have significant long-term effects.
It is also important to get the boot properly fitted to help avoid pressure related pathology. The boot should feel comfortable the moment it's put on and should not need to be 'broken in' before it becomes comfortable. The wrong work boots can put extra strain on joints and bones, which can lead to painful conditions, including plantar fasciitis, knee problems and shin splints.
Podiatrists say there is no standardised tool for the assessment of footwear suitability. Clinical footwear assessment practices are subjective and tend to focus on the style or type of shoe rather than suitability of the shoe to each individual.  Even with detailed education relating to shoe style, quality and size, many people have difficulty selecting footwear, which is appropriate to their particular foot needs. It's wise to take the time to get the right boots that are designed to mitigate workplace hazards.
Here, Blundstone has collated useful tips on choosing elastic side, lace up or zip sided safety boots:
Elastic side:
These boots are popular due to their easy on, easy off convenience. Blundstone's elastic side work boots incorporate a range of different features depending on the style tradies select including water-resistant leather uppers, bump caps and scratchguards in the toe area to protect the leather from abrasions and scuffs and various soling materials with varying heat resistance but all with excellent slip and abrasion resistance.
This type is highly suitable for those who have slightly wider feet, and is light, comfortable, breathable, with great grip and balance underfoot. Another key benefit of this design is that it provides better ankle articulation. They can be particularly beneficial and a great choice for drivers with active feet and can assist with accurate and precise machine operation.
Lace up:
Lace-up boots give tradies greater ankle support as they can be adjusted for a personalised fit and hold the ankle securely. The ability to adjust the fit and loosen or tighten as required makes them ideal for both wide and narrow feet.
Over-the-ankle lace up boots can protect wearers from a range of hazards including burns, cuts and abrasions, and the bellows tongue on most lace up boots makes it less likely for objects to enter the boot. Lace-up boots also have an advantage in that they allow a wearer to adjust the fit of the boot to suit their comfort levels. Laces need to be tied securely to avoid trip threats.
Zip side:
Zip side boots protect the foot by holding the ankle in securely, whilst still providing the convenience of easy on and easy off. Additionally, if you have hand injuries, arthritis or another condition affecting your dexterity, side zippers can be much easier to use than a traditional lacing system.
The combination of a lace up with a zip side work boot is another great solution and a key time saver. The laces ensure a secure fit around the foot and ankle, and enable a personalised fit. Once the boots are adjusted to your liking, with the added convenience of a zip, the lacing system is only used for minor adjustments.