NSW CFMEU uncovers number of safety issues on Probuild's Bathurst st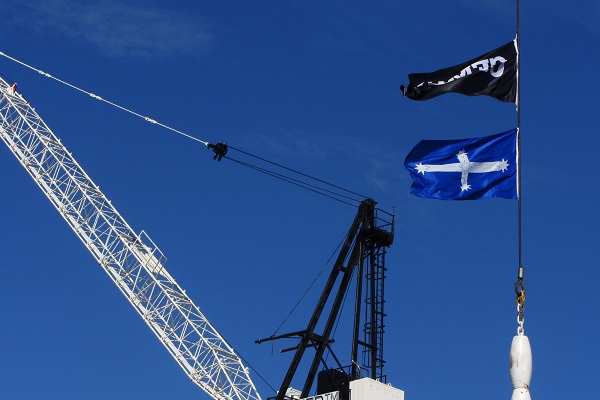 The NSW branch of the CFMEU has uncovered a number of safety issues on Brobuild's Bathurst st site including black mould in amenities rooms, inaccessible fire protection systems, fall from height risks and a number of reports of falling objects from the 70-storey site.
CFMEU NSW construction secretary Darren Greenfield says the site has been an accident waiting to happen for too long.
"Our members have been reporting and documenting problems at the site for months which the company had failed to rectify. Last week, when the union attended the site to investigate safety breaches we found black mould in amenities areas and fire protection systems that were not functioning and inaccessible, turning the building into a potential death trap," he says.
"While the union was onsite the company itself called Safework NSW to attend, possibly believing they would get the all-clear. However, when the safety regulator arrived they issued an improvement notice against Probuild ordering them to fix issues with showers not being built to the code of practice.
"The company also removed hoarding which blocked firefighters' access to the fire protection systems after the union pointed out the risk. However, the union remains concerned that the fire protection system only has enough charge to reach the 27th floor of the 70-storey building."
He adds that if a fire were to break out, firefighters would have no water to fight it at higher levels, an issue that's unacceptable following the Barangaroo fire in 2014.
"The MBA has claimed a site was closed due to deliberately blocked toilets and accused the union of sabotage. This is completely false and an insult to workers," Darren says.
"The MBA refuses to pull its members into line when they commit safety breaches that put the lives of workers and the public at risk. Instead they appeal for new laws to stop unions raising legitimate safety concerns. It is a disgrace.
"Nineteen construction workers died on the job in NSW over the last 12 months. The public have the right to ask how many more would lose their lives if the MBA had their way?
"The MBA is trying to whip up hysteria and make false claims to maximise the bargaining position for the big builders and property developers they represent. They want to force through an agreement that winds back conditions, freezes workers' pay, and refuses to implement an RDO calendar to address fatigue for construction workers who work up to 60 hours per week."