Boral updates online tool to design and construct NCC-compliant walls, ceiling systems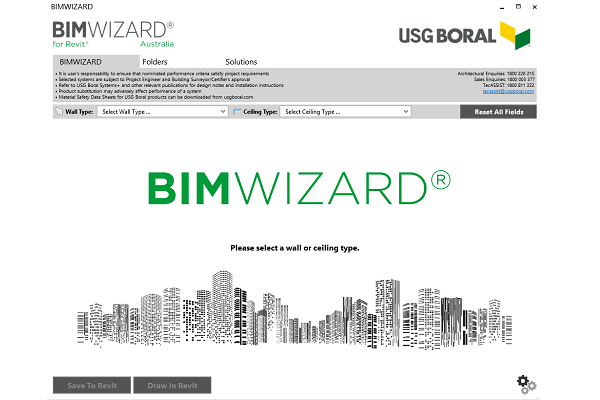 USG Boral has released the latest version of Systems+, a comprehensive catalogue of wall and ceiling systems and products. The update comes alongside new versions of the online tools BIMWIZARD and eSelector.
It gives builders, architects, specifiers and contractors the tools to design and build code compliant buildings with confidence. The upgrades also make it easier for professionals to design, specify, tender and deliver NCC-compliant wall and ceiling installations.
BIMWIZARD V3.3 from USG Boral includes an add-in for Autodesk Revit and Graphisoft ArchiCAD that streamlines the process of selecting, designing and creating the right wall or ceiling system for individual projects. The latest version is now available with new search filters, a material replacement tool, and the latest wall and ceiling systems.
The USG Boral eSelector V3.0 is an easy to use and intuitive way to select from thousands of NCC-compliant fire-rated and acoustic wall and ceiling systems. More comprehensive than before, system data sheets can be downloaded or architectural specification documents created using the improved Archispec Report feature.
"Systems+ v2.1 online tools are easy to follow, however USG Boral is happy to work directly with contractors and installers to demonstrate how the systems work, and provide installation training, as we understand how important it is to help building professionals reduce risks and improve compliance when designing and constructing future projects," USG Boral regional general manager NSW Mark Nunner says.