Bring projects to life with relaunched Dulux BIM Solutions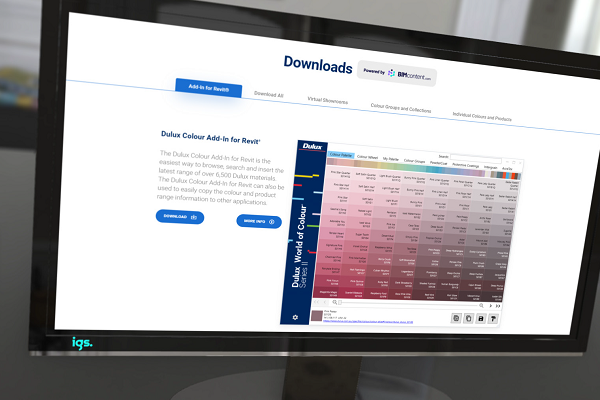 Dulux has relaunched its BIM Solutions with an enhanced suite of features, content upgrades and seamless integration with Autodesk Revit and GRAPHISOFT Archicad projects.
It now presents over 6,500 colours and product ranges from the Dulux World of Colour, Dulux Powder Coatings, Protective Coatings, AcraTex and Intergrain Timber finishes; and are all a mere click away in a download option to suit a user's preference and needs.
The user benefit is the automatically generated colour and product information into project schedules that saves time, as well as reduces manual entry and data entry errors.
"The upgrade of Dulux BIM Solutions with inclusion of a selection of Dulux AcraTex products, the enhanced features of the Dulux Colour Add-In and the new Virtual Showroom download for Revit, combined with the entire 6,500 Dulux materials now available in Archicad are all intended to help save designers valuable time by providing easy to use BIM content," Dulux project manager Sarah Nadenbousch says.
Wardle Architects associate and BIM manager Rhys Hall experienced the Dulux Colour Add-In for Revit benefits firsthand: "When it comes to material selection there is always a disjoint between the tactility of the physical and the digital representation. Dulux BIM Solutions removes the need to interpret between these two realms, providing not only significant time savings but a more accurate and consistent result. The ease of use means we have been able to integrate it into our current configuration with minimal overhead or training."
Additional enhancements across Dulux Colour Add-In for Revit include an updated 'Copy to Clipboard' feature, which allows relevant information to be readily copied into a finishes schedule in Word, for example, as well as an option to copy the colour hex code to facilitate transfer into Photoshop.