DEWALT Design Assist breaking ground with state-of-the-art software capabilities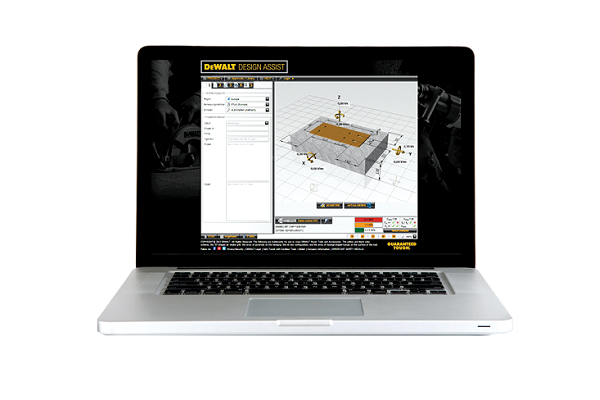 DEWALT ENGINEERED BY POWERS (DEWALT) has launched the DEWALT Design Assist (DDA) software which is specifically designed to help engineers, specifiers and architects design projects where complex structural design is required.
The DDA is the latest industry-focused solution from DEWALT which offers structural design software to automation and optimise DEWALT anchoring products to concrete in accordance with AS5216:2018 – Design of post-installed and cast-in fastenings in concrete to satisfy deemed-to-comply requirements of NCC2019.
Stanley Black&Decker sales and technical director George Maglaras says the intelligent functionality of the latest edition gives users state-of-the-art solutions to common industry challenges: "It allows design professionals to create custom-based plate shapes and anchor bolt layouts in accordance with the latest Australian standards and international building codes, critical to the delivery of a successful construction project.
"Ineffective anchoring systems can result in added costs and are also likely to take away from the prime focus at hand – the build. As part of our commitment to continue supporting our products with expert solution and technical advice for all anchoring requirements and design, DDA and our dedicated Enterprise Solutions Team add value to our customers and construction projects through proven ability to respond to the demands of ever-changing industry requirements."
DDA's Base Plate Anchorage is the standard tool to use when considering anchorage to concrete and allows complete geometric flexibility with the anchor patterns or base plate shape.
Designs are calculated to be compliant with the latest major published design criteria and use products that have been tested by independent approval bodies for performance. Further extending the functionality of base plate designs, users can now leverage this software using Australian Steel Profiles ensuring the selected anchor is fit for purpose.
"As we move in 2021, innovations in time saving and fit-for-purpose building products and tools will be key. Our latest building solution reinforces the company's reputation for tireless innovation and complete solutions that are trade focused and add value to the jobsite productivity," George adds.