New storage system to complement the Demmeler welding table system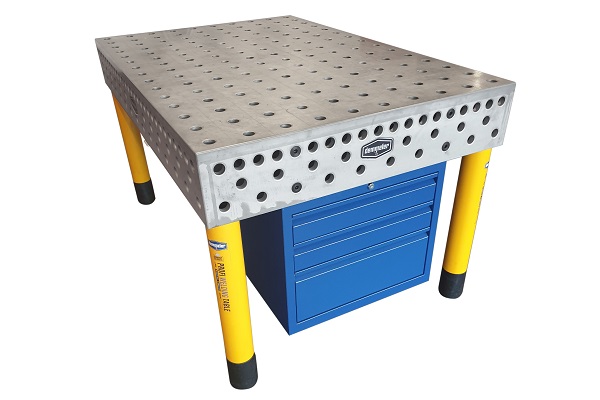 Illawarra-based engineering firm Leussink has added the Demmeler Smart Toolbox to its range of accessories for the Demmeler Modular Fixturing system.
Leussink managing director Jason Leussink says the new storage system is a convenient way to store the many Demmeler accessories.
"The Demmeler system includes dozens of accessories like clamps, angles and bolts, and it makes sense to have a dedicated toolbox that fits neatly under the table. It means you always have your clamping accessories at hand," he adds.
The new toolbox is an under-bench cabinet with drawers made from sheet steel and is available in two-drawer and three-drawer models. It boasts a maximum load capacity of 125kg with each drawer having a recommended load capacity of around 50kg.
All drawers are equipped with a rubber mat as an anti-slip insert. On top of its anti-slip properties, it has a noise-dampening effect and protects the drawers from scratches. Additionally, the drawers have a soft-close system for quiet and jerk-free opening and closing and are lockable.
The Demmeler Smart Toolbox is installed by attaching it to the underside of the Demmeler welding table, putting all the most-used Demmeler accessories within easy reach. It is easily installed using the table's system bore-holes.
"At Leussink we don't just sell tables and walk away. We work with our clients to make sure the Demmeler Modular Fixturing System works for them by providing onsite visits and follow-ups," Jason Leussink says.