Panasonic releases TOUGHBOOK S1, a rugged tablet for the mobile workforce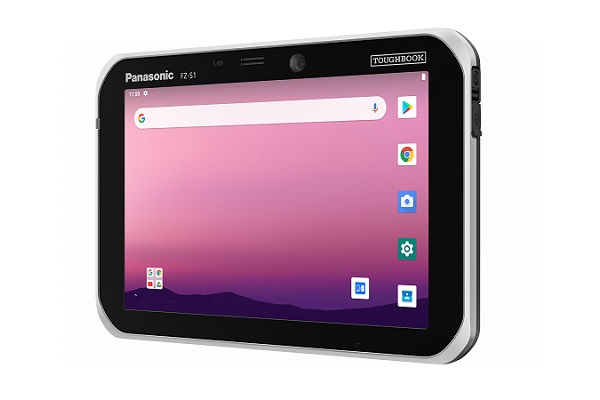 Panasonic has unveiled the TOUGHBOOK S1 tablet, a rugged Android tablet made for the mobile workforce. The 7" screen makes it easy to use with one hand and it's adaptable for several tasks while powerful enough to cope with the demands of the workforce.
It's designed for mobile and mission-critical workforces including technicians monitoring production lines, field service engineers carrying out inspections and construction workers on site.
Set to come out in Summer 2021, it's another addition to the Android Enterprise Recommended family of mobile devices.
"The TOUGHBOOK S1 boasts enterprise grade device deployment and management, and enterprise grade security as well as Google Play Protect," Panasonic senior product marketing manager, mobile solutions Ranjit Sohoni says.
"Security continues to be a priority – secure booting detects OS tampering and ensures application safety, while Google Play Protect detects and eliminates rogue apps.
"AER certification will mean that demanding industries such as warehousing and logistics, and mission-critical roles such as emergency services can be confident that the TOUGHBOOK S1 is a viable long-term investment, well suited to a wide range of mobile business applications."
Weighing in at only 426g and without a hand strap, it fits comfortably in one hand and is set for use over long periods of time.
In all weather conditions, the outdoor readable display is easy to use with a market-leading brightness of up to 500cd/m² and enhanced anti-reflection technology ensuring clarity in the brightest sunlight.
Rainy days and the need to remove safety gloves are also operational problems of the past when working with the TOUGHBOOK S1 tablet because of its effective rain-mode and glove-enabled touch screen.
A 13MP rear camera with flashlight and a front 5MP camera is ideal for capturing images to attach to reports and for video conference calls with colleagues.
To ensure the rugged tablet can work as long as any shift, it is equipped with a simple click and switch design for warm swapping batteries. It takes away the need to interrupt work, power down the device or remove fiddly panels to change batteries. With two options of battery size, the device can operate for up to 14 hours on a single charge.
For ease of management and administrative peace of mind, the TOUGHBOOK S1 tablet is Android Enterprise-ready, and comes with a standard three-year warranty.