Australian PCI: Strong construction activity in May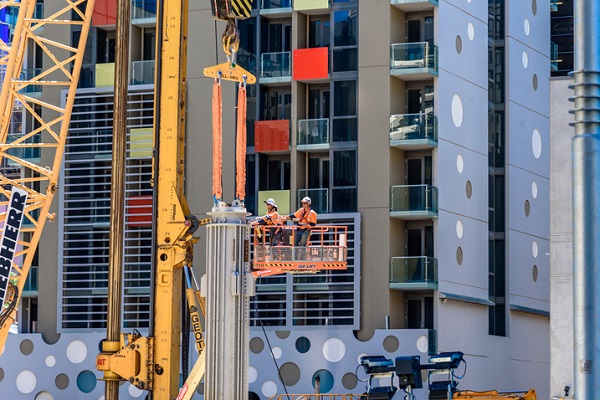 The Australian Industry Group/Housing Industry Association Australian Performance of Construction Index (Australian PCI) fell by 0.8 points to 58.3 in May, largely maintaining the strong pace of post-2020 recovery following on from a record high in March.
Readings above 50 indicate expansion in activity, with higher results indicating a faster expansion.
All four components of construction activity expanded strongly in May, with the indexes for activity and new orders remaining elevated while employment hit a new record high (up 5.2 points to 64.4).
"The national construction sector continued to lead Australia's rebound in May with a further expansion of activity led by the house building and engineering construction sectors," Ai Group head of policy Peter Burn says.
"Commercial construction and apartment building also grew although at more moderate levels. The pace of employment growth across the construction sector was the highest recorded since the Australian PCI commenced in 2005 and this fuelled a further increase in reports of difficulties in filling positions. The heat in the market is also evident in the extent of input cost acceleration, wage rises and price increases.
"With new orders growing strongly again in May and the pipeline of infrastructure projects stretching over a number of years, there is a clear need for the industry and governments to move together to ensure there is adequate capacity in the sector and its supply chains to meet ongoing demand."
HIA economist Tom Devitt says that the volume of work on the ground continued to increase in May and with the extension of the HomeBuilder commencement deadlines, new house building levels remained elevated for longer.
"This elevated level of demand is putting pressure on the supply of trades and materials. It also occurred at the same time as a surge in international demand for shipping and raw materials, including timber. This will continue to challenge house building until the market slows toward the end of this year," he says.
The Australian PCI indexes for activity (down 7.1 points to 55.7) and new orders (down 1.8 points to 55.2) moved lower but remained relatively elevated amid a national pre-deadline HomeBuilder scramble.
Supplier deliveries moved back towards May's record high (up 3.4 points to 59.4), but builders across all sectors continue to report problems with delivery delays and elevated freight pricing.
The employment index hit a new record high in May (up 5.2 points to 64.4). The wages index moderated slightly (down 0.4 points to 65.0) but remains well above the average for this index series (59.5 points).