Mental health: An important building block in construction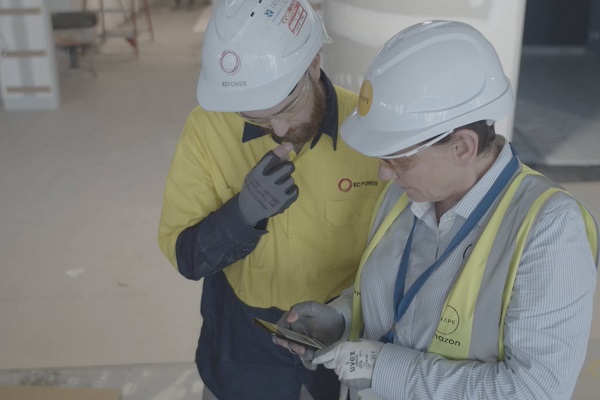 Every August, the construction industry celebrates Tradies National Health Month, a period in which companies raise awareness of the health and injury hazards associated with trade occupations. This awareness month was created by the industry due to a concerning statistic, which revealed that three in five serious workplace injuries involve a tradesperson. Physical safety is extremely important in construction, however, something that's often neglected in conversations amongst tradies is that of overall wellbeing and mental health.
Mental health among construction workers has long been a taboo subject, but it's a topic that the industry must prioritise in order to keep people safe and enjoy their occupation. Research from mental health body, MATES in Construction (MATES), shows that suicide is sadly the main cause of death for Australians working in construction. Its research also found that workers in the sector are six times more likely to die by suicide than by workplace accidents.
As an industry with 87.3% male participation, construction has Australia's highest proportion of males in the workforce. This produces greater negative masculinity sentiments, which is unfortunately reflected in research that found suicide risk for construction workers to be 53% higher in comparison to men employed in other fields of work in Australia.
The impact of mental health issues for tradies presents both a concerning picture of health for those in construction and a detrimental economic loss. According to MATES, the industry loses at least $1.5 billion each year due to suicide and suicidal behaviour. As shocking as that statistic may be, the data highlights an opportunity for construction companies to start taking the mental health of their workforce seriously.
State lockdowns and construction restrictions
Lockdowns and restrictions due to the COVID-19 pandemic have caused a lot of uncertainty for many industries, and construction is no exception. This is why mental health and wellbeing is at the top of mind for SHAPE Australia when crafting initiatives to help alleviate staff concerns during the recent construction pause in NSW.
From 19-30 July 2021, the NSW government ordered for a pause on all construction work, to halt the spread of COVID-19. The Construction Forestry Maritime Mining Energy Union (CFMEU) estimated that more than 350,000 jobs were affected, at a cost of about $1.4 billion to the NSW economy per week. The state also had a period where workers residing in Sydney's eight local government areas (LGAs) of concern were not able to work, which affected roughly two in five (40%) of the city's construction workers.
Lockdowns and restrictions have been on and off nationwide over the last 18 months and this is a trend that many expect to continue. That means it's now more important than ever before for companies to have the right ongoing support in place to give workers peace of mind during these challenging times. At SHAPE Australia, we're continuously thinking about useful initiatives and ways to assist our staff to ensure positive mental wellbeing and financial stability during times of uncertainty.
SHAPE's mental health initiatives during heightened restrictions
As SHAPE is a national company, we've had previous experience in supporting employees through an extended lockdown in Melbourne. So, what's our key piece of advice for businesses to help staff as much as possible when adversity hits? Work out what your people are most worried about and what their main stress driver is, then address that first and foremost with clear and concise communication.
In the case of NSW's two-week construction pause, our teams were naturally more concerned about the financial impact, wanting to make sure they would still be able to provide for their loved ones and families. To address this concern, we were able to guarantee that during the pause, all staff would be paid in full for the two weeks and still had work available to them. For those who didn't have enough work to do virtually during this time, we encouraged staff to utilise the two weeks to focus on personal growth, online training and learning & development.
In addition to financial incentives, we also prioritised mental wellbeing initiatives through the pause and heightened restrictions. During this period, SHAPE increased its Employee Assistance Program (EAP) offerings to both our full-time employees and also any subcontractors working with SHAPE. We made sure to frequently check-in with our teams, holding an all-team call every few days to give employees a chance to connect and ask questions to the senior leadership team. We also implemented mindfulness training by bringing in accredited mental health practitioners to have one-on-one sessions with our employees to help overcome the stigma of mental health in the industry.
Finally, SHAPE also encourages flexible working, so that staff can take supported time-off to rest if they feel overwhelmed, get vaccinated and/or focus on their family, especially with a lot of home-schooling happening.
Don't be afraid to ask for help
The national peak body and non-profit that addresses mental health issues amongst construction workers is MATES. MATES provides suicide prevention through social development programmes on-site and by helping workers in need through case management and a 24/7 helpline. Here at SHAPE Australia, we have been partnering with MATES since 2014 and as a result, have raised more than $90,000 for the eir organisation through various fundraising events.
We make sure that our SHAPE team attend training sessions so that we have MATES-accredited workers onsite to raise awareness and help keep employees safe in a mental health crisis. The MATES General Awareness training, which introduces the nature of mental health issues in workers and provides direction on how to help, has been delivered to 98% of SHAPE's workforce. Likewise, almost half of our employees have been trained as 'Connectors', which means they can help aid a worker in crisis by connecting them with professional support.
Mental health is a serious issue, not just for construction workers but for all. It's important for businesses that are responsible for the well-being of their employees to do their best to ensure that people feel supported, especially during tough times. SHAPE Australia is proud to have mental health initiatives in place to support our workers and understand the importance of taking care of our people both financially and mentally.
To find out more about MATES, visit their website here.
To learn more about SHAPE Australia and our initiatives, please visit our website here.
—
This article was written by SHAPE Australia group executive people & culture Kate Evans.