RapidRidge roofing, the latest in eco-friendly, passive cooling for smarter homes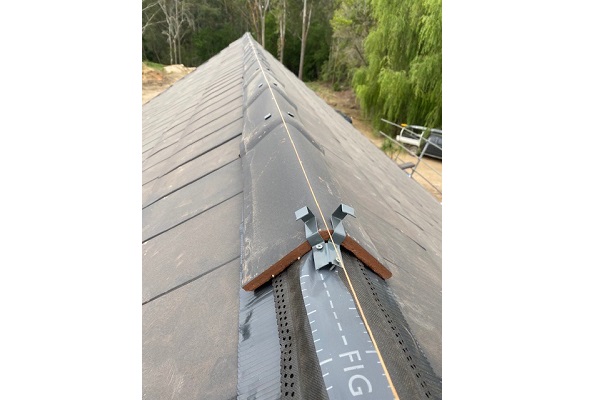 Australia's residential electricity consumption worryingly rose by 56% from 1990 to 2020, with the bulk of the nation's electricity still produced by fossil fuels. The RapidRidge ventilated dry ridge roofing system is proven to save up to 5% on annual electricity bills by providing ventilation in hot weather; independently verified by Certified Energy.
RapidRidge gives home owners and building professionals an improved alternative to unsightly whirlybirds and other powered options. The dry fixed above-sheathing ventilation system adds vents at the ridge, effectively turning the entire roof into a giant air vent.
Moving away from the traditional method of mortar and pointing, using a dry install system means no reliance on water, no need to mix mortar to fix the ridge caps to the roof, no need to carry mortar up and down ladders, no need to wait for mortar to dry and, crucially, no recommended maintenance check every ten years.
The system can also add up to half a star to a house's BASIX rating.
Evo Building Products managing director Peter Byrne says the company is on a mission to convert Aussie builders and architects to the multi-faceted benefits of dry-ridge solutions.
"RapidRidge gives strong energy savings, reduced moisture build-up and less ongoing maintenance for homeowners," he says.
"No more reliance on mixing mortar and applying pointing for tradies. And for Australia, RapidRidge means lower energy demands, fewer carbon dioxide emissions, and more sustainable building standards".
He adds that having the entire roof act as a vent, compared to a few vents here and there, makes a huge difference to the passive ventilation performance.
"Since RapidRidge has no moving parts or electrical components, it is a set-and-forget passive roof ventilation system that requires no maintenance. Compared to unsightly whirlybirds, RapidRidge maintains the visual aesthetics of the roof, keeping it sleek and minimal without penetrations."