Buildxact creates first of its kind builder and supplier collaboration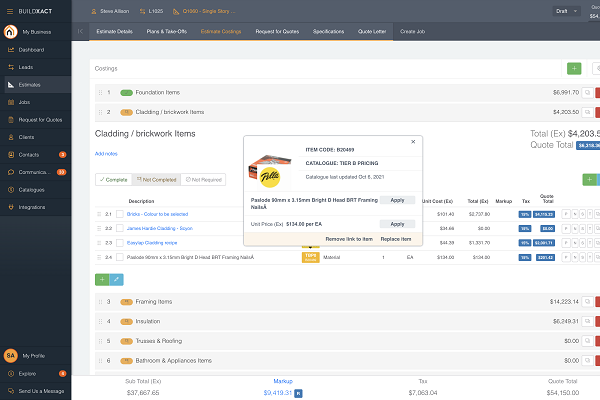 Buildxact, a global, Australian-founded estimating and construction management software company today announces a major integration designed to streamline the often-frustrating estimating, quoting and ordering process in the sector.
It becomes the first platform of its kind to connect custom home builders and suppliers of construction material, equipment and services, offering a centralised, digital place for them to collaborate.
Major local suppliers are already integrated into the platform, including Mitre 10, Dahlsens, Harvey Norman, Hire Depot, Barwon Timber, JumboCorp, SlE, ITM Stores and HBT Stores, with more joining.
Suppliers can now directly collaborate with builders that are using Buildxact's estimating, quoting and ordering platform, helping them streamline workflows, lower costs, and build meaningful relationships with their customers.
With this integration, Buildxact also further streamlines the estimating and quoting process for builders, which remains a significant pain point, often leading to mistakes, and potential delays and lost revenue. Builders can now access integrated, up-to-date supplier price lists, enabling them to create fast and accurate cost estimates, request specialty items, and source and order everything they need for their projects. Usage data from Buildxact shows that the time required for the end-to-end process can be cut by up to 80%.
The integration will benefit all Buildxact users across ANZ, but also North America, where the company is increasing its footprint, revenue and operations. It follows a year of fast-growth for the SaaS construction player, with Annual Recurring Revenue growing 101% year-over-year in FY21, and an increase of 81% of their subscriber base over the same period. During the pandemic, Buildxact has delivered over $21 billion in quotes and $4 billion in projects, helping thousands of builders fast-track their pre-sale and job management processes.
"Today's announcement follows over three years of research and development, listening to our customers and the market," Buildxact president and chief executive David Murray says.
"In hearing the needs of the market, it was clear that a solution that digitised the relationship between the supplier and custom home builders would benefit both players. At Buildxact, we focus on making the builder's life easier, now, we can make their life easier, as well as simplifying the supplier's estimating and purchasing through this industry-leading solution.
"The integration supports a more connected relationship, offering complete flexibility for the builder and a competitive advantage for the pro dealer."