Standards Australia partners with Master Builders Association of NSW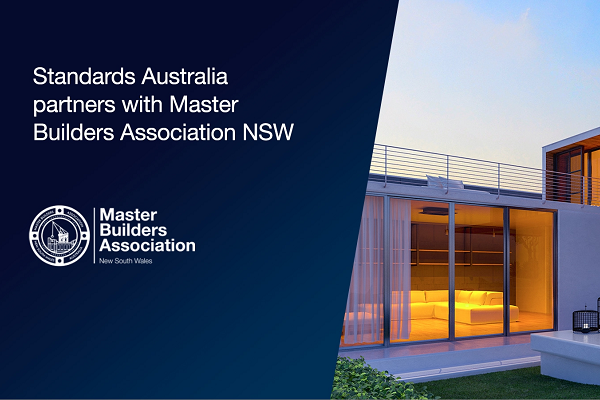 Master Builders Association NSW (MBA NSW) has partnered with Standards Australia, offering greater access to standards for small businesses and improving the quality of building and construction.
The partnership means that Standards Sets will be hosted on MBA NSW's platform – myBIG Building Information Gateway.
The Standards Sets include:
14 small business trade sets
NCC primary standards sets
Essentials/starter standard sets
Standard Sets include a collection of standards relevant to industry. Offering real value, supporting a competitive pricing model and facilitating better discover-ability.
The platform provides subscription option to standards, an ever-expanding library of technical resources and an online store. Some of the sets will also provide historical versions of standards.
This exciting new information infrastructure may assist in increasing quality construction in Australian building and construction industry.
"This agreement allows us to widen access to standards throughout the entire construction industry. Master Builders will promote and deliver benefits for our members and industry professionals across the country," MBA NSW director Bria Seidler says.
Most of the construction industry in Australia is made up of small to medium businesses, and we have worked with Standards Australia to provide solutions for them that suit."
He adds that the myBIG platform has been specifically designed by industry technical experts. It uses enterprise-level cloud hosting and storage solutions to ensure we meet the online needs of industry when searching for and purchasing standards and other technical information.
The partnership has been welcomed by NSW Building Commissioner David Chandler OAM.
"Standards should be part of everyone's toolkit, if you're not referencing them then you're simply making it up. Well done to the MBA NSW and Standards Australia for rethinking how we get this critical information into the hands of every builder across our industry," David says.
Industry participants looking to access standards can do so at this link.