How Tasmania became Australia's heritage construction capital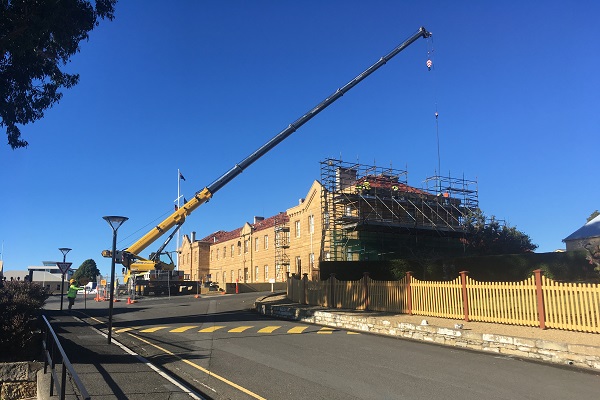 Australia's commercial construction sector is continually evolving, with today's projects capitalising on new technologies that drive efficiencies, quality and innovative design. However, a subset of projects are 'turning back time' to focus on traditional trades and heritage buildings, led by the country's smallest state.
Restoration projects are a vital part of today's construction industry. The practice helps ensure iconic buildings such as Tasmania's Port Arthur Penitentiary Conservation Project and the Australian Defence Force Anglesea Barracks (pictured) are maintained for future generations.
Operating for over 100 years, Hansen Yuncken is one of the largest privately-owned commercial building contractors in Australia and has completed a vast number of remediation projects nationwide in that time.
"While Australia's construction industry, as we know it, is young in comparison with other nations, we have a wealth of impressive, historic buildings. These properties require careful maintenance to keep them operational while retaining their cultural value," Hansen Yuncken Tasmanian state manager Matt Cadle says.
"A large portion of these projects are situated in Tasmania, where there has been less focus on replacing and a preference for adapting heritage buildings over the years. This has resulted in Tassie being widely regarded as the state keeping heritage trades alive."
Understanding and respecting the history of these iconic buildings is the first step to successful remediation work, says Dr Kate Hibbert, Environment and Sustainability Manager for the Department of Defence in Tasmania.
"Across the country, there is an array of heritage buildings that capture periods of Australian history and provide an insight into the lives of past generations. Uncovering and maintaining these stories can often be slow, painstaking work and requires specialised construction experts," Kate says.
Recently, Hansen Yuncken and other contractors completed remediation works on 15 buildings within Tasmania's Anglesea Barracks. The Commonwealth Heritage-listed site was developed in the 19th century and included administration facilities, accommodation quarters and a gaol. It is used today as administration and training facilities by the Department of Defence.
The team's work unveiled several historic finds including markings believed to be upwards of 170 years old. Left behind by soldiers in the barracks' military gaol, the graffiti provides a fascinating insight into Tasmania's 19th-century military life.
"We found symbols that depict a '99' figure with a circle and crown on top, which are replications of the 99th 'Regiment of Foot' hat badge. These were here in the 1840s and 1850s. It's a really interesting personal touch left by the people that were here, rather than just being military records or buildings," Kate adds.
To preserve the markings, Hansen Yuncken's team erected a Perspex covering that allows them to be seen by visitors, while preventing them from being defaced or damaged.
Other works included restoration of original features such as huge Douglas Fir beams, thought to have been felled in Oregon, America, and importing and installing cast iron downpipes from the UK.
"There's no 'one size fits all' approach to remediation work," Matt explains.
"Each site is different and the building practice that works for one, might not be right for the next. Construction methods continually evolve, so you don't just need to know what to do, but also understand the traditional methods used when the building was first constructed.
"Consideration also needs to be given to the application of modern methods, which can best preserve the long-term future of the building and site, while employing the right degree of sensitivity. There is rarely a black and white approach."
Over the past century, Hansen Yuncken has moved with the times by continually evolving its construction practices to deliver complex projects. This has included innovations such as pioneering a specialised suspended scaffolding system at Victoria's State Library in the 1920s, the deployment of the first Favco 500 tower cranes in the 1960s and the development of an in-house collaboration and information management platform dubbed HYway in the 2000s.
More recently, new construction methodology was delivered at the Cascades Female Factory History and Interpretation Centre. The modern building was designed to perch gently above ground on concrete joists, avoiding potential damage to the World Heritage Listed site's historic fabric below. Additionally, gabion baskets filled with rocks were used in place of local sandstone to speed up construction, meet budget requirements and work within material availability.
The project realised the vision of the Port Arthur Historic Site Management Authority to create a modern space to tell the story of the site and its history to its many visitors.
"By remaining at the industry forefront, we are able to combine traditional trades with modern-day building solutions," Matt says.
"This allows us to preserve traditional construction methods through the maintenance and remediation of some of Tasmania's most prestigious buildings including MONA and the Port Arthur Penitentiary, while ensuring they fit within the modern fabric of the state."
This type of highly specialised remediation work requires strong relationships and constant communication as Kate explains: "Every remediation project has its surprises – you never know what you are going to find, or when, so it's important to have a strong relationship with remediation experts who understand this specific type of work.
"The ability to collaboratively determine the best course of action is also vital. In the case of Anglesea Barracks, some modern methods were employed but, when it comes to combating damp, we use traditional sacrificial lime render applied by a specialist to draw out moisture and salt from the stonework, which we have been doing for over 15 years on this site."
The ability to work hand-in-hand with clients on a high number of historic Tasmanian buildings is key to maintaining traditional trades.