Introducing Zadie, the female-designed tradie attire brand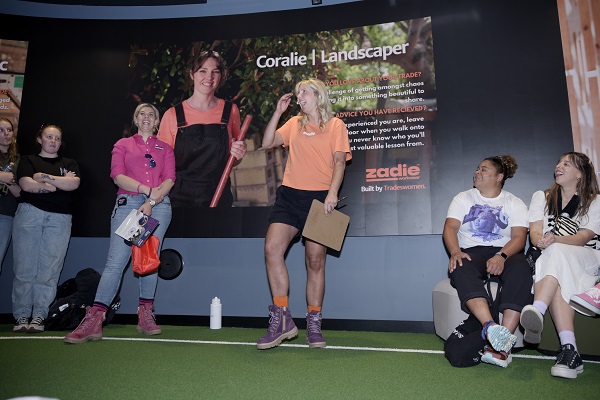 Aimee Stanton has launched her female tradie workwear brand Zadie after recognising the pressing need for female-designed tradie attire.
Hosted in partnership with Empowered Women in Trades at an exclusive sold out event, held at the Huddle at North Melbourne Football Club, the launch was a showcase of empowerment, gender equality and innovative tradie lady fashion.
"Zadie Workwear just isn't about making women and non-binary people comfortable and confident on the job site, it is about bringing a community together, and the recent launch event showed how powerful we are when we all come together," Aimee says.
The plumber-turned-tiny house builder and reality TV star embarked on a two-year mission to provide an offering that supported the female form so women in trades could feel comfortable on worksites.
Attending the launch event at 37 weeks pregnant, Aimee showed the range can also cater for pregnant tradies.
"This partnership is more than just a fashion statement, it's a step toward a future where women and non-binary individuals in trades have the recognition, support and attire they deserve. Empowerment comes in many forms, and today, we're empowering women to take the lead, both on the job and in their wardrobe choices," Empowered Women in Trades founder Hacia Atherton says.
Backed by the collaborative spirit of Empowered Women in Trades, Zadie Workwear is set to redefine the future of workwear for female tradies. With comfort, functionality and style at the forefront of its mission, the brand is poised to make waves in an industry that's long-awaited such innovation.
More information about Zadie Workwear is available on its website.