DeWalt delivers safety footwear range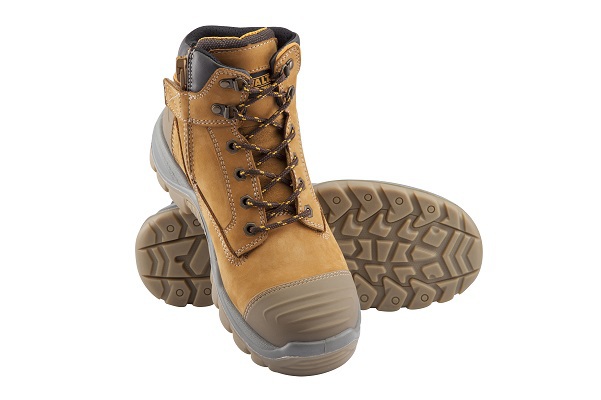 DeWalt has delivered its latest safety footwear range or the most protective and versatile work boots for all heavy-duty workplace situations.
DeWalt AKRON PROComfort Safety Footwear
With the highest Slip Resistance rating (C rating) and 300°C high heat resistance, the AKRON PROComfort outsole is built for extreme durability.
Featuring three innovative cushioning and support layers and state-of-the-art memory foam for optimal foot and arch support, the AKRON provides the ultimate comfort when you are on your feet for long periods of time.
The AKRON's upper is made from water-resistant premium nubuck leather with a wide-fit ergonomic steel toe cap, delivering all-day comfort, breathability and supportive fit.
DeWALT APEX PROComfort Safety Footwear
Providing maximum protection and support, the APEX Pro Comfort Extreme Duty Leather Work Boot offers precision and movement control.
An outsole with the highest rated Slip Resistance (C rating) and 300°C high heat resistance as well as D-ring upper eyelets and lace loops deliver a firm fit and increased mobility.
Designed to meet key work safety needs, the impact and abrasion-resistant toe cap bumper of the APEX ensures full toe protection while the heavy-duty YKK medial side zipper provides hassle-free work boot fastening and removal.
DeWALT Midland PRO Comfort Safety Gumboot
With the outdoor tradie in mind, the DeWALT Midland PRO Comfort Safety Gumboot provides maximum protection in most environments.
The gumboot's upper design features a foot guard protection and medial, lateral and heel bump protection helping guard against cuts and abrasions in all the key vulnerable areas.
The oil and acid-resistant outsole design also resists clogging providing the ultimate grip and support in high-risk environments.
Soft touch knit lining provides long-lasting comfort and sweat management while the wide fit and heavy-duty tread allow extra stability with the outsole pattern.
DeWALT NITROGEN TECH Comfort Safety Footwear
The DeWALT NITROGEN TECH comfort safety footwear is perfectly balanced between comfort and durability.
Featuring a new toe cap bumper, which is shock absorbing and protects the leather from splits or tears at the front of the boot, the footwear provides long-term comfort and protection.
The non-slip outsole and up to 140°C heat resistance make the DeWALT TECH Comfort safety footwear versatile for many situations while the easy on/off elasticised side adds further comfort and convenience.
DEWALT Fargo Safety Shoe
The DEWALT Fargo Safety Shoe prioritises ultimate comfort with a lightweight synthetic upper and a steel cap for protection. The double-density shock absorption and comfort insole ensures all-day comfort, support and durability with an anti-scuff toe guard for long-lasting wear.
The slip-resistant phylon rubber outsole includes a padded tongue and collar for added comfort.
DeWalt Toner
Designed for maximum agility, the DeWalt Toner offers industry-leading protection and an extended range of movement.
With the highest slip resistance rating (C rating), 300°C high heat resistance and scalloped back for increased mobility, the DeWalt Toner allows comfortable movement with premium safety features.