Gyprock launches Gyprock HD and Rigitone plasterboard products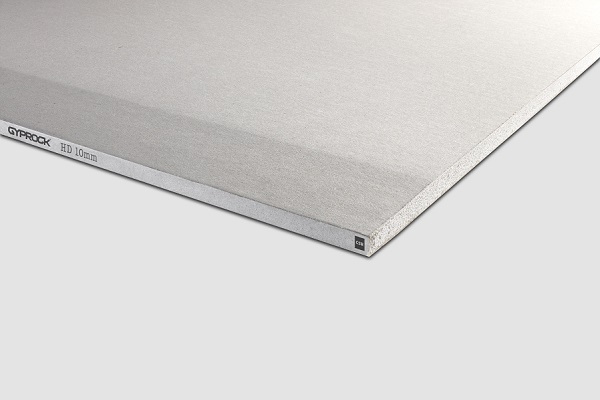 Gyprock has launched Gyprock HD and Rigitone to join its portfolio of quality plasterboard, compounds and adhesives.
Gyprock HD
Gyprock HD is a premium plasterboard product that can be used in residential wall and ceiling applications and is the latest product to join the brand's residential range of specialty plasterboards.
The versatile 10mm board features a high-density core and heavy-duty liner paper. It serves as an upgrade solution for walls and ceilings where higher levels of acoustic insulation and impact resistance are needed.
Gyprock HD is the highest specification in the Gyprock residential plasterboard range and comes with a wealth of benefits including high impact resistance, enhanced acoustic performance, low VOC, ease of handling and the ultimate versatility.
Gyprock Perforated Filler
Gyprock's premium new compound is a dry-mix filler that has been specially formulated for filling and finishing Gyprock's high-performance perforated plasterboard, Rigitone.
Rigitone perforated plasterboard is typically used as a plasterboard for ceilings and walls in commercial constructions where a high level of acoustic performance is required. The perforated filler has been designed as a dry-mix alternative method to the existing Rigitone Filler sausage.
The specially formulated compound is mixed to a creamy consistency before it is applied and can be used to achieve the perfect joint for the unique seamless finish that Rigitone plasterboards are well-known for.
Key benefits of the perforated filler include a 60-minute working life, low shrinkage, longer shelf life, easy application and coverage spanning approximately 60m2.   
Best applied with the Rigitone Dry-Mix Filler Application Kit, the new low VOC compound is proudly Australian-made.