Don't work outside your warranty
With the increasing popularity of external wall tiling, it's important to ensure you install the appropriate substrate. Building Connection talks to James Hardie on the dos and don'ts for this application, and why it's important to choose the right product for the job.
Tiling the outside of a home isn't as straightforward as your standard mortar and grout job in the bathroom – if only it was. As soon as you step outside, there are a number of challenges that come into play, such as finding a suitable substrate that's designed for outdoor conditions, and one that can manage the weight of the tiles over the long term.
Most importantly, you need to familiarise yourself with what's required to meet the conditions of the warranty on the system (something that's too often overlooked).
It's a subject that seems to have a lot of builders scratching their heads, and that's why we put in a call to James Hardie to find out the common problems that builders are seeking help with. The team at James Hardie said that first and foremost, calls show that there is a general lack of product knowledge on external tiling issues across the whole industry.
"We are constantly finding that builders are using the wrong product for an external tiling application," James Hardie engineering solutions specialist Rahul Bakaya says.
"It seems that in many instances, builders aren't sure what to use and they simply opt for a lining that is only suitable for internal applications."
In the case of James Hardie's products, this is usually Villaboard® lining. Although the moisture resistant properties of this sheeting make it suitable for wet area linings in bathrooms, laundries and kitchens, it isn't appropriate for an external wall application.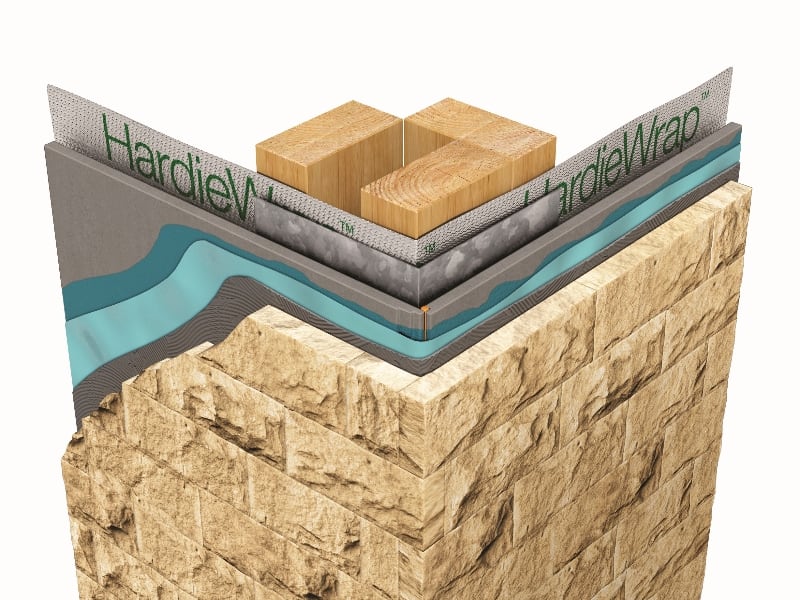 These kinds of products aren't designed to withstand outdoor conditions and if they're used outdoors, won't be covered by the standard product warranty should issues arise down the track.
Rahul adds, "We're also seeing a lot of builders using blue board (HardieTex™ base sheets), which is specifically warranted for acrylic render applications and not tiling applications."
This lack of product knowledge is partly due to a lack of education within the industry, but it's also down to builders not taking the necessary initiative to familiarise themselves with the relevant guidelines and installation manuals.
"Sometimes builders have been given the incorrect information from colleagues and other times they simply haven't obtained the technical manual to find out about the applicability of a product. This is something we recommend regardless of the project, and no matter what the product in question is," Rahul says. He goes on to add that builders should always manage their risks by double checking suggestions against installation and technical specification manuals.
It's vital that the material being used is fit for purpose – not just to ensure warranty support, but also for the overall quality of the project. James Hardie recommends that from its product range, builders use the EasyLap™ panel – a fibre cement base sheet with a shiplap vertical joint – as the substrate for external tiling applications. This panel is ideal for use in such applications, especially in residential construction.
What's more, the sheets are deemed non-combustible – in line with Building Code of Australia (BCA) – and are bushfire rated to BAL-40. They also achieve fire ratings of 60/60/60 and 90/90/90 when constructed with additional fire rated linings, as specified in the James Hardie Fire and Acoustically Rated Design manual and the Construction of Fire and Acoustically Rated Walls technical specification.
The panels are easy to install due to the shiplap joint and their sizing (1200mm and 900mm), which makes them suitable for 450mm stud centres.
However, James Hardie recommends that EasyLap panels are subject to a maximum tile weight of 50kg/m2 and maximum wind classification of no more than N3/C1 – the EasyLap panels aren't recommended for cyclonic areas. Warranty support also depends on the compatibility and suitability of any other products and adhesives that are used.
"James Hardie does not warrant the performance of third party components outside their control such as waterproofing primers and membranes, tile adhesive and tiles," Rahul says. "For that, you have to refer to the third party for their warranty, installation and specifications and to the Standard AS 3958 – Ceramic Tiles and AS 4654 – Waterproofing membranes."
If you do opt to install James Hardie EasyLap panels, James Hardie provides an installation guide that must be followed to ensure that you don't void your warranty. These guidelines also represent good practices to follow in any external tiling project.
Waterproofing, tile adhesive and any other components are also crucial for the overall performance and substrate warranty of your cladding.
"It is imperative that the installer or specifier uses a waterproofing system that has been tested and is recommended by the substrate manufacturer. We work closely with third party companies to ensure the right recommendations for our products are specified. Builders can get peace of mind by following good building practices and manufacturer's recommendations for installation of products," Rahul says.
Adhesives
Tiles should be applied with proprietary adhesive that conforms to ISO 13007.1 for Ceramic Tiles and Adhesives, and installed in accordance with AS3958.1 and to tile and adhesive manufacturer recommendations.
Tile weight and thickness
The maximum tile weight recommended for tiling over EasyLap panels is 50kg/m2. If the tile exceeds a weight of 32kg/m2, and/or 18mm in thickness, additional mechanical supports are required.
Fixings
Only screws should be used to secure the substrate for tiling applications – nails are not recommended. Consult the EasyLap external tiling application guide for the correct screw fixing recommendations.
Framing
The EasyLap panels can be installed vertically to either timber or metal studs, and the minimum stud dimensions must be 90x45mm. If you're using a stud width of less than 45mm, double studs must be installed at sheet joints – this is recommended to increase the landing width for fasteners. Double studs should be well fastened together and flush at the outside face. The maximum stud spacing for EasyLap panels in an external tile application is 450mm.
For more information on warranty specifics and installation advice, download the EasyLap External Cladding Application Guide from the James Hardie website or call 131103.