Window protection: worth the effort
Gary Smith discusses the importance of window protection on building sites and recommends various measures that you can take to ensure damage is minimised.
I am constantly amazed by the amount of windows that are sent to building sites with absolutely no protection on the frame or glass. Have you ever seen what happens on a building site during the construction process? Do you know what happens to windows? Scratched glass, damaged aluminium finishes, stained and damaged timber, ruined hardware, damaged uPVC finish, frame damage, glass breakage… the list goes on.
Would you buy a new granite benchtop or lounge suite and then let brickies throw mortar on them, a tradie spray grinding sparks all over them or chippies throw planks over them to walk over or create some type of platform to stand on? These are some of the things windows are often exposed to and damage does occur.
Windows and doors are some of the higher value items within a construction and really do need some type of protection to ensure they still look and function like a new product at the end of the construction process. When the eventual owner of a building takes occupancy they do not accept damaged windows as part of their new purchase and nor should they.
It was okay in the past for a builder to replace a couple of pieces of glass at the end of construction as it would only cost say $100-$200. However today, with the increased use of high performance glass, a couple of pieces of glass could cost $500-$1000.
Perhaps 15 years ago it was acceptable to use touch up paint on aluminium frames and/or patch timber frames with wood filler to keep the owner happy. It is unlikely people will be so forgiving now, considering what they are paying for a new home or building.
A lot of these costly things can be avoided and the difficult and sometimes angry conversations with your tradesmen and customer can also disappear by simply investing in some protection for your windows during the construction process.
There are different systems in the marketplace which will provide varying degrees of protection. You can have products fitted for protection by the company you are purchasing the windows from, or alternatively, there are products that can be purchased and fitted by specialists and you can also purchase products and apply them yourself.
The varying types of protection:
Tape
Applied films
Paint on, peel off products
Oil sprays
Tape
Many companies will automatically apply a protective tape to aluminium frames to protect the surface finish. Some companies do not do this as standard but will apply it if requested. Some of the uPVC companies extrusions automatically have a protective tape applied which is often branded.
Applied Films
When requested, companies will fit a pvc, polyethylene or other type of film that adheres to the window frame and glass; these products typically carry low to moderate tack adhesives to ensure no residue upon removal. These products are used for temporary protection on glass and other durable, solid surfaces. They are used to shield against environmental contaminants such as dirt, dust and moisture as well as more direct damage due to overspray of construction materials and scratches.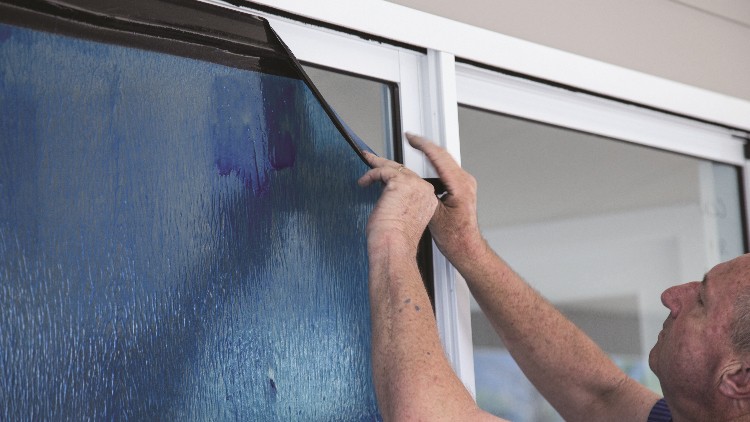 Paint on, Peel off
These products can be applied by your window supplier or a specialist company; they deliver a temporary surface protection to most non-porous surfaces. They protect against possible damage caused by cement, paint or render spatter, welding and grinding flecks as well as other damage caused during the building, renovating and cleaning process. They can be applied to windows, aluminium frames, rubber seals, balustrades, bench tops and most non-porous surfaces. To apply the product a paint roller is generally used, the product then dries to provide a layer of protection. At the end of construction phase the material is simply peeled off the surface.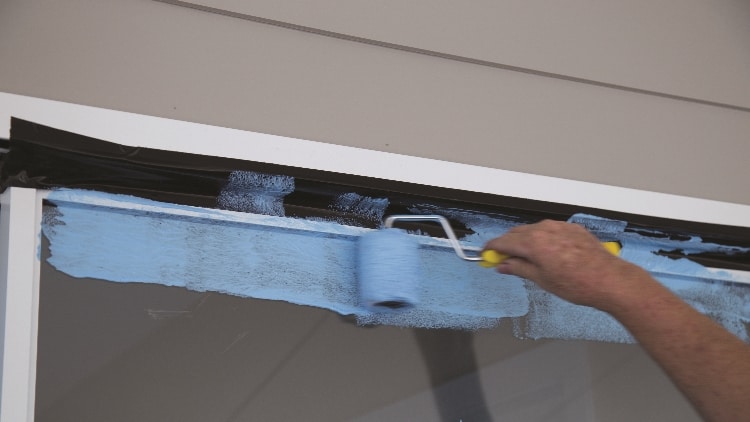 Oil Spray
This is sometimes applied to timber windows to give the timber some short term protection prior to painting; it is usually applied to the timber frame prior to glazing of the product in the factory.
Anyone with experience in the construction industry will agree that windows must be protected during the entire construction process. The protection of windows will significantly decrease associated damages and while a financial outlay is required, the initial cost will certainly be well worth it; avoiding the replacement of glass, costly repair of window surfaces and avoiding all of the difficult conversations with trades, suppliers and customers.